With all the different shipping firms out there, it is sometimes difficult to remember which company employs which strategy. Euroseas (NASDAQ:ESEA) has a unique approach in that it buys ships that are older than most companies' fleets and relies on its expertise to maintain and operate each vessel.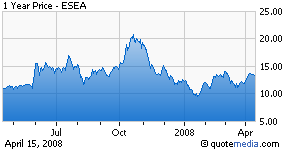 With scrap values for retired ships continuing to climb, it would seem that this strategy is likely to pay off as long as management does a good job forecasting the useful life of each purchase, and maintains each vessel at a cost effective level. Once it becomes too cost intensive to operate a fully aged ship, the company should be able to sell the vessel to a scrap company who will likely pay top dollar for the steel and other materials.
Euroseas is a relatively small player in the industry with 5 dry bulk ships, 9 container ships and 1 multi-purpose vessel. The company has been growing its fleet at a steady rate by adopting a disciplined approach to acquiring vessels. After issuing additional stock last year, the company has over $105 million in cash to spend as well as an additional $100 million in available credit.
Management has stated a willingness to leverage its portfolio up to 50% which could lead to purchases of up to $400 million. Since issuing the additional stock, management has inspected 10 ships as potential targets but has yet to make an announcement about a purchase of any one of these vessels. Such an announcement would likely be a catalyst to push the stock above its current range just below $14.
Using a rough method dividing shareholders' equity by the number of shares outstanding, the book value appears to be near $9.10 per share. Now, there are likely some adjustments that should be made to get a more accurate number, but the point is that 2/3 of the value of the stock is covered by the company's portfolio of ships. Additional earnings each year simply add value to the top of this number.
With ESEA trading at a 50% discount to peers on a price/earnings basis, it would seem there is a significant amount of value locked up in the shares at this time. Wachovia estimates that a purchase of any 15-year-old handymax container ship would add $0.10 per year to earnings. With several acquisitions like this likely to occur in the next year, earnings could be significantly higher than currently estimated.
The last reporting period was the fourth quarter in which Euroseas earned $0.55 per share. Management announced an increase in the quarterly dividend for the first quarter of 2008. Shareholders will receive 30 cents per share representing a nearly 9% dividend yield. The dividend has been moving steadily higher over the course of the last 2 years as a public company.
Analysts are predicting earnings of $1.87 this year and $1.74 in 2009. While these estimates appear very conservative given the potential for new ship acquisitions, the levels would still support a strong dividend yield while at the same time growing the book value of the company. Any positive changes to these estimates would draw attention to the fact that the stock is trading at such a discounted multiple to many of its peers in the industry.
I am currently waiting for confirmation from the chart that buyers are stepping in to own the stock. A definitive move above $14 on strong volume would sharpen the picture as it would likely signify institutions are stepping in to build positions. The overall market remains skeptical that the shipping companies will continue to be so profitable, but the long-term economic trends appear to point to a more global trade industry that will demand a high capacity reliable transportation solution.
Disclosure: Author has no position in ESEA.