High dividend yields
In this article we have analyzed three high dividend stocks from the U.S retail industry. We have analyzed them from a dividend sustainability perspective. For this, we have looked at the company's cash flows, pay-out ratio, margins and business strength. Two of these stocks match our buy criteria and we recommend investors to avoid the third one because of high payout ratio and declining cash flows. Below is the detailed analysis of the three stocks.
Pitney Bowes Inc. (PBI)
Pitney Bowes Inc. , an international provider of communication technologies (equipment, software and services) for businesses, has a high dividend yield of 10.47% and the 5-year growth rate for dividends is 2.95%. A publicly-traded peer in the Business Equipment Industry, Xerox (XRX) offers a forward dividend yield of 2.2%. Last year, it paid a dividend of $300 million. It generated cash flow from operations (OCF) of $920 million, which means that its dividends are sustainable. Even though it has a high debt of $4.26 billion, the interest coverage ratio is 5x as compared to the industry's 3x. Out of the $920 million OCF in 2011, $50 million was spent on reducing debt. During 4Q2012, $550 million in long-term debt would mature, which should not be an issue with the present cash flow and an option for refinancing.
It is also priced fairly, trading at a forward P/E of 7.16x relative to its competitors (i.e. XRX's 6x) with a potential for an upside, because its profit margins are higher than its competitors (13.24% compared to XRX's 5.66%).
Below is a history of PBI's dividend growth.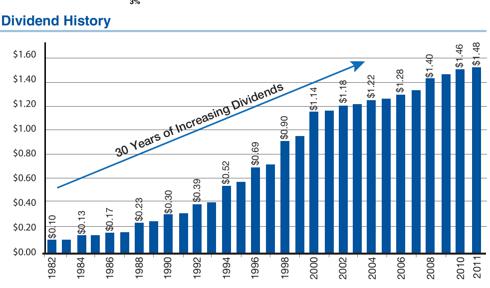 CCA Industries Inc. (CAW):
CCA Industries, Inc. makes and markets healthcare and beauty products in the U.S. and Canada. CAW sells through its own sales force, independent representatives, and distributors, to retail chains and wholesalers. The company has a dividend yield of 6.5%. Avon Products (AVP), a competitor, has a forward dividend yield of 6.1%, while Revlon (REV) does not pay dividends.
The company has been constantly paying a $0.07/share dividend every quarter since 2009. The last dividend ($0.07/share) paid was on July 9, for the second quarter of 2012.
CAW is one of the least profitable among its peers, with a profit margin of 0.47% compared to Avon's 3.53% and Revlon's 3.74%.
The payout ratio is 836%. The net income is down 74% ($87,534 in 1Q2012 as compared to $343,105 in 1Q2011), and cash flow from operations was negative in the first quarter of 2012 (-$2.5 million), down from $557 million in November 2011. This was primarily due to an increase in accounts receivables and inventory. Accounts receivables rose because of a larger credit sales volume in January/February 2012, as compared to October/November 2011 ($12 million as compared to $ 10 million respectively). Inventory is more because the company expects to do some promotional sales in the second quarter, to support sales of Gel Perfect, and to take advantage of discounts that come with bulk buying. It is important that these accounts receivables are collected, and inventories are used profitably for sustaining dividend.
As per the last quarter's rate of decline of net income, the $494,000 quarterly dividend is not sustainable. The fact that the company is already paying more than it is earning exacerbates the unsustainability issue.
The company has no bank loan or long term debt; it has cash of $7.1 million.
Second quarter results were scheduled to be announced today, July 16. According to the CEO, the company is maintaining its dividend because the board of directors is positive about growth prospects.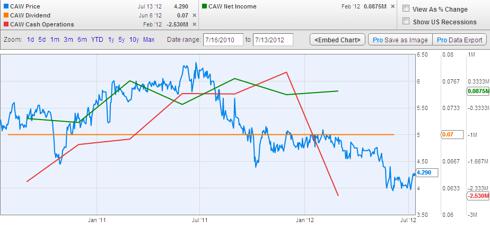 Crown Crafts, Inc. (CRWS):
Crown craft is a provider of infant and toddler-related products (e.g bedding, bathing accessories, floor mats etc.) through its wholly-owned subsidiaries Hamco inc. and Crown Crafts Infant Prodcuts Inc.
The company has a dividend yield of 5.87%, which means a payout ratio of 42%. Its competitor, Carter's inc. (CRI), does not pay dividend. CRI has a forward P/E ratio of 15x, higher than CRWS's 9x. CRWS seems to be under priced because it has a higher profit margin than CRI (5.9% as compared to CRI's 5.2%), and a lower 5-year expected PEG ratio of 0.5 compared to CRI's 1.11. Moreover, CRWS's beta of 0.55 compared to CRI's 0.68 means that it will fare slightly better than its competitor given the present economic uncertainty.
Recently, the company increased its dividend 100%, from $0.04/share to $0.08/share quarterly dividend. This $0.08/share was first paid on July 6, 2012.
Below is a graph showing the history of dividends paid by CRWS prior to that 100% increase announced for July 2012.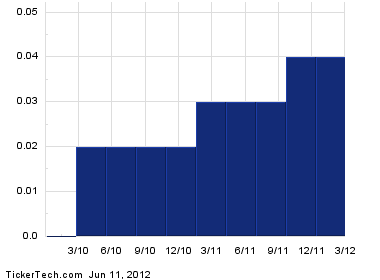 For the fiscal year ended April 2012, the company showed an increase of ~16% in net income as compared to the fiscal year ended April 2011. The company has no long term debt at present. During the last fiscal year, the company paid $6.3 million from its operating cash flow for settling debt under the credit facilities and its subordinated notes payable. The company paid approximately $1.3 million in cash dividends in FY2012.
At $0.08/share, the dividends would amount to approximately $0.8 million per quarter or $ 3 million per year. Given the annual cash flow from operations of roughly $8 million for the last fiscal year, this dividend seems to be sustainable.
Disclosure: I have no positions in any stocks mentioned, and no plans to initiate any positions within the next 72 hours.