We've heard it before: The housing market has hit bottom after the subprime debacle. But is it true this time? The rally in homebuilder ETFs this year suggests many investors are positioning for better times in the residential real estate market.
Analysts predict that even if robust growth is not seen right away, the sector will not drag on the U.S. economy anymore.
The iShares Dow Jones US Home Construction Fund (NYSEARCA:ITB) is up nearly 40% year to date to rank among the top-performing sector ETFs. SPDR S&P Homebuilders ETF (NYSEARCA:XHB) is another option for the industry.
"Even with the overall economy slowing," Wells Fargo Securities economists said, cautiously, in a note to clients, "the budding recovery in the housing market appears to be gradually gaining momentum."
It has been about seven years since the housing bubble burst, and for the first time in a while home prices are shifting up, reports David Wessel for The WSJ. Plus, the number of unsold homes has been reduced, which is a key indicator, according to Mark Fleming, chief economist at CoreLogic.
Homebuilders also resumed constructing new homes in May, up 26% compared with one year ago. Lennar (NYSE:) and KB Home (NYSE:) followed up with strong second-quarter earnings, with an increase in revenue seen for the past three quarters.
A recent survey at The Wall Street Journal found that out of 47 economists, 44 believe that the housing market has bottomed, but three think not.
The housing market has plenty of obstacles that remain in the way of regaining total strength. A weak job market in the U.S. is first and foremost. Plus, single-family housing starts, though up, remain 60% below the 2002 pre-bubble pace. The equity in U.S. homes is $2 trillion, or 25%, less than it was in 2002 and half what it was at the peak.
SPDR S&P Homebuilders ETF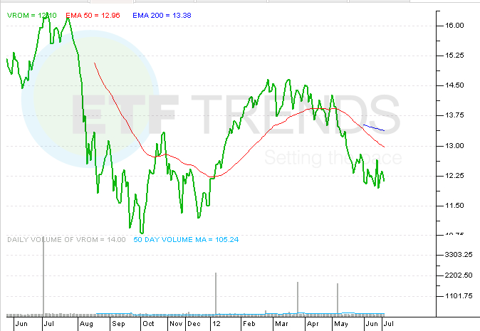 Click to enlarge
Tisha Guerrero contributed to this article.
Disclosure: I have no positions in any stocks mentioned, and no plans to initiate any positions within the next 72 hours.