From the "for what it's worth" department: Very curious announcement on the front of Hansen Natural's (HANS) website:
Counterfeit Check Scam Notice


Hansen Beverage Company has recently been made aware of a sweepstakes scam involving counterfeit Hansen Beverage company checks. If you have recently received a check and/or a letter from Epical Worldwide Lotto, Atlantic Financiers, United Random Draws, ATM Mega Promotions, Acme Financial Management, Computer Reward Program (C.R.P) Interac Universal and/or B + B Financial Inc. claiming that you have won a prize: PLEASE CONTACT US IMMEDIATE

LY at 1-800-Hansens (1-800-426-7367). THIS IS A SCAM.

Such counterfeit checks are not valid checks and will not be honored by Hansen Beverage Company.
If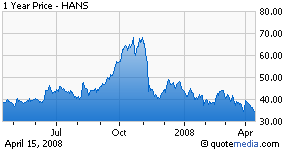 the scam is important enough to warrant front-and-center on its website, should Hansen have also issued a press release? (I left an after-hours message with the company's outside PR firm.) Or is the amount involved immaterial?
Investors might hope it's the latter. Hansen is among the many companies stung by the auction-rate securities fiasco. As of December 31, according to its 10-K, $227 million of its previously thought-to-be liquid investments — now the bulk of its long-term investments — were among those unable to be sold. But have no fear, according to the company on its earnings call in February: It still had $75 million cash or available cash — cash it hopes doesn't get siphoned off by a strange scam.