Market volatility can be a downright intimidating factor for many investors who are looking to jump-start their portfolio. Choosing non-cyclical high-yielding stocks over aggressive secular stocks is one choice that can let you sleep easy at night, even in the most bearish markets.
Non-cyclical consumer stocks—food and beverages in particular—are a great addition to any portfolio because whether or not the economy is doing well, people still need to eat. Investors looking for that defensive stock to help maintain stability in their portfolio should look no further than H.J. Heinz Company (HNZ).
Heinz has been producing food items and condiments for over 100 years (since 1869). Heinz operates five segments and has integrated sales worldwide to various countries and consumer markets. Heinz's success though is mainly because the company has always known how to expand on profitable products and cut-loose those that have lagged. Some other notable brands that Heinz owns include Jack Daniel's, T.G.I Fridays, Classico, Ore Ida, and Smart Ones. Heinz now even has a portfolio of organic products available for health conscious individuals.
Click to enlarge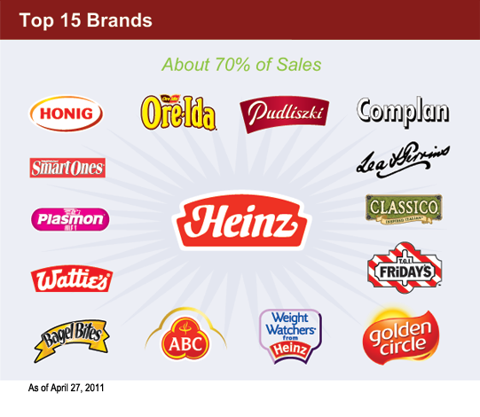 Click to enlarge
Heinz increased its dividend this year for the ninth consecutive year to 51.5 cents per share, a 7.3% increase. Despite all of the success Heinz has had in the past, what Heinz has in store for its consumers in the future is what really matters. Only 28% of Heinz net sales come from North American consumer products, other sales come from international sources.
Moving forward, Heinz is expected to continue its growth through acquisitions in emerging markets and the expansion of its organic portfolio. Currently though the price of the stock has shot up too quickly and investors should wait to see if they can get Heinz around $47 a share, rather than the current price of $55.
Heinz has beat the EPS estimates 13 of the last 15 quarters as the price has grown steadily since the 2008 recession. The fourth quarter of fiscal 2012 sales grew over 5% to $3.05 billion from the previous year. Net income was up 16.8% from the previous year as well, finishing at $261 million. The 2013 company outlook is to expand organic sales growth by 4% or greater, increase EPS 5%-8%, and to have the emerging market segment make up 25% of total sales.
Heinz's main competitor is ConAgra Foods, Inc. (NYSE:CAG), the makers of Hunt's ketchup. However, Heinz has dominated this match up and is the best-selling ketchup in 7 of the top 10 ketchup markets.
Heinz has been a terrific company and there's no doubt that this company will do whatever it takes to maintain its premier status in the non-cyclical product world. When purchased at the right price, this stock can be a steady dividend machine for any investor's portfolio. Any company that has survived for over 100 years, while consistently rewarding investors with dividend payouts makes for a terrific defensive stock in anyone's portfolio.
Disclosure: I have no positions in any stocks mentioned, and no plans to initiate any positions within the next 72 hours.