Market Recap: The market could not follow through from Friday's big day as the IMF cut forecasts for global growth and retail sales slowed more than expected. Retail sales came in at -0.5% vs. the 0.2% growth expectations. That miss, coupled with renewed fears from the IMF, were overpowering for the market. The market did get nice news from Citigroup (NYSE:C) earnings as well as the Empire Manufacturing Index, which came in above expectations. Those were not enough, however, to overcome the selling pressure that started early on in the day. The market is preparing as well for a big day Tuesday with lots of developments, so it may have made sense to "risk off" trade.
We believe that this market has the potential to pop right now. The charts are looking overbought and many are turning a corner. If we can get a decent amount of earnings and data points than we may be able to see some upside, but a lot of Tuesday's move will come down to Bernanke and friends.

Two Trades:
Two trades we like right now are bull put spreads on Monsanto (NYSE:MON) as well as looking at longs on a lot of the credit card companies. Monsanto really has been outperforming the market as of late, showing a lot of strength during down days and moving up since their last earnings report. They have taken some key MAs and technical levels, and their earnings report has given them a floor at 80. We like selling puts at 80 and below especially the 80/77.50 bull put spread. Additionally, the credit card lawsuit for Mastercard (NYSE:MA) and Visa (NYSE:V) has come to an end, and that has put a nice bottom in for those companies. We like looking at both of those long right now as they seem to have bottomed.
Trade #1: MON, Aug18, 80/77.50 Bull Put Spread
Trade #2: MA and V, Long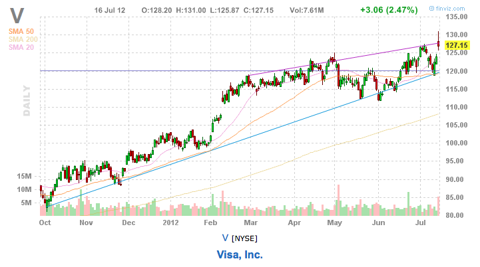 Tuesday's Outlook:
Tuesday is CRAZY busy in the market with so many data points, earnings reports, and even a Bernanke speech. For data, the German ZEW Survey is released Tuesday. That survey is always very key to Europe and the euro movement. At home, we have CPI reports, Industrial Production, and the NAHB Housing Market Index. Additionally, Bernanke will be giving testimony to the Senate Tuesday, which should be a hotly watched item. The market will parse for any QE-talk as well as any changes to what he is seeing. All that comes on top of a bevy of earnings reports to watch Tuesday morning. Tuesday morning, we will get reports from Coca-Cola (NYSE:KO), Goldman Sachs (NYSE:GS), Mattel (NASDAQ:MAT), Mosaic (NYSE:MOS), and State Street (NYSE:STT). Those reports are all key to their various sectors, and we should see the KO and GS report really lead the way. It's a crap shoot to guess how this will all pan out, but it will be pretty volatile to say the least.
Oxen Group Moves:
We had a pretty fun day in the market as we locked in some nice gains. We took home a 3% gain on a Chipotle Mexican Grill (NYSE:CMG) long as well as 1.5% gain in our JetBlue (NASDAQ:JBLU) long from Friday. We also were able to lock in 16% on our bull call spread in Vertex Pharmaceuticals (NASDAQ:VRTX). We added the above position in MON and also a long in SPDR S&P Housing (NYSEARCA:XHB).
We have the following positions:
In our Short-Term Equity Portfolio we are long Dollar Tree (NASDAQ:DLTR), Ashland (NYSE:ASH), SPDR Housing. We are short Pall (NYSE:PLL), McDonald's (NYSE:MCD).
In our Options Portfolio, we are long Monsanto, Starbucks (NASDAQ:SBUX), Dicks Sporting Goods (NYSE:DKS), Dollar General (NYSE:DG) and AutoZone (NYSE:AZO). We are short Aflac (NYSE:AFL), Garmin (NASDAQ:GRMN), and Under Armour (NYSE:UA). We have a reverse iron condor on Apple (NASDAQ:AAPL) and Direxion Daily Financial 3x Shares (NYSEARCA:FAS).
In our Earnings Alpha Portfolio, we are long JetBlue, Susquehanna Bancshares (NASDAQ:SUSQ), Seagate Tech (NASDAQ:STX), Apple , Capital One (NYSE:COF), Disney (NYSE:DIS), Ashland, Vertex, Intuitive Surgical (NASDAQ:ISRG), Marriott (NYSE:MAR). We are short Pitney Bowes (NYSE:PBI), Schlumberger (NYSE:SLB) and Walgreen (WAG). We have a reverse iron butterfly in Decker's Outdoor (NASDAQ:DECK).
In our Goldman Sachs Up/Down Paper Portfolio, we are long State Street.
Chart courtesy of finviz.com.
Disclosure: I am long PNRA.