In recent trading sessions the market had been jumpy with frequent reversals in direction, resulting in a six day losing streak beginning July 5th. But last Friday, out of the blue, the market found some traction and ended the session up 200 points on the DOW. As some market strategists see it, it was nothing more than a bounce out of a strongly oversold position. Also, since early July and especially last Friday, there has been a real surge into U.S. Treasuries, even though consensus has it that these things are just about to slide off a steep cliff sometime soon, and it is this rush into U.S. safety that gave Friday's rally a push.
It just shows that the global demand for safe haven assets is not diminishing, and the U.S. financial markets remain the safest of them all. This is why Wall Street is finding traction for its frequent snap back rallies. Gold has lost its cachet as a financial safe place, and other nations' Treasuries are being downgraded to more risk which keeps them losing value. But surely, there has to be more to keep a stock market rally going besides searching for financially safe havens other than one's mattress.
But apparently there is only deepening concern over more Eurozone fiascoes, and the slowing economies in China and the U.S. On top of that, corporate earnings reports come trickling in, and they look ugly. Also, corporate forecasts are being cut, and so it is no wonder that market participants are either dumping stocks, or staying on the sidelines doing nothing. But charts of the major indices show that the core of the market is improving with the upside just as probable as the downside. It is at times like these that some savvy market strategists are paying close attention to two particular indexes pictured below.
Note this Consumer Staples (NYSEARCA:XLP) vs. the Consumer Discretionary (NYSEARCA:XLY). When this index is declining as it did between January and April, the Discretionary is outperforming the Staples, which puts the market in a bullish rally mode. But when this index is rising as it did between last May to the present, the Staples are outperforming the Discretionary, and that puts the market in a down-draft.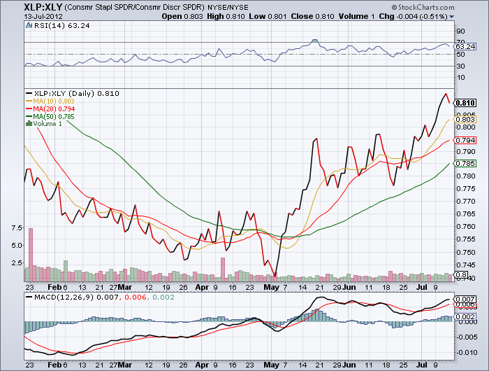 This Junk-Bond (NYSEARCA:JNK) market forecasting canary is the side-kick to the chart above and when in synch, one index will be rising while the other one is declining. So something is out of whack here. While the above index keeps pushing the market down, this Junk-Canary keeps pushing the market up. So one of these two will have to give for the market to find direction. Check these three Troika charts next, and note why the Consumer Discretionary has a good chance to regain the upper hand, and give the market a lift to the upside.
This (SPX) leg of the three-index Troika shows its core green, red and yellow MA lines forming a bullish configuration for the first time since last April, and that is a good sign that the market keeps poised to the upside.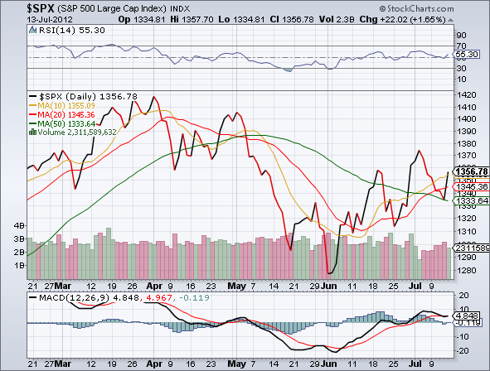 This (NYSEARCA:SPXL) Bull-Trend leg of the Troika is also beginning to show bullish configuration of its core green, red and yellow MA lines which indicates that the market is building a base to rally from. Aiding this building process are the MACD momentum index and the RSI strength indicator, both of which are beginning to inch into their respective bullish territories.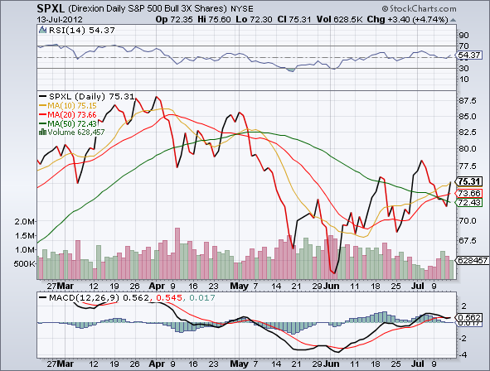 This third (NYSEARCA:SPXS) bear-trend leg of the Troika closes the loop to a bullish market. Note that the core green, red and yellow MA lines are in a negative configuration for the bears, while the MACD and RSI are sliding into negative territories, all of which is keeping the Troika and thereby the market in a bullish mode. But to have a decent and sustained bull run kicking into gear, the Consumer Discretionary will have to re-assert their lead in the market.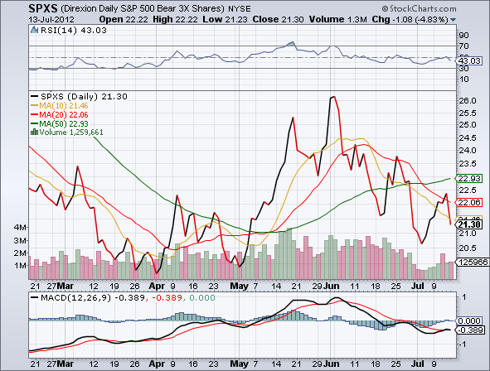 Now, along with the above, this (NYSEARCA:DBC) commodity tracking index is beginning to look pretty good. The index appears to be consolidating, its MACD momentum index is rising strongly into bullish territory and so is its RSI strength indicator. But what is missing is the bullish configuration of its core green, red and yellow Moving Average lines, and until this happens the commodity market remains vulnerable to the downside. But this configuration is getting pretty close to turning bullish. So we'll see.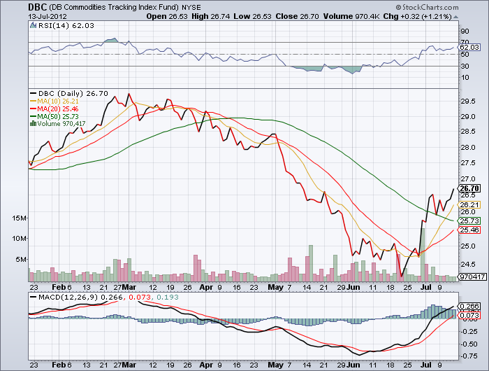 Gold (GOLD) appears to be totally neutral and gives no clue if it will turn bullish or bearish from here.
Although this oil index (WTIC) has come off the bottom and appears to be consolidating, for as long as its core green, red and yellow MA lines remain in their bearish configuration, the price of oil has not got a chance to rally.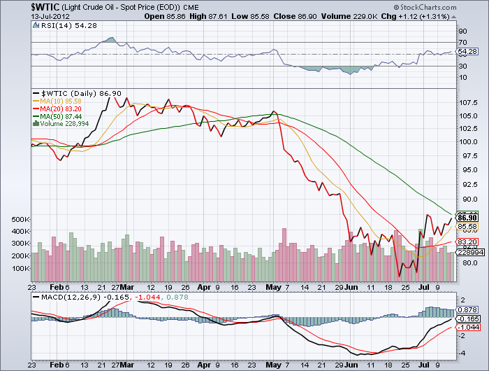 The commodity laded (TSX) is still stuck to the bottom, but depending how its core green, red and yellow MA lines are breaking lose from their current close configuration, the TSX remains neutral for now.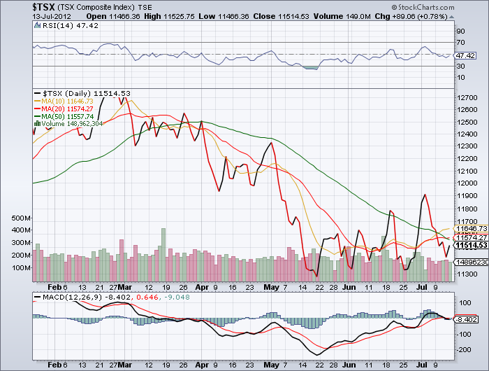 In case the market continues to rally, here are some favoured leveraged Long ETFs to consider: ULTRA DOW 30 2x (NYSEARCA:DDM). Real Estate Bull 3x (NYSEARCA:DRN). Mid Cap Bull 3X (NYSEARCA:MIDU). UTRA Mid Cap 400 2x (NYSEARCA:MVV).
Non leveraged Long ETFs: Oil & Gas Exploration (NYSEARCA:IEO). iShrs. Basic Materials (NYSEARCA:IYH). iShrs. Russell 1000 (NYSEARCA:IWF). S&P Banks (NYSEARCA:KRE).
Leveraged Short ETFS: ULTRA Short DOW 30 2x (NYSEARCA:DXD). Russell 1000 Bear 3x (NYSEARCA:FAZ). ULTRA Short NASDAQ 100 3x (NASDAQ:SQQQ). Semiconductor Bear 3x (NYSEARCA:SOXS).
Non Leveraged Short ETFs: Short DOW 30 (NYSEARCA:DOG). Active Bear (NYSEARCA:HDGE). NASDAQ 100 Short (NYSEARCA:PSQ). S&P 500 Short (NYSEARCA:SH).
Good Luck.
Disclosure: I have no positions in any stocks mentioned, and no plans to initiate any positions within the next 72 hours.