We previously analyzed and reported on Citigroup Inc.'s (NYSE:C) Q1 results. Overall, we were pleased that the company is making steady progress in its recovery. When investing in companies, we believe that investors should view their potential investments as a collection of exposures. We agree that investors should view Citigroup Inc. as two companies consisting of the following exposures:
Citicorp: Consists of the businesses that Citigroup has decided to retain. These businesses include Consumer Banking, Corporate and Institutional Banking and Transaction Services. Citicorp generates 96% of its revenue from Citicorp operations.
Citi Holdings: Consists of assets that Citigroup is willing to let run-off or try to sell. The goal with Citi Holdings assets is to minimize losses and expenses with these operations.
This analytical framework we believe allows us to have a prudent and rational opinion of our investment in Citigroup . We have no illusions that the company has gone from being one of the bluest of the blue chips to a turnaround project. We believe that while it has not caught up to the big bank leaders JPMorgan Chase & Co. (NYSE:JPM) and Wells Fargo & Co. (NYSE:WFC), we believe that it is taking positive steps to catch up. We believe that a rational, dispassionate investor should be able to see the changes going on with Citigroup and that this isn't Charlie Prince's Citigroup anymore. We also believe that investors should either take the time to periodically review their holdings or hire a professional to do so.
Evaluation of Citigroup's Corporate and Administrative Performance
We were pleased to see that Citigroup's $1 of adjusted EPS was able to meet the expectations of the analyst community before those estimates were lowered in the last 30 days. The analysts reduced their consensus EPS estimates from $1 to $.88 over the last 30 days. Citigroup not only beat the revised estimates on a GAAP Reported basis ($.95 versus $.88), but the adjusted recurring EPS of $1 met the previous consensus estimates before the analysts collectively reduced their estimates.
While Citigroup decided not to ask the Federal Reserve for additional share repurchases or dividend increases, we were pleased that the company reduced its bonded debt and borrowings by nearly $20B in the linked quarter. We are also pleased that the company will be redeeming $5.5B of high-cost trust preferred securities this month and next month, now that those securities no longer qualify as Tier One capital. Citi also completed the sale of EMI Music Publishing and received $2.2B in consideration on June 29th, 2012.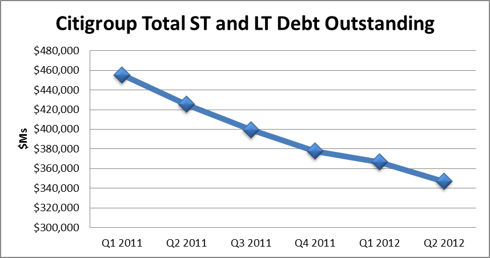 Click to enlarge
Sources: Citigroup's Q2 Press Release and Saibus Research's April Citigroup Report
We expected to see continued utilization of deferred tax assets. Citigroup disclosed the DTA status in the Conference Call. The DTAs declined by $1B this quarter, primarily due to foreign exchange and foreign operations of Citigroup.
We were pleased to see that with the exception of the $424M charge for selling half of its Akbank stake, Citigroup only had $205M in pre-tax non-recurring net charges. Citi's loss on selling a portion of its Akbank stock was partially offset by $219M in credit and debt valuation adjustments. Citigroup's shareholders and management can say that "We may not be Wells Fargo (which didn't need the CVA/DVA boost), but this quarter, we're not J.P. Morgan Chase (which needed nearly 4 times as much CVA/DVA boost as Citigroup)".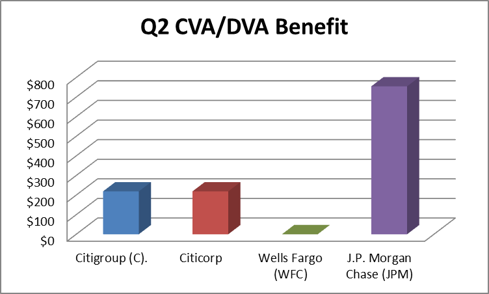 Click to enlarge
Source: Company Q2 Press Releases
Evaluation of Citigroup's Banking Performance: Credit and Deposits
Deposits: We preferred to see stronger growth in consolidated deposits from Citigroup. Citigroup grew its deposits by .91% on a linked-quarter basis and by 5.5% versus last year's comparable quarter. This compares to the 6.4% deposit growth that JPMorgan enjoyed and 8.8% deposit growth by Wells Fargo during the prior period. Not only did Citigroup improve its year-over-year deposit growth rate on an absolute basis, but also on a relative basis in relation to its peers. Furthermore, Citigroup was the only one of the big three banks that generated deposit growth on a linked quarter basis. The last point we want to make about Citigroup's deposit growth was that deposit growth in the Citicorp business segment grew by 7.4% versus last year, exceeding JPMorgan's deposit growth.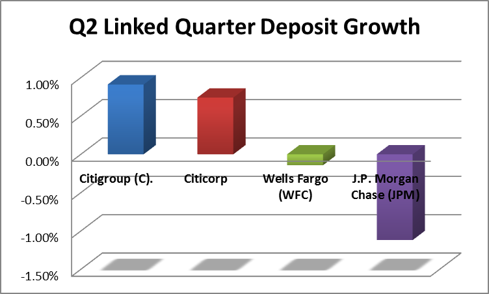 Click to enlarge
Source: Company Q2 Press Releases
Credit Losses: We expected further declines in Citi's credit losses, especially from the Citicorp "good bank core operations" business units. Citigroup's total net credit losses declined by over $1.5B versus last year's quarter (31%). Citi only reduced its provision for loan losses, benefits and claims by $.5B, which shows that Citi is reducing reliance on releasing loss reserves in order to prop up the income statement. Citicorp saw credit losses decline by over $736M year-over-year (25%) and held its provisions for losses steady. That compares favorably to J.P. Morgan, which released $2.1B in loan loss reserves in order to make up for the $6B of trading losses executed by the London Whale. Overall, we can see favorable credit trends for Citi.
Evaluation of Citigroup's Business Segments
Citi Retail Banking: Citi Retail Banking saw year-over-year growth in accounts, deposits and loans. This resulted in 6% year-over-year growth in net revenue. We saw prudent branch network and expense management during the quarter, as revenue grew faster than expenses versus prior year levels. Citi Retail Banking's 6% revenue growth and 9% decline in credit losses helped power the division to a 25% year-over-year growth. Geographically, Citigroup's North American Retail Banking 32% year-over-year revenue growth more than offset revenue declines from all of Citigroup's global operations. J.P. Morgan's Consumer and Business Banking business saw a 6% revenue decline and a 14% decline in net income.
Citi-Branded Cards: We were disappointed by its performance. Citi Cards' business segment income declined by 14% on a linked quarter basis, due to lower loan balances and the Durbin Amendment providing headwinds to its debit card revenue. We take comfort in that JPM's Card Services business also declined by 12%, so it isn't a Citi Cards specific issue.
Citi Securities and Banking: We were not happy to see recurring revenue decline by 2% year-over-year, excluding a $51M increase in the credit value adjustment on derivatives and debt value adjustment on Citigroup's debt fair value. Net operating expenses declined by 8% versus 2011's levels and credit loss provisions remained stable at nearly $60M. Once again, Citi Private Bank was the most reliable segment for Securities and Banking. Despite a tough comparison versus last year's levels and a weak capital market environment, it generated 3% revenue growth, which was comparable to the 4% revenue growth that J.P. Morgan Private Bank generated. Overall, Citi Securities and Banking made progress against J.P. Morgan Investment Bank based on the following comparisons:
Citi Securities and Banking Revenue excluding CVA/DVA benefit declined by 2%
J.P. Morgan Investment Bank Revenue declined by 7% with the CVA/DVA benefit
JPM IB Revenue would have declined by 20% without the CVA/DVA benefit
Citi Securities and Banking grew its recurring income by 16%
JPM IB's net income declined by 7%, even with CVA/DVA benefits
Citi Transaction Services: Transaction Services has been Citigroup's island of tranquility in an otherwise truculent market during the last five years. This quarter it generated a nearly 2% linked quarter revenue growth and 5% year over year. The Treasury and Trade Solutions segment saw the strongest growth with 9% revenue growth versus last year (3% linked quarter). We were disappointed that Securities and Fund Services disappointed with a 6% revenue decline, but 1% linked quarter growth. Operating expenses were stable and Transaction Services built up credit reserve losses by $51M.
Other year-over-year growth highlights were as follows:
6% growth in division net income,
4% growth in average assets and a 6 basis point increase in division ROA
8% growth in average deposits.
We were disappointed that Securities and Fund Assets Under Custody declined from $13T to $12.2T on a year over year basis. J.P. Morgan TSS showed stronger revenue and profit growth in its Treasury and Trade Services and its Investor Services business than Citigroup. If Citigroup continues to struggle, it can (and should) consider selling this business to its former CitiStreet Investor Services joint venture partner State Street Corporation (NYSE:STT).
Citi Holdings ("bad bank"): Now that Citi Holdings accounts for less than 5% of Citigroup's total revenue and 10% of its assets, we believe that investors will begin to see the value generated from the core Citicorp continuing operations. We were content in that Citi Holdings reduced its operating expenses and credit loss provisions by 25% and 31%, respectively.
Conclusion
In conclusion, we are intending to hold on to our stake in Citigroup, as well as looking to selectively accumulate a larger position. Due to the market weakness and deep discount from market price relative to its tangible book value, we may even increase our rating to a "Strong Buy" from "Accumulate". The basis for our accumulate recommendation and positive outlook for the company is based on the following performance factors of Citigroup's business lines:
Stability from the Retail Consumer Banking business segment
Continued Strength from the Corporate Treasury and Trade Solutions business
Assets for Citi Holdings are now under $200B and only represent 10% of total company assets
lower credit costs across Citigroup's diverse business lines
Increased credit/debit card purchase transaction volumes from Citi Cards
Lower Operating Expenses from the Securities and Banking division
11% revenue growth from Citi Private Banking
Citigroup's new-found ability to replace high-cost debt and trust securities with low cost customer deposits.
Citigroup only lost $424M on its strategic partnership equity investment in Akbank and this was primarily due to a strong dollar versus the Turkish lira. J.P. Morgan Chase lost about $6B by engaging in a Rube Goldberg-like strategy to reduce risk weighted assets.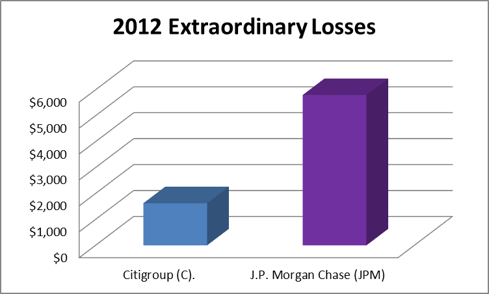 Click to enlarge
Sources: Company Press Releases
Disclosure: I am long C.
Additional disclosure: Saibus Research has not received compensation directly or indirectly for expressing the recommendation in this report. Under no circumstances must this report be considered an offer to buy, sell, subscribe for or trade securities or other instruments.