The market is in turmoil, yet one of the most volatile high-risk sectors, low priced biotechs, has been banking double-digit gains if you know where to look. Yes, they are risky. Yes, you should never invest more than you're willing to lose. Yes, a life-ending meteor could hit planet Earth, but three of my recommendations early Monday: Antares Pharma Inc (NASDAQ:ATRS), Lexicon Pharmaceuticals, Inc. (NASDAQ:LXRX), and highly risky iBio, Inc. (NYSEMKT:IBIO) went up 7.94%, 7.51%, and 31.25%, respectively.
Only Astex Pharmaceuticals, Inc. (NASDAQ:ASTX) didn't budge [-0.67%] and Zalicus Inc. (ZLCS) retraced just as I expected [-6.09%]. I still think Astex may gain pps legs on the way to $3/share; Zalicus may decline below one dollar until positive news comes along; iBio may spike in the coming days; Lexicon may retrace at some point after registering hefty gains; and Antares appears to be on its way to $7-$10/share.
But right now, you want to be on the correct side of the trade, while the overall market languishes. In this article, I almost blindly focus on the technical picture, gleaning out biotechs that have not been on my own radar screen, but readers of my articles seem to have considerable interest in as worthy investments. Again, keep in mind, my analysis will almost solely look at the technical picture, so investors may want to do their own fundamental analysis.
In this article, I will focus on: PharmAthene, Inc (NYSEMKT:PIP), Zogenix, Inc. (NASDAQ:ZGNX), and Galena Biopharma, Inc. (NASDAQ:GALE). Do keep in mind, I am offering my view of the technical picture minus any substantial analysis of the companies' fundamentals. Investors are advised to do their own due-diligence.
PharmAthene
On Monday, PharmAthene closed at $1.58/share. Monday's candlestick signals a bullish upside may be building unless Tuesday's market bears ruin what otherwise looks to be the making of a bullish run. Day-traders won't be fooled by pre-market trading, but if the pre-market bulls are running on the U.S. exchanges, then getting in early could be a nice gain towards $1.80 to $2.10/share.
Do remember again, I am looking purely at technical indicators - if the company's fundamentals are good and improving, I see clear evidence that the stock will break above a flag formation. Negative company developments would obviously cancel that. However, on technicals alone, I see great upside momentum here. Investors need to do their own due-diligence on the company's fundamentals. This is another stock I'm going to begin to pay more attention to as my #1 goal is to invest to make money. PharmAthene may be that opportunity. I'd suggest that you keep a careful eye on the volume Tuesday as a bullish indicator.
Click to enlarge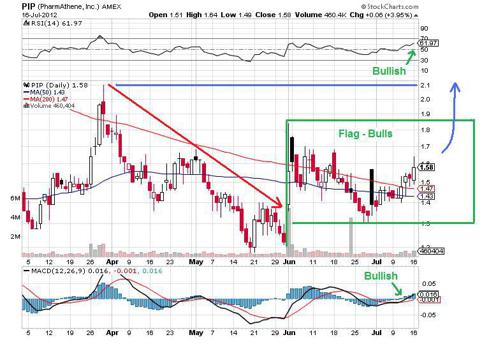 Zogenix
Regarding Zogenix, I had to cheat and check for news because the dip followed by the bounce throws the chart into a chaos. It turns out Zogenix received good news:
SAN DIEGO, July 16, 2012 (GLOBE NEWSWIRE): Zogenix, Inc. , a pharmaceutical company commercializing and developing products for the treatment of central nervous system disorders and pain, announced today that the U.S. Food and Drug Administration (FDA) has accepted for review the New Drug Application (NDA) for Zohydro ER (TM) (hydrocodone bitartrate extended-release capsules), Zogenix's lead investigational product candidate for the treatment of moderate to severe chronic pain. Under the Prescription Drug User Fee Act (PDUFA), the goal for a standard review of an NDA is 10 months from NDA submission, and the FDA has assigned a target action date of March 1, 2013 for the Zohydro ER NDA.
A longer-term chart illustrates where Zogenix was heading (down) had it not been for the latest news. I also observe that the bullish upside on Friday was either an uncanny coincidence or the fortunate result of a very bullish market. I'd probably set a near-term target of $3/share.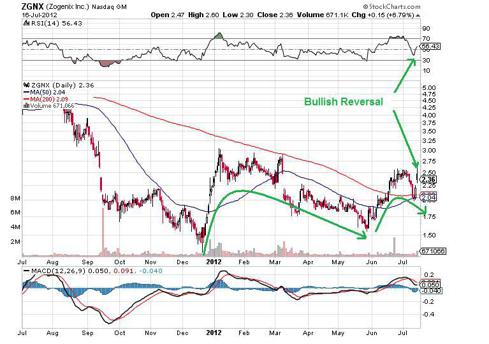 Galena BioPharma
Here again, I am focusing on the technical patterns. The technical chart is easy to interpret - the stock is churning somewhat sideways, suggesting that the market is waiting on news reflecting the company's fundamentals. However, here's an example where your knowledge about the company versus the technical chart may help you decide. That said, I do see early bullish signs suggesting that an upside move may be building; 14 May 2012 put in a strong bottom and since then there has been a steady uptrend. The chart suggests to me that a patient investor is being given a great entry because unless negative news comes out of the company, the overall move is to the upside. That upside could be twice (100%) from where it is today.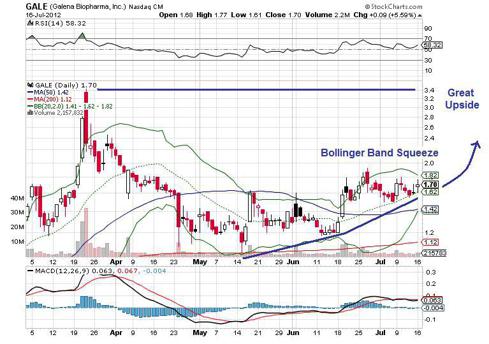 Wrap-up
I continue to hold longer term Antares, which went up 7.94% on Monday, but along with Lexicon, I think I'm ready to add PharmAthene to my watch list. Galena looks to offer potential upside and Zogenix looks inviting enough to follow, though like I have written, my own due diligence is primarily focused on Antares because I truly think it will make it to $10/share before the year-end. Finally, never invest more than you're willing to lose, as biotech investing can be very risky.
Disclosure: I am long ATRS.
Additional disclosure: Investors buy and/or sell at their own risk. For me 'long' is until I sell. I do not 'short' stocks. I declare that I may day-trade any stock at any time mentioned in this article.