We previously published our investment research report analyzing Nokia's (NOK) struggles. Due to the interest that report generated, we decided to follow it up by researching, analyzing and evaluating Nokia's turnaround efforts versus Sprint Nextel (S). We concluded that while Sprint may not be Verizon (VZ) or Apple (AAPL), at least it isn't Nokia. In an article in the Sunday edition of The Hartford Courant, we noticed that Nokia and AT&T (T) cut the price that people pay for a Nokia Lumia 900 Windows Phone with a 2 year contract in half. The Lumia 900 previously cost $99.99 with a two year contract and now costs $49.99. Nokia also cut the price it charged AT&T from $449.99 to $399.99. AT&T also allows customers to get a Lumia 900 with a one year contract for $299.99.
We're pleased that Nokia cut the price of its new smartphone. In our previous research report, we actually suggested that Nokia cut the price of the Lumia 900 because we felt that a phone like the Lumia 900 could not compete with Apple's iPhone 4 if it was sold at the same retail consumer price. Nokia had developed the Lumia smartphone product line in conjunction with Microsoft (MSFT) to run on Microsoft's Windows Phone mobile operating system. In our opinion, we saw this as a marriage of convenience between two companies that were once high-flyers in the technology and smartphone industry, but had seen recent rapid market share declines.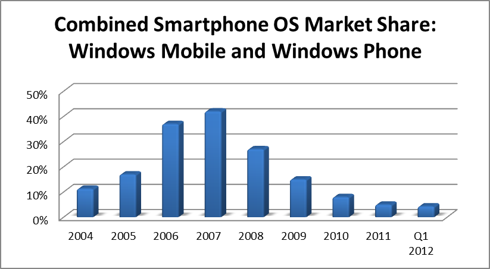 Sources: BGR Media Market Share Report and ZDNet Market Share Report
We also saw that this alliance was probably due to that fact Stephen Elop had previously worked as the head of Microsoft's Business division, before replacing Olli-Pekka Kallasvuo as Nokia's CEO in September 2010. We had mixed feelings on this hire. On the one hand, Elop had a technology background whereas Olli-Pekka Kallasvuo was a lawyer by training and primarily worked in the Finance and Legal areas of Nokia. On the other hand, we felt that Elop's background was nothing to write home about. He was previously the CIO of Boston Chicken, a broken-growth fast-casual rotisserie chicken chain that went bankrupt in 1998. Considering that Boston Chicken opened stores at a rapid pace in order to recognize a $35K fee for each new store opened and $15K on top of the new franchise fee for Boston Chicken's software package, we believe that he played an integral part in the tale of that Corporate Icarus. Elop went on to Macromedia and helped them grow by acquiring other companies, then sold the company to Adobe Systems (ADBE). He was then president of worldwide field operations at Adobe until leaving at the end of 2006, then was Juniper's (JNPR) CEO for a year until he ended up as head of Microsoft's Business Division. Microsoft Business had come off a 30% year-over-year increase in profits and revenues before he arrived. In his 33 months leading Microsoft Business, it saw its revenue and operating income stagnate.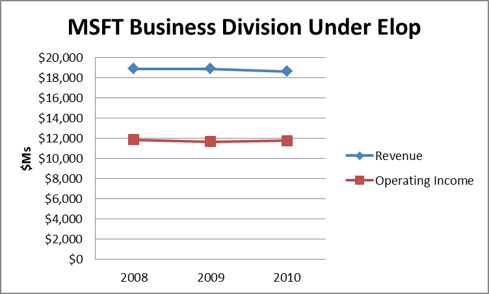 Source: Microsoft 2010 Annual Report
Nokia's first Windows Phone was the Nokia Lumia 710 and 800. The 710 was an entry-level phone and of the big four carriers in the US (AT&T, Sprint, T-Mobile and Verizon), the only one carrying it is T-Mobile. None of the big four carriers are carrying the 800 phone. Nokia released two more Lumia phones in April 2012: The Nokia Lumia 610 (another entry-level smartphone which none of the big four carriers carry) and the Nokia Lumia 900, which received a lot of hype when AT&T announced that it would be trying to use it to displace sales from the Apple iPhone.
The Nokia Lumia was introduced to the world at the January 2012 International Consumer Electronics Show. The phone is able to run on 4G-LTE networks, features the Windows Phone 7 operating system and was made available for sale in April 2012. Despite benefiting from $150M in promotional spending by AT&T on behalf of the Nokia Lumia 900, the Nokia Lumia 900 has had unimpressive sales. According to Horace Deidu, Nokia only sold 330,000 Lumia smartphones in the United States. We are not surprised that the Lumia 900 has registered such pedestrian sales, considering that it has had a number of bugs and kinks that need to be worked out. Business Insider compared the Nokia Lumia against the iPhone and the iPhone won hands down. If there is any consolation for Nokia and Microsoft, Business Insider said that the Lumia 900 was the best Windows Phone out there. However, considering what's on the market, that's not really saying much. Using a sports analogy to compare the phones, the iPhone is the New York Yankees of smartphones and the Windows Phone is at best the Staten Island Yankees.
According to Nokia Worldwide Developer Relations VP Richard Kerris, it won't be long before Nokia's Windows Phones are sold at Verizon. Of course, getting in the door is the easy part. The hard part will be getting the phones sold. Judging by the tepid sales volumes of the Nokia Lumia 900 phone at AT&T, we believe that investors should wait a full quarter to see what Nokia Lumia's sales volumes are at Verizon, or Sprint if that company gets the Nokia Lumia Windows Phones as well. We believe that Nokia and Microsoft better find a way to get a Lumia phone ready that can handle Windows Phone 8 because the Nokia Lumia 900 phone is not eligible for an upgrade to Windows Phone 8. AT&T will also be spending another $250M in Q3 to promote the iPhone. Nokia will be releasing Q2 earnings on July 19th and the consensus estimated loss for Nokia's handset business is €236M, up from €127M in Q1 2012. We also expect continued losses from the Nokia Siemens Networks business as well.
In conclusion, we believe that things will get a whole lot worse for Nokia before it ever gets better. We recommend that conservative investors avoid getting tempted by the siren song of its 13.75% gross dividend yield (11.6875% net dividend yield if the investor is a US resident), especially since Nokia already paid its 2012 calendar yield dividend payment. We still recommend that ultra conservative investors sell their shares of Nokia and aggressive investors short Nokia. Since we first wrote about Nokia on June 14th 2012, Nokia's shares are down by 21.7%, which significantly trails the performance of Apple, AT&T, Verizon, Microsoft and even Sprint.
Disclosure: I am long S, AAPL.
Additional disclosure: Saibus Research has not received compensation directly or indirectly for expressing the recommendation in this report. Under no circumstances must this report be considered an offer to buy, sell, subscribe for or trade securities or other instruments.