In my previous posts( here, here, and here), I have recommended investing in oil with a long-term perspective. One of the main reasons for my recommendation was the impressive growth in the demand for crude oil from developing countries, including China, India, South Korea and Brazil. But in order to find out if now is the time to invest in oil, it is important also to analyze the fundamental parameters of this important resource—its production, consumption and reserves in Japan, the third biggest world economy.
Japan's population is about 1.8% of the world population, but according to the BP Statistical Review of World Energy 2012, released on June 26, 2012, Japan consumed 5.0% of the world total oil consumption in 2011. Japan's oil consumption was 4.418 million barrels/day in 2011, ranked the third after the U.S., which consumed 18.835 million barrels/day; and China, which consumed 9.758 million barrels/day in the same year. But while the world's oil consumption increased 0.7% in 2011, Japan's consumption increased only by 0.5% in contrast to the high Chinese oil consumption growth, which was 5.5% in 2011.
Japan's Oil Production
Japan's oil production, about 130,000 barrels/day, supplies only 3% of its consumption.
Japan's Oil Consumption
Japan's total oil consumption rose from 1.705 million barrels per day in 1965 to 4.418 million barrels per day in 2011, at a Compound Annual Growth Rate (CAGR) of 2.0%. This consumption data includes inland demand plus international aviation and marine bunkers and refinery fuel and loss. Consumption of fuel ethanol and biodiesel is also included.
Japan's oil consumption decreased during 1999-2009, but returned to small growth in 2010 and 2011.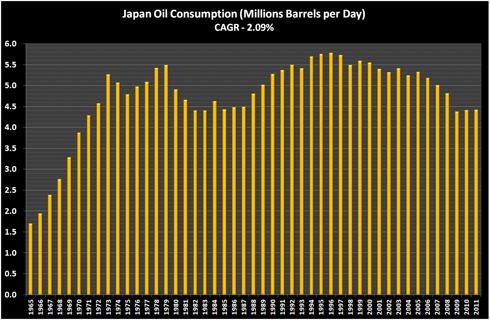 Click to enlarge
Data: BP Statistical Review of World Energy 2012
Japan's Proved Oil Reserves
Japan's proved oil reserves, 44 million barrels, are insignificant.
Japan's Oil Demand in 2012
According to the International Energy Agency, Oil Market Report, released on June 13, 2012:
"In Japan, oil demand rose by 6.1% year‐on‐year in April, to 4.3 mb/d, following a sizeable 13% March increment triggered by cold weather, last year's tsunami‐impacted demand and low electricity generation in the nuclear power plants. Japanese oil demand in 2012 is revised upwards by 70 kb/d over last month's estimate, as vigorous economic output drove electricity demand above 2011 levels. Confirming this trend, residual fuel oil climbed by 60% y‐o‐y in April, while 'other products', including direct crude burning, grew by 70% on the back of strong demand in thermoelectric plants. The power sector consumed 500 kb/d of oil products in April, a year‐on‐year increment of 300 kb/d, and demand is expected to accelerate to 600‐700 kb/d in the summer."
Conclusion
Japan's oil demand is rising in 2012 at a higher rate than in the previous years, and considering that consumption of other developing countries like China, India, South Korea, and Brazil is growing at a very high rate, all that could cause shortages and a higher price of oil.
Some Liquid ETFS for Oil:
The United States Oil ETF, LP (NYSEARCA:USO)
ProShares Ultra DJ-AIG Crude Oil ETF (NYSEARCA:UCO)
iPath S&P GSCI Crude Oil Total Return Index ETN (NYSEARCA:OIL)
PowerShares DB Oil ETF (NYSEARCA:DBO)
The United States Brent Oil ETF, LP (NYSEARCA:BNO)
Disclosure: I have no positions in any stocks mentioned, and no plans to initiate any positions within the next 72 hours.