Transition Therapeutics (NASDAQ: TTHI) and its Alzheimer's disease (AD) program could get a shot in the arm if two closely watched clinical trials by Eli Lilly (NYSE:LLY) and a Pfizer (NYSE:PFE)-J&J (NYSE:JNJ) joint venture show indications that they help patients with mild AD symptoms. The results of these clinical trials are expected to be reported this fall.
Both pivotal trials are evaluating patients with mild-to-moderate symptoms of AD. However, there is a growing consensus in medical circles that once a patient develops late-mild and moderate symptoms, disease progression may be too fast to slow with drug therapy.
"At that point, there may be too much pathology underway to prevent disease progression," Transition CEO, Tony Cruz, says in an interview with BioTuesdays.com. "Amyloid accumulation occurs so early in the disease that by the time you have all these other pathologies that are also responsible for patient decline, he or she may be too far along to treat with an amyloid-targeted drug alone."
AD is a degenerative condition that robs victims of their memory and afflicts 35 million people worldwide.
One of the major studies now underway has Pfizer and J&J evaluating bapineuzumab (BAPI), a beta-amyloid antibody, in four Phase 3 trials, with about 1,000 mild-to-moderate AD patients in each trial. Two of the trials are evaluating BAPI in ApoE Carrier AD patients, and two are evaluating BAPI in ApoE Non-Carrier AD patients. It's believed ApoE-positive patients express more of the sticky amyloid plaque that is a hallmark of the disease.
J&J's stake in the venture was obtained when it injected around $1-billion into Irish drug maker, Elan Corp. (NYSE: ELN), which continues to hold a minority interest in BAPI. Elan is also Transition's development partner for its ELND005 drug candidate for the treatment for AD and bipolar disease.
The other Phase 3 player is Eli Lilly and its beta-amyloid antibody, solaneuzumab (SOLA). There are two SOLA pivotal trials underway, and like BAPI, the trials have each enrolled about 1,000 patients with mild-to-moderate AD.
Many analysts suggest that given the weight of moderate AD patients in these trials, it is likely that BAPI or SOLA will have mixed results and may not meet their primary efficacy endpoints of improved cognition and function.
However, with the dire need for new AD therapies, the FDA has signaled a potential shift from its ultra-rigorous rules and may be flexible to review significant results in sub-populations such as mild patients.
In a speech to an AD conference in May, Dr. Russell Katz, the head of the FDA's neurology division, which will review both BAPI and SOLA, said the agency would be willing to approve an AD drug with a "single outcome measure" as long as it's clinically meaningful.
"This is a sharp departure from previous statements where the hurdle was much higher," Jefferies analyst, Corey Davis, said in a research report after the conference. "This seems to reflect pressure on the agency and the urgency to approve something for AD," given the fact that there have been 10 late-stage drug failures in the past 10 years.
That tells Dr. Cruz that if either BAPI or SOLA obtains positive readings with mild patients, these results may pave a path for the filing of a new drug application for the mild patient population. "These positive results may take the form of one or both of the co-primary endpoints in mild patients or even a joint cognitive/functional endpoint like CDR-SB."
However, he believes that the BAPI study has an advantage in achieving a positive reading, because it has twice as many total patients, and therefore, is in a better position to achieve significance in secondary endpoints in mild AD patients.
Dr. Cruz is also hoping to capitalize on the new research focus on mild AD patients with Transition's ELND005 drug, which has been reviewed by the FDA and European regulators in preparation of a Phase 3 trial with mild patients.
The pivotal study would most likely measure Neuropsychological Test Battery (NTB) scores and Clinical Dementia Rating scale Sum of Boxes (CDR-SB) score, measures of cognition and executive function considered to be the key clinical endpoints for studies in early AD.
In an earlier Phase 2 study, ELND005 showed encouraging trends in a pre-specified analysis of mild patients, even though it wasn't statistically significant for the overall mild-to-moderate population in the study.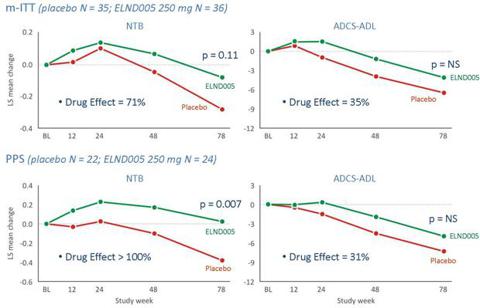 ELND005 Phase 2 Trial Clinical Outcomes in Mild AD (Placebo vs. ELND005 250 mg BID)
However, for the study's cognitive primary endpoint, NTB, Dr. Cruz says ELND005 demonstrated a statistically significant improvement over placebo in mild AD patients who completed the trial. Positive trends were also seen in CDR-SB.
Dr. Cruz points out that positive BAPI data in the mild patient population this fall would be consistent with Transition's Phase 2 data.
"So, in an environment of increased interest in AD drug development, apparent flexibility from the FDA and the enormous financial opportunity from a potential AD drug, the timing for a Big Pharma partnership with Elan to perform Phase 3 trials with ELND005 in mild AD patients is significantly enhanced," he adds.
This raises the question for investors of how to play the AD game this summer. Analysts suggest the best leverage with BAPI is Elan, because it owns 25% of the drug and has a much smaller market capitalization than J&J and Pfizer.
In a research report last month, RBC Capital Markets analyst, Michael Yee, reiterated that Elan's stock price might fall to around $9 to $10 on completely negative data; be anywhere in the $12-to-$15 range on various mixed scenarios; and soar to $25 or more on very positive, clean data from the BAPI study. Elan closed at $13.62 on the NYSE on Friday.
Transition also could be a winner in a Big Pharma partnership with Elan on ELND005, which is the only oral Phase 3-ready product to move forward in AD. It also has a good safety profile, crosses the blood-brain-barrier, breaks down and clears amyloid fibrils and has the advantage of being a pill, while BAPI and SOLA are delivered intravenously. The stock closed at $2.46 on NASDAQ on Friday.
Dr. Cruz points out that Transition has other drug development activities that can provide additional value. For example, Elan has stated publicly that it plans to take ELND005 into a Phase 2 study in bipolar disease in the third quarter this year. The move would trigger a payment of $11 million from Elan.
"Elan's decision to move into bipolar is an outgrowth of what we see in AD patients, who as they progress and independent of amyloid plaque, demonstrate an increased frequency of developing neuro-psychiatric symptoms such anxiety and depression," he says.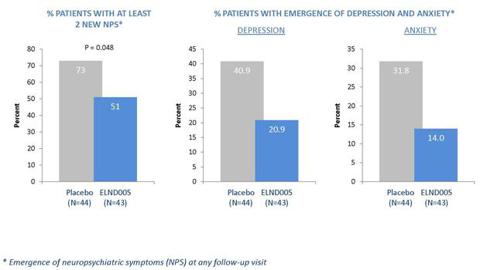 Neuropsychiatric Effects of ELND005 in Mild AD Patients (MMSE 22-26)
Independent of the AD data in the Phase 2 trial, Dr. Cruz says Transition and Elan found evidence that both mild and moderate patients exhibited a "decline in the emergence of new neuro-psychiatric symptoms by a statistically significant amount. These symptoms are similar to the mood changes associated with bipolar disorder."
He explains that patients with bipolar mood episodes have elevated levels of myo-inositol, a cell signaling agent, in the brain. Bipolar drugs, such as Lithium and Depakote, reduce myo-inositol levels by 20% to about 30%, while ELND005 leads to even greater reductions in myo-inositol levels with 250 mg taken twice daily.
Lithium and Depakote, however, have been linked to a number of adverse events such as weight gain, drowsiness, GI effects and thyroid illness. They also require constant monitoring of drug levels to prevent serious potential events.
In addition to ELND005, Transition is developing a GLP-1 dual agonist, TT-401, with Eli Lilly for its potential to lower blood glucose levels in patients with Type 2 diabetes, with accompanying obesity.
The drug recently finished a Phase 1 study and is now entering a proof-of-concept study involving 40-to-60 obese diabetics. Data from the study are expected in the first quarter of 2013. "Based on the preclinical data and mechanism of action of TT-401, this once-weekly molecule could provide superior glucose control, weight loss and triglyceride profile," Dr. Cruz suggests.

Preclinical Efficacy of TT401
"Considering the value of GLP-1 products, as evidenced by Bristol-Myers Squibb's (NYSE: BMY) $7.3-billion offer to buy Amylin Pharmaceuticals (NASDAQ: AMLN), development of novel and next generation GLP-1-like molecules with superior action to compete with the existing GLP-1 products in the diabetes market, would have enormous value."
Disclosure: I have no positions in any stocks mentioned, and no plans to initiate any positions within the next 72 hours.