Retail investors have loved royalty trusts for years now. They've paid great dividends and shown outstanding capital appreciation as oil prices have surged over the last decade. However, some investors are taking great risks when searching for these high dividend yields. These investors aren't looking at SEC filings and educating themselves on when these Trusts will terminate. One such name is Whiting USA Trust I (NYSE:WHX). WHX is a royalty trust trading at double its actual underlying value, and the trust is set to expire in 2015. The dividends to be paid during the next 3 years are the only value for WHX unitholders. When the trust is terminated, you will be left with nothing else.
WHX has a lack of institutional investors. Instead, retail investors are the sole owners of WHX. These investors (who haven't done their homework) have bid up WHX to the point where they will all suffer severely some time in the next 3 years. The dividend itself might look fantastic at 16%, but I strongly urge you to avoid or sell this trust. Investors might think they are smart enough to get out before the shares fall and keep collecting the huge dividend, but I strongly urge investors against this. None of us truly know when the Trust will collapse to its true value, and it's a dangerous game to try and play Russian roulette.
Whiting Petroleum (NYSE:WLL) has formed two royalty trusts since 2007. In October 2007, WHX was formed and brought public in April 2008. The other royalty trust is Whiting USA Trust II (WHZ) which was formed on December 2011, and brought public on March 23rd, 2012.
WHX was formed, allowing it to produce and sell 9.11 MMBOE. WHX was entitled to 90% of the net proceeds, or 8.20 MMBOE. After this amount is produced, the trust will wind down and terminate. As of March 31st, 2012, the Trust had produced and sold 64.3% of the entire production allowed. In WHX's most recent 10-K, the Trust said they expect to terminate on or around August 31st, 2015, based on current production trends.
In WHX's 10-K, the Trust broke down the expected future cash flows as of 12/31/2011:

Click to enlarge
The expected future net cash flows were $127.34M as of 12/31/2011. Those are the expected future dividends for WHX unitholders. This amount equals to $9.18/unit in dividends. The discounted future cash flows are $7.84/unit. Now that we're half way through 2012, these expected cash flows have decreased as more of the allotted production has been produced. These expected future dividends were likely near $8.00/unit as of 6/30/2012.
Despite WHX expecting the trust to wind down on August 31st, 2015, I believe the trust could wind down as soon as March 31st, 2015. Production on the mature oil fields has declined at a slower rate than anticipated, and if that trend continues the trust will terminate earlier than stated in the 10-K.
The most recent trust set up by Whiting Petroleum, WHZ, could be a possible place to rotate your money to when selling WHX. WHZ has a minimum of 9 years left until the trust could terminate. WHZ has paid 1 dividend since its IPO. When annualizing this dividend, it appears to be paying an 18.7% dividend yield. However, WHZ is still risky because it is very dependent on oil and natural gas prices. I'm not recommending WHZ, but suggesting it as an alternative if you must have exposure to royalty trusts and are invested in WHX.
Currently, there is a 55% annual lending rate to borrow shares to short in WHX. It will likely be unprofitable to short WHX and pay that 55% annual interest rate. Selling deep in the money calls appears to be a good strategy to bet on the downside for WHX.
WHX and BP Prudhoe Bay Royalty Trust (NYSE:BPT) are both severely overvalued at current prices. Last week I wrote an article on BPT showing how lofty the valuations are in that trust. Both trusts are dominated by retail investors, and most of those investors don't understand the risks they are taking in these 2 names. I strongly recommend that holders of WHX to sell their shares in this royalty trust before time runs out on them. This trust will terminate, and when not if it does, investors will be in major pain. Retail investors lose big when they don't do their due diligence: don't be one of the investors who get burned.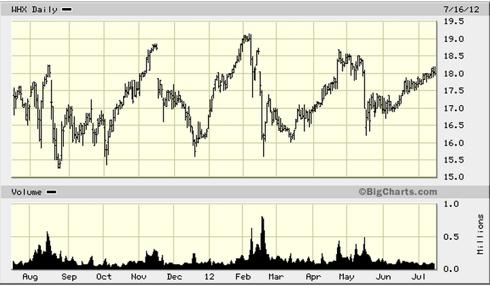 Click to enlarge
Disclosure: I have no positions in any stocks mentioned, and no plans to initiate any positions within the next 72 hours.
Additional disclosure: I am short calls in WHX.