As the stock for Corning Inc. (GLW) trends lower and lower, the company has recently received some attention by the value investing community. This company is an American industrials staple, and currently trades at multi-year low valuations. In fact, the Price/Tangible Book value is its lowest levels since the credit crisis. The company is also decently received by Wall Street analysts with 57.7% of analysts recommending a buy, 34.6% recommending a hold, and has an average 12-month price target of $15.91 - a 29% implied upside from today's close (Bloomberg consensus). The following is a fair analysis of Corning, and why I believe this company is what Chanos would refer to as a value trap.
According to its 10-K:
Corning Incorporated is a global, technology-based company. The Company produces optical fiber, cable, and photonic components for the telecommunications industry, as well as manufactures glass panels, funnels, liquid crystal display glass, and projection video lens assemblies for the information display industry.
| | | |
| --- | --- | --- |
| | % of Revenues | Description |
| Display Technologies | 41% | Used for LCD panels |
| Telecommunications | 26% | Inside fiber optics cables; benefiting from telecom fiber upgrades |
| Specialty Materials | 15% | Includes Gorilla Glass (used on touchscreen smartphones and tablets) |
| Environmental Technologies | 13.7% | Used in catalytic converters in vehicles worldwide |
| Life Sciences | 8.1% | Labware |
Source: Company 10-K
This description and the revenue breakdown certainly makes corning appear to be a well-diversified glass-related product manufacturer, but further digging will reveal that Corning is extremely dependent on the Display Technologies segment. In fact, 84% of its net income is derived from this segment and is therefore the main determinant of Corning's stock performance.
Corning is the industry leader in producing the glass used inside LCD panels. It holds critical patents and manufacturing facilities that allow the company to create the thinnest and lightest display glass in the industry. Along with two other manufacturers, these companies dominate over 90% of the industry by revenue. However, this segment also faces the biggest headwinds for years to come.
Pricing Power to Weaken
At the present, Corning holds the technology to make the best display glass in the industry. According to Morningstar research, other manufacturers are catching up, and will eventually deteriorate Corning's economic moat. Corning's pricing power will likely weaken as display glass will slowly become commoditized.
Subject to Macro Issues
The displays manufacturing industry is nearing maturity, and therefore its growth will be closely tied to GDP. With regards to what appears to be a slowdown in China and the ever deteriorating European situation, macro headwinds continue to exist going forward.
OLED Threat
The stock has fallen as of late as a result of steadily falling TV panel pricing. Analysts will tell you that recent evidence (from JP Morgan equity research) suggests that prices are finally showing signs of stabilization and prices of TV panels have increased in the last few months. In the short term, that may seem like a catalyst for the stock, but the rise of OLED is a much more disconcerting long term trend for the company.
OLED (the O stands for organic) is the new generation of displays that outperform existing LCD technology in almost every way. It has the potential be made thinner, lighter, with better view angle, color, and contrast when compared to its LCD predecessor. LCDs require two glass layers inside, while OLED displays can be made, in theory, with only a single piece of glass. This means that the segment that accounts for 84% of Corning's profits has the potential to be cut in half. Many analysts are writing this off because they argue that it is unlikely consumers will adopt OLED displays very quickly given that they are multiples of times more expensive than existing LCD TVs. However, whenever there is a paradigm shift within an industry, the stock often doesn't do well regardless of near term profits (think RIM back in 2010).
Gorilla Glass a Small Part of Earnings
Bulls will say that Gorilla Glass, which is nearly unanimous in touchscreen devices, will be a major driver for Corning going forward. And this claim is true to some extent - Gorilla Glass sales grew 21% over the last quarter. However, one must put this growth into proper context. In Corning's 10-K, Gorilla Glass falls into the "Special Materials" segment, which includes over 100 different products and the entire segment only contributes to less than 5% of total net income when adjusted for extraordinary items. Gorilla Glass, while fast growing, will not be nearly enough to compensate for pressure in the Display Technologies segment.
Willow Glass a Potential Catalyst but Unproven
Corning's Willow Glass is certainly an exciting new product for the company. Willow is designed to cover displays which can be rolled and folded - creating a potential for flexible displays. The concept of rollable displays is certainly very exciting, but how successful it will be as a commercial product is uncertain.
Valuation
There is a fair price to be paid for everything. Despite all these concerns, does Corning's current price make it good value play? After all, Corning is trading at its lowest Price/Tangible Book Value since the recession in 2008 (this is an important metric for industrials).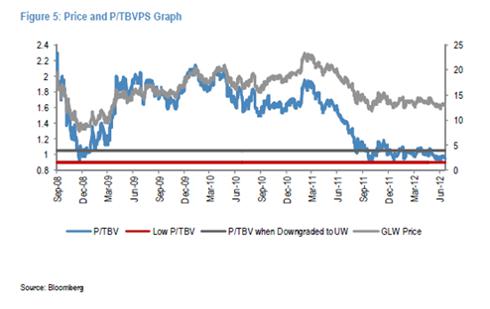 Its forward EV/EBITDA and P/E also trade at a discount to its peers TE Connectivity and Nippon Electric Glass
| | | |
| --- | --- | --- |
| Company | 1-Year Forward EV/EBITDA | 1-Year Forward P/E |
| Corning | 5.6x | 9.2x |
| TE Connectivity (TEL) | 6.6x | 10.5x |
| Nippon Electric Glass (5214) | 2.2x | 12.3x |
In the short term, Corning does seem to be quite cheap, but I continue to hold the view that Corning's growth will slow down going forward which a 1 year forward valuation will not fully appreciate.
I proceeded to value the stock from a discounted cash flow perspective. The following is a list of important assumption. I used consensus estimates up to 2014, followed by a slow decline to 2% as the terminal rate.

Output: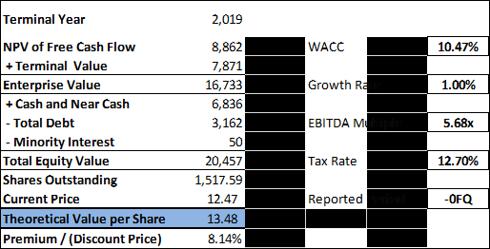 Sensitivity
WACC

Perpetual Growth

Share Price

1.00%

1.50%

2.00%

2.50%

3.00%

10.47%

13.45

13.74

14.06

14.42

14.84

11.00%

13.02

13.28

13.57

13.89

14.25

11.50%

12.65

12.89

13.15

13.43

13.75

12.00%

12.31

12.52

12.75

13.01

13.30

12.50%

11.99

12.18

12.39

12.63

12.89
A DCF's tendency to overvalue stocks generally doesn't create a good valuation metric to determine the quality of investment. However, in this case my base case DCF only generated a theoretical share value of only $13.15 - only a paltry 8% upside to today's price. This discount is not nearly large enough for me to consider this as a potential buy.
Conclusion
Corning is going to be facing an inflection point in the coming years. On the one hand, the rise of OLED screens will likely shift the consumer market to OLED panels from the LCD variety. In theory, OLEDs require only half the amount of display glass versus LCD panels. The display technologies segment accounts for 84% of Corning's net income, and this trend may prove very challenging for Corning. On the other hand, its specialty materials segment, which includes Gorilla Glass, is growing at double digits. However, the entire special materials segment, only accounts for a mere 5% of Corning's net income. The present growth rate for Gorilla Glass is impressive, but it is nowhere near enough to be a major driver of profit any time soon. Corning's Willow Glass, which is a flexible glass cover for panels, could provide the next big growth driver for Corning because it creates the possibility of building rollable and bendable displays, but its practical application is uncertain. Looking at Corning's valuation, the company does appear to be trading at small discount, but I don't believe Corning's current share price fully prices in the headwind it will face in the coming years and may prove to be a value trap for investors.
Disclosure: I have no positions in any stocks mentioned, but may initiate a short position in GLW over the next 72 hours.