Healthcare sector has been the strongest sector in one month performance posting +4.2% gains. I screened the healthcare sector for stocks that had biggest one day moves. Here are three stocks that I found:
1. Opexa Therapeutics (NASDAQ:OPXA) is a publicly traded biotechnology company dedicated to the development of patient-specific cellular therapies for the treatment of autoimmune diseases. The company's leading product candidate has the potential to address the significant unmet medical needs of the large multiple sclerosis (MS) patient population.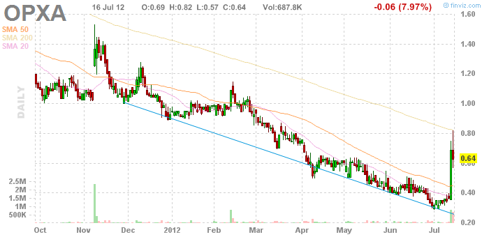 News
Neil K. Warma, President and Chief Executive Officer of Opexa commented on May 11th:
We are progressing favorably in the planning and preparations for a clinical trial in Secondary Progressive MS patients. The clinical trial protocol was submitted to the FDA for final review and we received no additional comments from them. This is a key milestone for us, providing us with the necessary regulatory positioning to advance with the trial preparations and discussions with potential trial sites. Operationally, we believe we remain on track to initiate the trial in the coming months as the team continues to work diligently to finalize preparations. In order to initiate the trial, we will need to secure additional financing, either through a potential partnership or additional capital raise, and this continues to be an important focus for us.
It is possible that the surge in the stock price on Friday was due to some partnership speculation.
2. IsoRay (NYSEMKT:ISR) is a medical technology company and innovator in seed brachytherapy and medical radioisotope applications. The company utilizes its patented radioisotope technology, Cesium 131 as a major therapeutic medical isotope with a goal of providing improved patient outcomes in the treatment of brain cancer, head and neck cancer, lung cancer, ocular cancer, gynecologic cancer and prostate cancer.
IsoRay Medical began production and sales of its initial FDA-cleared product, the IsoRay 131Cs brachytherapy seed, in October 2004 for the treatment of prostate cancer and has treated over 7,000 patients. Today it's 5 year results are proving to be the highest in the cancer treatment industry regardless of the method of treatment. The company's management believes its technology will allow it to capture a leadership position in an expanded brachytherapy market. The more clinically beneficial characteristics of the Cesium-131 (131-Cs or 131Cs) isotope are expected to decrease radiation exposure to the patient and reduce the severity and duration of side effects, while treating cancer cells more effectively, if not more so, than Iodine-125, Palladium-103 or other modalities of treatment.
Cesium-131 offers a combination of patient benefits that management believes are superior to other currently available brachytherapy isotopes. Cesium-131 could also enable meaningful penetration in other solid fast growing tumor applications such as breast cancer, liver cancer, esophageal and pancreatic cancer, expanding the total available market opportunity.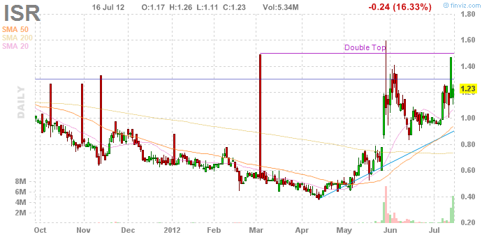 News
On July 16, 2012 IsoRay announced that it has entered into agreements with certain institutional investors for a registered direct placement of approximately $3.5 million of common stock at a price of $0.965 per share.
On July 11, 2012 IsoRay announced another step forward in international adoption of its ground-breaking GliaSite radiation therapy system, the world's only liquid radiation balloon catheter device used in the treatment of brain cancers. IsoRay shipped its first orders to Germany as mounting inquiries continue to grow company confidence in the international market. According to IsoRay CEO Dwight Babcock:
The medical community is clearly becoming aware of the innovative alternative that GliaSite presents as an important advance over previous brain cancer treatments. We are seeing a growth in inquiries from Germany, Italy, Austria, Switzerland, and the United Kingdom.
Insider buys
Dwight Babcock has purchased 110,600 shares this year and currently holds 206,373 shares of the company. Dwight Babcock serves as Chairman and Chief Executive Officer of the company.
3. Affymax (NASDAQ:AFFY) is a biopharmaceutical company based in Palo Alto, California. Affymax's mission is to discover, develop and deliver innovative therapies that improve the lives of patients with kidney disease and other serious and often life-threatening illnesses. The company's first marketed product, OMONTYS, was approved by the U.S. Food and Drug Administration (FDA) in March 2012.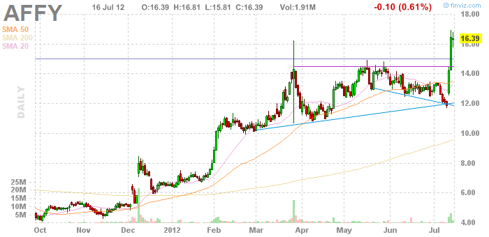 News
On July 12, 2012 Takeda Pharmaceuticals U.S.A. (OTCPK:TKPHF) and Affymax announced that Takeda Pharmaceuticals America has entered into a supply agreement for sourcing and supply of OMONTYS (peginesatide) Injection to Fresenius Medical Care North America and certain of its affiliates. OMONTYS is the only once-monthly erythropoiesis-stimulating agent for anemia available to the dialysis patient population with chronic kidney disease in the United States.
Conclusion
Opexa Therapeutics made a big surge on Friday with no news. IsoRay did announce news on July 16th and 11th and so did Affymax on July 12th. I might take a long position in IsoRay during the next 72 hours. IsoRay has a $3.63 price target from the Point&Figure chart.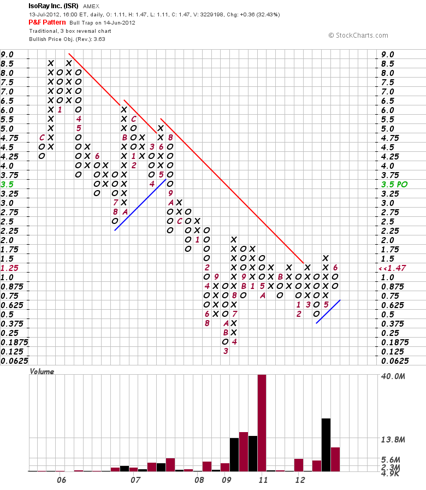 Disclosure: I have no positions in any stocks mentioned, but may initiate a long position in ISR over the next 72 hours.