Joe's Jeans (NASDAQ:JOEZ) is an apparel company focused on denim and non denim products in the retail and premium markets. Joe's competes with brands such as Seven for All Mankind, Diesel, True Religion, etc.
The executive summary of the following note is that I believe that if Joe's executes on its growth plan it can grow earnings at rates well above 50% for the next few years. As a result it deserves a premium multiple. With the potential to generate well in excess of $0.10 of earnings per share next year Joe's could very well double from its current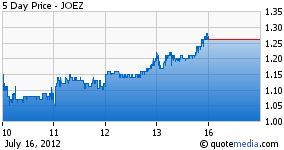 price of $1.17 per share. Further, a strong Q2 suggests that the company is on track to achieve these results.
On July 16 Joe's Jeans reported fiscal second-quarter earnings. The highlights include:
$28.6mm in sales, a 16% increase
10% increase in retail same store sales
26% increase in retail sales
14% increase in wholesale sales
82% in operating income to $3.1mm
These are very solid earnings demonstrating excellent execution for the company. Joe's is a growth story and execution is the key to its success and ultimate valuation.
It its latest investor presentation Joe's details the growth strategy, which involves the following:
Increasing the retail store base to 100 stores by 2017
Growing the men's business by increasing points of distribution and adding additional non-denim products
Growing the international business including licensing non-U.S. retail stores
Expanding market coverage through its Else brand (exclusive to Macy's), which provides denim for a younger demographic at a lower price point
Increasing the store base will grow revenue and increase margins. Retail revenue now accounts for approximately 20% of total revenue. Retail gross margin was 71.2% in the recently announced quarter compared with 41.4% for the wholesale business and 47.3% overall. As Joe's experiences positive same-store sales (10% in Q2) and adds stores the significantly higher retail gross margins will elevate the overall margins.
On the international front Joe's recently announced a new international distribution agreement. The goal is to be able to grow internationally while controlling costs. President and CEO Marc Crossman addressed the international strategy in the press release: "By moving to a distribution model, we will reduce corporate overhead and increase profitability while preserving international growth potential."
On the Q2 conference call the company addressed its current international business:
Our international sales also increased this quarter compared to the year-ago period. Similar to our domestic wholesale business, we saw significant increases in international women's denim sales as a result of our printed denim and 55 Colors program. We recently announced a new distribution agreement for France and currently the restructuring of the Paris office. As a result, our European business generated a healthy profit slate during the quarter. We continue to believe the international market represents a sizable opportunity for us and with this new distribution model, we expect to reduce corporate overhead and increase profitability.
Joe's Else brand, sold exclusively at Macy's, is a game-changer for the company. According to the investor presentation the Else label launched in 141 Macy's stores through the U.S. and will end fiscal 2012 in 300 Macy's stores. Else contributed $1.5mm to Joe's top line in Q1 2012 and $.75mm in Q2 2012. On the Q2 2012 earnings call the company discussed Else in its prepared remarks:
Finally, our else brand, which we commenced shipping in February, contributed $750,000 to the top line sales for the quarter. It's important to note that excluding else, our Joe's Jeans sales still would have been up 13% for the quarter. That said, the performance of the else brand continues to exceed both our own and Macy's sales expectations. Building on the success of the spring launch, we will be doubling our door count for the fall season, all of which bodes well for the future of this brand.
In respective to a question CEO Marc Crossman referenced the growth in the Else brand that is in the pipeline.
Yes. Else, was -- just to put it in perspective, else was about $700,000 that we shipped and it was really kind of our summer shipment which is not a big shipment. Really, big numbers are going to hit our P&L starting in the third and fourth quarters. And I think I said on the call that starting July, at the end of this month, we're going to have our first fall shipments.
In Q2 2012 Joe's generated earnings per share of $0.02 versus $0.01 in Q2 2011. Importantly the $28.6mm of revenue in the quarter representing over 26% year-over-year growth was a record for the company.
I believe the company can generate earnings of over $0.07 per share for FY2012 (it has generated $0.03 in the first 6 months) and $0.12-$0.15 for FY 2013. This suggests EPS for the next 12 months of over $0.10 per share. Assuming NTM EPS of $0.10 to $0.12 per share and a price-to-earnings ratio of 20-30x, Joe's stock is worth $2.00 to $3.60 per share, a 70% to 200% return to the closing price on July 16.
The largest risk to an investment in Joe's remains execution. Its strategy is in place and it is now a matter of executing. So far so good, but as in any investment there is risk. However, with the return potential for an investment in Joe's I believe the potential return more than compensates investors for the risk.
Disclosure: I am long JOEZ.