Retirement investing advice is generally focused on your own retirement. But the same concepts that apply to your own retirement investing, like dividend growth investing, can apply to your kids. The power of time and dividend compounding can transform a relatively small sum of cash into a lifetime gift.
For example, let's pretend you have a 15-year-old son named Jack. Jack's earned a few thousand bucks from mowing lawns and working at the local grocery store. Because Jack has earned income, he's eligible to contribute to a Roth IRA up to a maximum of his earned income or $5000 (whichever is lower).
Now, the best solution is obviously to make Jack open up a Roth IRA with some of his earnings. But let's be permissive parents for now—we'll contribute the money ourselves. Let's start with $500, which isn't much to spend on our kids: a Playstation 3 video game console goes for around $350, and if you add in three more games, you're up to $500.
This money could instead be used to open up a tax-free Roth IRA for Jack, with an initial investment of $500. (Prepare for boos come Christmas morning.) Let's see how this investment stacks up over time.
In the first column is Jack's age. In the second is Jack's Roth balance, assuming a fairly conservative 8% annual return. In the third is Jack's Roth balance, assuming the same return and 3% annual inflation (5% inflation-adjusted return). In the fourth is the portfolio's income yield at 3.3%, and in the fifth is the same yield adjusted for inflation.
Click to enlarge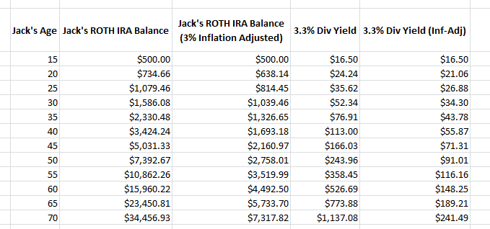 Therefore, instead of a video game console, you could give him a retirement portfolio of over $7,000 inflation-adjusted dollars when he retires. This portfolio would be his, tax-free, and it would generate $241.49 in annual income. Given the expected inflation and return rates, investing $500 for him now is equivalent to a gift of $1,500 in 15 years when he's 30.
If you can scrape together $5,000 to contribute for Jack by the time he's 20, the returns are multiplied. Jack is now entitled to an inflation-adjusted retirement portfolio of $57,337—that's at least one year worth of living expenses. Alternatively, he could use the near-$2,000 tax-free annual income to supplement his income from other sources.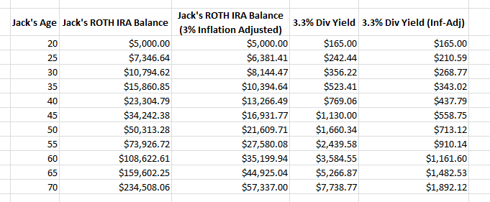 Finally, for financially secure parents who can afford to contribute a significant chunk each year through Jack's college and early adult years, it's possible to essentially guarantee financial security for Jack in retirement. The resulting $225,000 inflation-adjusted tax-free balance (or $7,500 of annual income) offers a very potent complement to Jack's own retirement savings through his lifetime.

Conclusion
Dividend growth investing is one of my favorite strategies for those saving for retirement. It's inherently a strategy that's more about time and patience than anything else. As Tim McAleenan put it in The Short-Term Benefits of Dividend Growth Investing,
[D]ividend growth investing can be quite lucrative over long periods of time. A $10,000 Johnson & Johnson (NYSE:JNJ) investment in 1980 would be worth $600,000 today. If you put $300,000 equally into The Hershey Company (NYSE:HSY), Colgate-Palmolive Co. (NYSE:CL), and Procter & Gamble Co. (NYSE:PG) in 1990, you'd have over $3,000,000 today. And so on.
The logic is that small initial investments in solid companies grow to formidable positions over time. For most investors, that timeframe is 30 years or less. But your kids have the advantage of time. Even a relatively small one-time contribution of $500, compounded over time, can help provide your kids with financial security when they're old and gray.
So if they're eligible (income-earning), go open a Roth IRA for your kids, and apply the same DRIP dividend growth investing strategies you do to your own portfolio. Jack may hate you for it this Christmas, but he'll thank you for it long after you're gone.
And that's what really counts, right?
Disclosure: I have no positions in any stocks mentioned, and no plans to initiate any positions within the next 72 hours.