According to a recent report by the Investment Company Institute, the proportion of retail investors fell to 46.4% in 2011, down from a high of 53% a decade earlier. Even Wall Street analysts have remained wary of equity investments lately. In fact, the BofA Merrill Lynch's Sell Side Indicator signaled in June that the equity allocation in portfolios have dropped to record low levels. This extreme bearishness in facts can be viewed as a contrarian signal, making a strong case for a bull run in the latter half of 2012.
Even corporations have been preparing for a doomsday scenario by hoarding record levels of cash. Take a look at the most recent Flow of Funds statistics published by the Federal Reserve. Corporations have hoarded a record $1.74 Trillion in cash and equivalents, $13 Billion more than the Q1 2011, and an increase of 16% since 2009.
If and as soon as bullishness sets in, firms that provide financial advice and asset management to retail and corporate investors should be the first few to benefit from any bull market. Let's take a look at Lazard Ltd. (NYSE:LAZ).
About Lazard Ltd.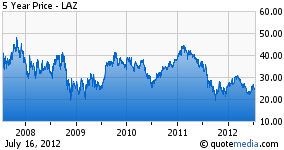 Lazard is a prominent global asset management firm, operating in 27 countries in the United States, Europe, Asia, Australia, Central and South America. The company provides financial advice on Mergers and Acquisitions (M&A), strategic matters, capital structure, corporate finance, as well as asset management services to the private sector (corporations, institutions), the public sector (governments) and the consumers (individual investors).
Why Lazard?
Lazard's revenues from M&A have been constrained in Q1 and Q2 of 2012 due to the slowed M&A deal flow in this duration. M&A deal flow has dropped by 15% YTD in 2012, from 3,729 in 2011 to 3,159 deals.

Note that as of March 2012, 70% of operating revenues in the Financial Advisory unit came from M&A advisory.

Going into 2013, the numbers might not be that bad. Key drivers for increased M&A activity in the remainder of 2012 include:

A. Considering the high levels of cash that corporations have piled up and the fact that gaining organic growth is becoming increasingly more challenging for most companies, acquisitions should be on the rise.

B. Recently there was a huge shareholder expectation for Apple (NASDAQ:AAPL) to use it's cash for buying back stocks or introducing a dividend. Such shareholder pressure to deploy cash will continue as publicly traded companies continue to hoard cash.

C: M&A activity is highly correlated with overall stock market. Companies look at valuations of other companies before engaging in M&A decisions. Since May 2012, valuations of many companies have become quite attractive and bigger companies are bound to take advantage of this. Improving valuations and market sentiment drive increased M&A activity.

D. High volatility has inhibited M&A activity in 2011 and 2012 (so far). But take a look at the following M&A trend chart which shows that historically, M&A activity bounces back with bang that lasts for multiple years.

In June 2012, Trian Fund Management announced that it had taken a 5.1% stake in Lazard. The firm stated that they considered Lazard to be "significantly undervalued" and that they project that Lazard could earn more than $3.50 a share in 2014, implying a doubling of the share price from its June levels. This announcement surely puts the downtrodden Lazard stock into limelight.

Note: Investors considering long term positions in Lazard must go through this investor presentation, even though several excerpts and slides are provided in this article.

Lazard's global presence makes it well positioned in the financial advisory and asset management business. Generally, asset management units of companies like Lazard start gaining revenue growth once the stock market start improving.
Lazard gives a healthy dividend of more than 3%, so long term investors get paid while they wait for stock price appreciation.
Lazard has an excellent franchise and brand value among its competitors. Also, Lazard is the largest independent advisory firm with only a 9% share of the top 10 advisor global fee pool. There is a huge opportunity for share gains.
On April 27 2012, Lazard announced a new strategic plan with three main focuses: Margin Improvement, Shareholder Friendly Capital Allocation and Improved Corporate Governance and Transparency. This plan was very much liked by most analysts, especially Nelson Peltz.
Competitors
In the Financial Advisory group, Lazard's main competitors include Bank of America's (NYSE:BAC) Merrill Lynch division, Credit Suisse (NYSE:CS), Citigroup (NYSE:C), Evercore (NYSE:EVR), Goldman Sachs (NYSE:GS), Greenhill (NYSE:GHL), Jefferies (JEF), JP Morgan (NYSE:JPM), Morgan Stanley (NYSE:MS).
In the Asset Management segment, Lazard's main competitors include Affiliated Managers (NYSE:AMG), AllianceBernstein (NYSE:AB), Artio (NYSE:ART), BlackRock (NYSE:BLK), Calamos (NASDAQ:CLMS), Cohen & Steers (NYSE:CNS), Eaton Vance (NYSE:EV), Federated Investors (NYSE:FII), Franklin Resources (NYSE:BEN), Invesco (NYSE:IVZ), Janus Capital (NYSE:JNS), Legg Mason (NYSE:LM), Pzena Investment Management (NYSE:PZN), T. Rowe Price (NASDAQ:TROW), and Waddell & Reed Financial Inc. (NYSE:WDR).
In terms of fundamentals, key ratios and earnings performance, Lazard is not among the very best performers among it's competitors.
There are several positives though. Lazard's average annual long term organic Fund Flow growth (2007-2011 time period) is among the best in the industry at 6.8%.
Also, among these competitors, many are "bulge bracket firms" that have been facing heavy government regulations and public criticism. According to Trian Fund Management's investment presentation, boards are increasingly turning towards independent advisory firms. Refer to the Slide#18 from this presentation.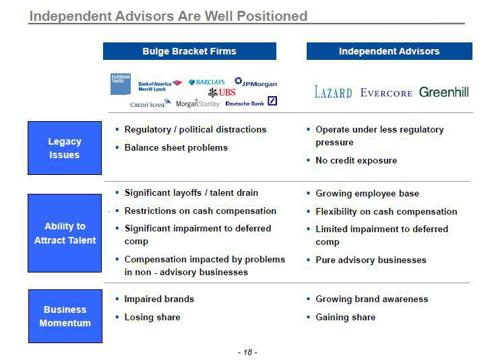 Conclusion
Investors should take a serious note of Trian Fund Management's comments about Lazard and take a look at their investor presentation.
" Lazard's attractive low capital-intensive, fee-based business model is positioned to be a natural beneficiary of long-term financial market trends. Trian supports Lazard's new strategic plan, announced on April 27, 2012, which is focused on margin improvement, shareholder-friendly capital allocation, and improved corporate governance and transparency.

Trian believes Lazard's shares, which closed on June 15, 2012 at $23.09 per share, are significantly undervalued and that successful execution of Lazard's plan could result in the company increasing earnings per share to slightly more than $3.50 in 2014. This would imply a target value per share more than double the current price."
Having said that, investors must also remember that Lazard's outperformance depends on an increase in M&A activity, appreciation and increased portfolio allocation in equity markets, reduced volatility in the global stock market, growth in emerging markets (especially China) and improved economic data coming out of Europe.
Considering the recent dismal numbers coming out of China, Europe and the United States, it appears that for the next couple of months at least, investors could potentially get good opportunities to initiate long positions. Nibbling on the stock slowly and buying on dips at various price points is one alternative investors can adopt to avoid a high cost basis. Also, keep a watch on options activity for Lazard.