Some stocks are displaying really beautiful charts, but can those parties last?
AEP Industries (NASDAQ:AEPI)
The rubber is really hitting the road here, as the chart of this stock shows a nice continued rise from just over $20 last October to $46 now.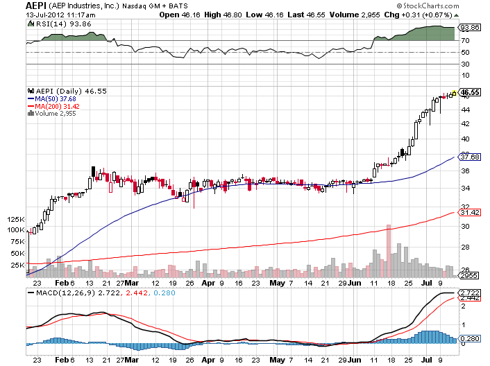 So, what does this shining company do? From Yahoo:
AEP Industries Inc. engages in the production, manufacture, and distribution of plastic packaging products in the United States and Canada.
Never realized there could be so much acceleration in that business, we have to say. Some core metrics:
Market cap: $256.9M [Yahoo]
Revenue$1.07B (trailing twelve months, or ttm)
Cash $5.2M
Debt $258.9M
Operations generate sufficient cash to cover capital expenditures and then some, but overall, the company isn't a cash generating 'machine,' but neither is it bleeding cash, see the free cash flow graph:

The analyst (just the one, according to Yahoo) expects earnings per share to rise from 89 cents last year (fiscal year ends in October) to $2.34 this year and $3.61 the next. Such an earnings explosion would explain the nice chart easily. Indeed, this is exactly what Zacks argues:
Plastic packaging films maker AEP Industries (AEPI) has seen its stock price jump more than 60% year-to-date, partially due to its solid double-digit earnings growth projections and attractive synergies from an acquisition. This Zacks #1 Rank (Strong Buy) makes for an attractive choice for aggressive growth investors. AEP Industries posted strong second quarter fiscal 2012 results on June 11, delivering a staggering 123% positive earnings surprise. The New Jersey-based company logged earnings of 87 cents per share, which trounced the Zacks Consensus Estimate of 39 cents.
It is somewhat curious as looking back into EPS history, there isn't much of an upward trend the last five years:

Although the company did come from a bit of a dip in 2010, the shares aren't really that cheap anymore and the company has to show that it can maintain the momentum. Volume has been decreasing since the middle of last month and the shares have been in overbought territory ever since, with the RSI at a rather stunning 93. We think some consolidation is in order but longer-term, there are still good opportunities here, as we like companies that dominate their niche.
Headwaters
Another beautiful chart is provided by the trading in shares of Headwaters (HW). What does it do? From Yahoo:
Headwaters Incorporated provides products, technologies, and services for the building products, construction material, and energy industries primarily in the United States and Canada. The company's Light Building Products segment designs, manufactures, and sells manufactured architectural stones; exterior siding accessories, such as decorative window shutters, gable vents, mounting blocks, roof ventilations, window and door trim products, specialty siding and roofing products, and window well systems; and concrete blocks and other building products used in residential and commercial construction markets.
Some key statistics (Yahoo):
Market cap: $360M
Revenues (TTM): $610M
Cash $38M
Debt: $512M
Debt significantly larger than the market cap is something we're a bit wary off, so how are they doing on the cash flow front? Not very encouraging the last three years, when the company produced substantial losses. Operationally, 2009 and 2010 produced $60M of positive cash flows, but this turned negative ($51.7M) in 2011.
The company still produced losses up until the last quarter. Combined with the large debt, that's not terribly encouraging. Apparently, buyers of the shares expect a turn-around. Analysts expect earnings per share to be a negative 36 cents this year, but indeed, for next year they expect an ever so small profit of 7 cents per share. But the last two quarters, they've been too optimistic [Yahoo]
What's more, while the stock chart is beautiful, the one below is pretty ugly:

It is a play on a housing recovery, but in our view, much of that has been priced in already. Before the shares can run up more, they really have to show some improvement on revenues, debts, and that predicted turn-around towards profitability. Notice also that the shares are quite overbought already, only a single (very small) down day in the last 20 trading sessions or so. They need to cool down.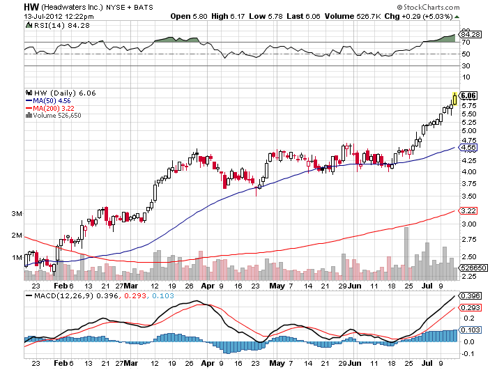 Tree.com
Another whopper of a chart is that of Tree.com (TREE). Here it is: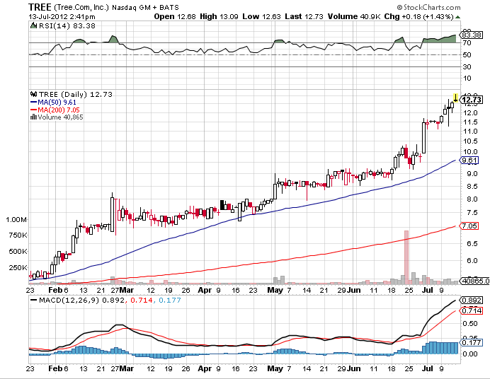 What does it do? From Yahoo:
Tree.Com, Inc., through its subsidiaries, owns various brands and businesses that provide information, tools, advice, products, and services for critical transactions in consumers' lives. The company operates online lead generation networks and call centers that connect consumers and service providers principally in lending, higher education, automobile, home services, and insurance marketplaces. Its brands include LendingTree.com, GetSmart.com, DegreeTree.com, LendingTreeAutos.com, DoneRight.com, ServiceTree.com, InsuranceTree.com, and HealthTree.com that serve as an ally for consumers who are looking to make informed purchase decisions and compare shops for loans and other services from multiple businesses and professionals.
Interesting business model, we have to say. They are adding a lot of financial institutions:
LendingTree, LLC, the nation's leading online source for competitive loan offers, announced today that ten lenders joined the LendingTree Network in June, growing the lender network by 56 lenders since January 2012. Currently, the LendingTree Network has 329 lenders which compete to provide customized loan offers to LendingTree customers. [PR Newswire]
The interesting thing about this development is that LendingTree develops into being the premier aggregator, a position from which it is difficult to be unseated and from which it can retrieve a considerable rent. An interesting question with these kind of business models is where the company's alliance really lies, with the banks or with the people looking for the cheapest loan. We suspect with the former, as the latter would sort of commoditize the banks.
Some key metrics (from Yahoo)
Market cap $143.7M
Revenue : $54M
Cash: $59M, no debt
Operating income has been negative the last five quarters (varying from -3.76M in Q3 2011 to -33.64M in Q4 2011) [Google]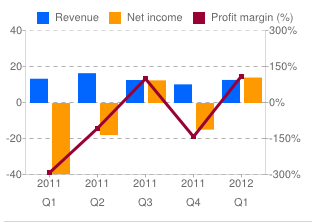 Good to see their balance sheet is clean, as the company produces losses and negative operational cash flows still. The single analyst expects that to turn around this year, predicting earnings per share to be $1.69, although falling back to 58 cents in 2013. This is odd, as the company itself predicts net income from continuing operations of $3-$4M. On 11.3M outstanding shares, that's just 26-35 cents. Either the analyst is overly optimistic or there is a large one-off gain.
What helps a bit is a $10M share buy-back program, although we would prefer them to invest that money, to be honest. But the company argued that its cash position is more favorable after the sale of Home Loan Center for $45.9M.
So there is something of a turn-around in the company, and this type of business model, which is all about achieving scale, and network effects, that can easily translate into a lift-off of profits. However, the shares have already been celebrating that possibility for quite some time. We think some consolidation is in order.
Assure Software
We just wrote about Assure (ASUR) two days ago so we'll keep it relatively brief here. It is up another 20% or so since, producing a rather whopping rally on the back of a takeover of PeopleCube. The chart is less beautiful than the others, but the acceleration in a week or so is rather hefty: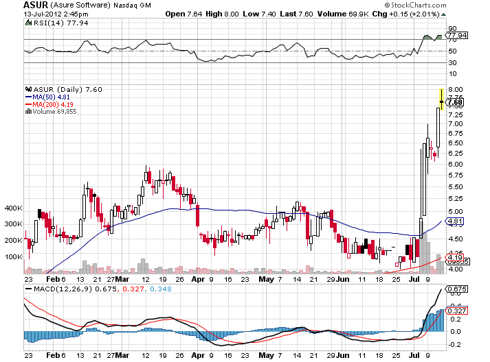 It's really time for some consolidation here.
Disclosure: I have no positions in any stocks mentioned, and no plans to initiate any positions within the next 72 hours.