During 2012 Silver Wheaton Corp. (SLW) has shed nearly 14.5% off its value after it had reached a year high of nearly $38 back in February. This decline was mostly driven by the fall of silver prices and by extension iShares Silver Trust (SLV). If silver price won't rally, the company's stock price might not recover. Let's examine the relation between silver and Silver Wheaton Corp. and see what it means for Silver Wheaton investors.
The Canadian company, Silver Wheaton, which is the world's leading silver streaming company, enjoyed from the rise of silver during recent years. The relation between the company's stock price and silver is straight foreword. During the year (2012) the linear correlation between the two was 0.6609 (the daily percent changes); this means that under certain assumptions (including linearity and normality) the changes in silver price could explain nearly 43.7% of the variance of Silver Wheaton Corp's stock. This is a high rate. Furthermore, during June/July the correlation reached 0.779. This high and positive relation means that as silver price falls, the stock of Silver Wheaton tends to follow and also decline.
The chart below shows the price development of silver and Silver Wheaton during the year. It shows how the relation between the two is strong and robust.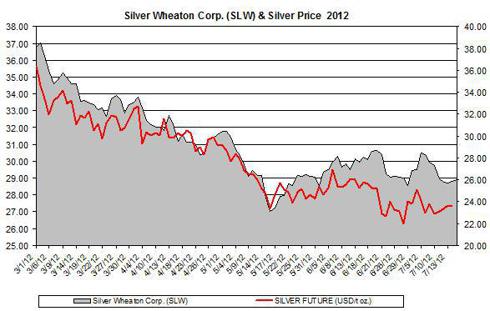 Click to enlarge
(Click to enlarge)
This means that if silver price will not rally, then Silver Wheaton won't recover. So where is silver headed?
During 2012 silver didn't perform well and declined by 7.6% (UTD). Furthermore, the iShares Silver Trust also declined by a similar rate of 8.1%.
The previous FOMC meeting from back in June 2012, in which it was announced operation twist will be extended, reduced substantially the possibility (at least for the near future) OF another stimulus plan in the form of quantitative easing. As I have showed in the past, one of the main contributors to the rise the prices of silver and gold in recent years was QE 1 and 2. This means without another QE program I suspect the price of silver will remain at its current range or perhaps even continue to dwindle.
Perhaps the upcoming FOMC meeting might offer some hints as to the future steps of the Fed to stimulate the U.S economy. I still guess despite the slowdown in the U.S economy the situation won't persuade the FOMC to issue QE3 in the near future. There are also concerns over the long term inflation. The bottom line without QE3, silver won't rally and if silver price will remain at its current range, this could mean Silver Wheaton won't recover.
Disclosure: I have no positions in any stocks mentioned, and no plans to initiate any positions within the next 72 hours.