As a result of growing up without much, I am a pretty frugal person. I like buying things when they're on sale—and it turns out that strategy is good for both my checking account balance and my brokerage account balance.
Misconceptions about Market Timing
Market timing is the strategy of making buy or sell decisions of financial assets (often stocks) by attempting to predict future market price movements. - Wikipedia
Market timing is generally regarded as fool's play. Mark Matson, a Cincinnati money manager, went so far as to compare it to:
[P]laying Russian roulette with two bullets in the chamber. The idea that some market timer is going to save you from the crashes while getting you all the upside from great markets is a fantasy.
Predicting the movements of the "market as a whole" is obviously a fairly difficult endeavor, since the market is influenced by so many different macroeconomic factors on a global scale. Nonetheless, don't we all "make buy or sell decisions" because we're predicting a "future price movement?" All investors are, to some extent, market timers.
Dividend growth investors can get a piece of the action too. By hybridizing a value investing and dividend growth strategy, you can "time the market" to maximize your gains.
Here's how it works.
Market Timing For Dividend Growth Investors
Step 1: Read this article. Step 2: ?????. Step 3: PROFIT!!!!!
Okay, just kidding. But it's really a fairly simple concept.
Most dividend growth investors set aside cash on a fairly regular basis that they use for investing. This cash will then be used to add to positions in favored companies on a fairly regular basis.
While this is certainly a great long-term strategy, it can do with a little improvement. Due to investor sentiment, news, and other factors, valuations of individual stocks and sectors vary over time. For example, in the current macro environment, the defensive Utilities sector (Utilities Select Sector SPDR ETF: XLU) has seen a sharp increase in prices, with utilities stocks reaching valuations well above historical norms. This means that investors buying utilities stocks won't get the best value for their money.
On the other hand, food and snack giant PepsiCo Inc. (NYSE:PEP) is currently trading at a valuation well below the historical norm. It's for this reason that Donald Yacktman recently compared investing in PepsiCo with "shooting fish in a barrel."
Click to enlarge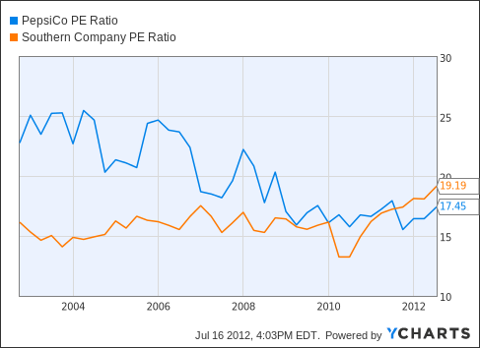 PEP PE Ratio data by YCharts
As you can see from the chart above, electricity provider Southern Company (NYSE:SO) is trading well above historical valuations, while PepsiCo is trading below historical valuations. Therefore, an investor might prefer to invest this month's cash in PepsiCo rather than Southern, even though they're both great companies and dividend payers. Why? Well, simply put, PepsiCo is a better value right now.
Therefore, dividend growth investors might do well to compose a list of "favorite stocks" to serve as a wishlist—and proceed to buy stocks from the wishlist that are "on sale." Some of the stocks on my dividend growth wishlist include Johnson and Johnson (NYSE:JNJ), Procter & Gamble Co. (NYSE:PG), Clorox Corporation (NYSE:CLX), Colgate-Palmolive Co. (NYSE:CL), Intel Corporation (NASDAQ:INTC), The Hershey Company (NYSE:HSY), Unilever Plc (NYSE:UL), and Kimberly-Clark Corporation (NYSE:KMB).
Once I've constructed my wishlist, I check out historical valuation metrics. My favorite source is YCharts. If there's some bad news or a secular trend that leads to one of my "wishlist" stocks dropping below historical value, I'd rather buy that one than another wishlist stock that is trading above historical value. For example, this June, Procter & Gamble was available at a very attractive price point of $60. One of my other favorite stocks, Intel, was also available at a great price—so I scooped it up.
Over the long term, you'll manage to pick up most or all of your wishlist stocks. At one time or another, something will happen to create a buying opportunity. But by choosing to buy what's on sale rather than what isn't, you're guaranteeing yourself higher future returns.