Fuel Systems Solutions's (NASDAQ:FSYS) business model is based on crude at $40 a barrell, and at oil almost triple that amount, the company is reaping the dividends. FSYS is a alternative fuel supplier that produces products that enable gasoline and diesel engines to be converted to cleaner burning liquified petroleul gas [LPG] or compressed natural gas [CNG].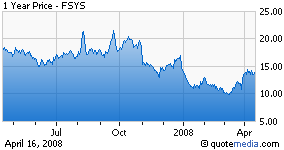 The conversion provides advantages; cost savings versus gasoline could be as much as 40% and the cleaner burning effects comply better with increasing environmental clean air demands.
The shares have seen a massive selloff within the last two years, trading as high as $24 before settling down to the $10 range. The company appears to have solid fundamentals, but their poor accounting controls continue to plague them. Last year the company launched a stock option investigation that prevented them from filing any financial statements for almost nine months resulting in a negative restatement of past earnings and just last month, FSYS said its 4th quarter results would be postponed due to its need to restate foreign subsidiary inventory costs. The good news is that the restatement will have a positive impact on past earnings. The company also announced it was increasing revenue guidance for 2007 from $255 million to $266 million.
Accounting issues usually are devastating to share prices,but they do offer the savy investor ample opportunity to profit as it is typical for Wall Street to "shoot first" and "ask questions" later. Institutions tend to overreact in these situations and their relentless selling pounds the share price to oversold levels that often provide compelling value. Once FSYS completes its investigation and files its 4th quarter results, the shares could rebound quickly as the "Street" tends to have a very short memory.
Broadpoint Capital recently added FSYS to its research coverage with a buy rating and a $14.50 target price. The analyst, Ron Oster, is impressed with FSYS's growth prospects and its new mangement team and stressed to me that his earnings estimates are on the conservative side. Fidelty Magellan has noticed FSYS on its radar screen and has taken a 10% stake becoming its second largest shareholder behind Mariano Costamagna, FSYS's new CEO with a 12% ownership position. Management inherited the accounting problems from the previous regime and is determined to quickly put these problems behind them in their quest to improve profitabilty.
Future prospects appear bright as FSYS has recently received certification from GM (NYSE:GM) on its new 6.0 liter engine as well as Ford's (NYSE:F) F150 to provide aftermarket conversion kits. Australlia has seen its useage of conversion kits triple within the past three years as its government has been offering $1800 grants for each vehicle conversion in order to promote cleaner air standards. Although the shares have seen almost a 40% runup in the last 5 weeks, fourth quarter results could provide fuel for the rally to continue.
Disclosure: Long