Last week, our old analyst friend at Merrill Lynch, Andrew Berens, downgraded AMAG Pharmaceuticals (NASDAQ:AMAG) for the third time in ten weeks, this time to sell.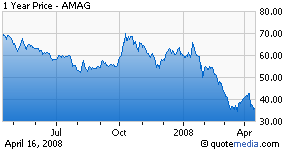 Mr. Berens rehashed his previous worries, namely that based on discussions with FDA officials, AMAG might not have enough safety data to get approval for ferumoxytol on the first go around this fall. He is also concerned that the ferumoxytol trials were of a lower total dosage than a patient would be receiving in the real world over a year's time. He expects the FDA to request a large safety study which will push approval to the back half of 2011.
I've defended AMAG several times from this analyst before, but I'll go through my thesis one more time. I would like to preface by saying that with today's hypersensitive FDA, one never knows what will happen and that does increase the risk of ferumoxytol's approval this fall. If approval was a slam dunk, AMAG would be trading closer to $100 and not in the $30s.
As far as the ferumoxytol trials are concerned, one has to remember that everything that the trial design was not made up by AMAG, it was an FDA-supported trial design. AMAG did four Phase III studies which included over 1700 patients. There were NO safety issues in any of the trials.
The ML analyst notes that the FDA requested a safety study for Injectafer (a potential competitor) and he implies that they will request the same from AMAG. The reason the FDA asked for one from Galenica/Luitpold is because Injectafer had major mortality issues while AMAG reported a very benign safety profile for ferumoxytol.
As far as the use of ferumoxytol in the real world versus the ferumoxytol trials, the FDA never asked AMAG to do a one year study of patients (they would have asked for one I'm sure if they thought it was necessary), and furthermore, AMAG is not requesting approval of ferumoxytol for chronic use.
There are a couple more things to keep in mind. First of all, ferumoxytol is not a new chemical entity, it is a nanoparticle form of iron. Iron is iron, in whatever form it comes in, and to say that there might be long-term safety concerns with what is essentially iron is somewhat silly in my opinion.
Second of all, the patients being treated are dialysis patients, meaning that they go to the doctor every few weeks when they get their treatments. If any safety issues would have cropped up among the ferumoxytol patients, they would have been found by now. Therefore the FDA should be less concerned about approving it because these patients are constantly being monitored.
Also, I think the FDA understands that with the major safety issues surrounding the use of anemia drugs like Procrit and Aranesp, the dialysis community wants a better alternative to replenish iron deficiency before having to go on to anemia drugs. Ferumoxytol fills this need in a safe and effective manner, and the FDA will have this factor in mind when deciding upon approval.
Finally, I have a last important point. Before deciding on approval, an FDA panel will be discussing the approvability of ferumoxytol at a meeting, most likely in September. If the panel overwhelmingly supports approval of the drug, the FDA itself will have a very hard time telling AMAG that the data is insufficient.
In closing, while I agree that ferumoxytol's approval is far from a slam dunk (nothing is with the FDA), I do believe that the data provided by AMAG to date in its four phase 3 trials will be sufficient to get ferumoxytol approved and the stock will rise much higher as a result.
Disclosure: Long AMAG.