With people rioting all over the world because of surging food prices, we have started to see a backlash against the cause of the food inflation - ethanol. As global warming alarmists convinced legislators and the media that we need to pour money into ethanol in order to solve the global warming "crisis," and use it as an alternative to crude oil. So backed by government subsidies, farmers changed their crops over to grow corn, thus creating shortages of other food stuffs and soft-commodities. With smaller supplies, the prices have soared, and now the developing world is taking it on the chin, as citizens are unable to purchase even the most basic food.
What we are starting to see is a backlash against this. The media has started to run stories about the wisdom of ethanol. Better late than never, I guess. The fact that it takes more energy to produce it than it does produce. It also uses a large amount of water in the process, and it's not as if the world is full of spare water.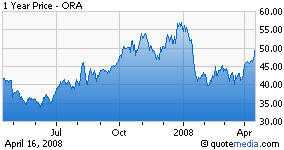 Hopefully common sense will prevail and we can put an end to the ethanol nonsense. If so, one company that could profit is Ormat Technologies (NYSE:ORA). The Israelicompany specializes in geothermal and recovered-energy-based power plants. With crude oil hovering around $114/barrel, alternative energy is very much still in focus. But far from a dream, Ormat is a real company with real earnings and real technology.
The company has been announcing deal after deal, and Wednesday was no exception. It announced that a Minnesota cooperative agreed to a 20-year electricity purchase agreement with one of Ormat's units.
If you are looking for a way to potentially play alternative energy, then forget about ethanol, and spend the time doing some research on Ormat.
Disclosure: The author's fund holds a position in ORA, he has no position in any other stock mentioned as of April 16, 2008.