McDonald's (MCD) reports 2Q12 results on July 23rd.
The Street expects:
Revenue: $6.95 billion
EPS: $1.38
Q3 revenue guide: $7.30 billion
Heading into the earnings, shares could face some slippage as comps numbers from April and May were fairly disappointing. While April comps were in line, May comps came up short due to severe weaknesses in Germany and Japan.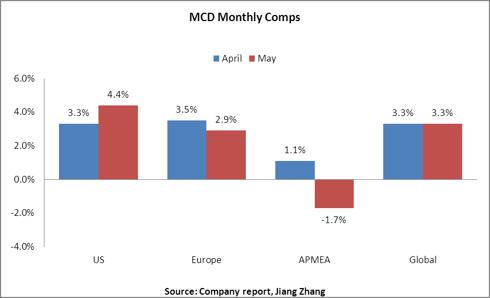 Click to enlarge
(Click to enlarge)
Germany comp was weak due to negative traffic as MCD has been inconsistent in delivering its value message to the consumers. The company looks to focus more on broadcasting a value message in the next couple months and could face some headwind given German consumers are highly price sensitive and have low brand loyalty.
Japan accounts for 40% of the sales in the APMEA region and its comp was down 11% due to introduction of value menu. While traffic was up slightly at 2.2%, average purchase was down 13%.
Even worse, Chinese comp was also down in May, partially due to macro softness and introduction of value dinner items. Like Japan, China's traffic was positive but average purchase was weak.
Investors needs to note that the value menu in these international locations are similar to the "Dollar Menu" in the US, in that the items are priced at a significant discount from their original price (eg. $1 McDouble) not only to drive consumer traffic but also to encourage the consumers to purchase other high margin items, such as large drinks. However, because Chinese and Japanese people are extremely price sensitive, consumers end up purchasing just the value menu items, thereby driving down the store's performance despite increasing traffic.
At a recent Jefferies 2012 Global Consumer Conference, CFO Pete Bensen was rather upbeat despite macro headwind and was confident that MCD can meet the long-term target of 3-5% SSS, 6-7% operating profit growth excluding FX, and mid-teen ROIC.
Bottom line, despite the macro headwind, MCD's business remains solid because it has an extremely stable business model in which a majority of the earnings is derived from rent and loyalty payments from the franchisees. This business model has a highly predictable cash flow and is worth owning as a business especially during soft macro environment.
Disclosure: I have no positions in any stocks mentioned, and no plans to initiate any positions within the next 72 hours.