Investors who follow the money may find their search leads them to TNS Inc. (NYSE: TNS), which helps move data from Point A to Point B without detouring through a hacker's computer.
The Reston, Va.-based company, also known as Transaction Network Services, provides clients with business-critical communications in the United States and 26 other countries through a suite of secure voice and data services. Customers include processors of ATM, credit card and debit card transactions.
TNS also offers secure voice and data network services to the financial-services industry, via its own network and alliances with other telecommunications carriers. Other bits of data crossing its networks include information from lotteries and the gaming industry.
But for investors considering TNS, the question remains: is buying the stock a secure deal, or no deal?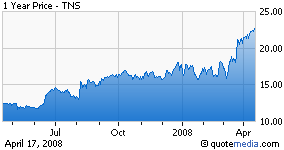 The fallout from the subprime mortgage crisis continues to litter the financial-services industry and ancillary fields including communications services. Analysts covering TNS generally have a fairly positive outlook, despite the tumultuous conditions amid the recession fears. Of the six analysts tracked by Thomson Financial, one rated TNS a "strong buy," another placed it at "buy," and the others have it at "hold."
Since its founding in 1990 to provide services to the point-of-sale industry, TNS has traveled a long and winding road marked by methodical growth and, at times, tempestuous ownership. The company operates in four areas: point of sale, international, telecommunication and financial services.
Admittedly, TNS is on a trek through a land of the giants, with some of its products and services competing with those from AT&T Inc. (NYSE: T), Verizon Communications Inc. (NYSE: VZ) and VeriSign Inc. (Nasdaq: VRSN).
Shares of TNS began trading on the Nasdaq Stock Market in 1994, and moved to the NYSE in 2004. The stock fell as low as $10.96 on May 8, but has climbed back above $20 in recent months.
On Monday, TNS climbed to a 52-week high of $22.85, leaving investors pondering if the stock can surpass its high-water mark since joining the NYSE, $25.50 in September 2005. The median price target for TNS shares from analysts surveyed by Thomson Financial is $26.50.
TNS is eyeing foreign opportunities and concentrating efforts on Australia and Western Europe. For fiscal 2007 ended Dec. 31, TNS in late February reported that about 43% of revenue came from outside the United States.
The company's point-of-sales services accounted for a quarter of its 2007 revenue, while another 20% came from its telecommunication services operations. Revenue grew to $325.6 million last year from $286.2 million in 2006. TNS posted a loss of $2.8 million, or $0.12 a share, for 2007, compared with a loss of $9.9 million, or $0.41 per share, the year before. The company reduced its fourth-quarter loss to $518,000, or $0.02 per share, compared with a loss of $6.7 million, or $0.28 per share, during the same period in 2006. Excluding one-time items, TNS earned $0.31 a share. Fourth-quarter revenue increased 20% to $89 million.
For this year, the company's guidance calls for revenue growth of 9% to 11%, to $355 million to $363 million. When it reports results for the just-ended first quarter on May 5, TNS is expecting revenue of $81 million to $84 million, 11% to 16% better than the year-ago period.
TNS said it is looking for earnings to rise 14% to 24% for all of 2008 — or adjusted earnings of $37 million to $40.2 million, based on a 20% tax rate, compared with last year's $25.2 million. Adjusted earnings per share could rise 12% to 22% from 2007, to $1.50 to $1.63.
But TNS has endured riptides of turmoil in ownership. The company was sold in 1999 to PSINet, then reacquired by management and GTCR Golder Rauner two years later. More recently, in the fall of 2006, the founder and former chairman, John J. McDonnell Jr., was forced out by the TNS board; his attempts to reacquire the company and take it private were foiled in early 2007.
To assuage skeptical shareholders who stuck with TNS, the company paid a special dividend of $4 per share in April 2007.
After fourth-quarter results were released, Barrington Research analyst Gary Prestopino wrote that the TNS report was better than expected and, "We look for a continuation of these positive trends in 2008." In a late-March note, Prestopino maintained an "outperform" rating but raised his 12-month price target to $29 from $21.
Analysts at J.P. Morgan Securities have a "neutral" rating on TNS, but raised 2008 estimates after year-end results were posted. They are looking for $1.50-a-share earnings.
SunTrust Robinson Humphrey's Andrew Jeffrey, who has TNS at "neutral," wrote in a March 5 note that the company "is improving its execution and has cut costs more deeply, without apparently losing sales momentum, than we would have anticipated." Jeffrey remains guarded because of the volatility and cyclical nature of TNS' prime foreign markets.