Happy earnings season! 'Tis the season for massive price swings and fulfilled and crushed dreams for traders and investors alike. In the next two weeks, several widely followed companies will be releasing their Q2 earnings numbers. To name a few on many investors' minds:
No doubt, many investors and traders will see these reports as an opportunity to speculate on an earnings beat or miss. You may even be looking to try for a quick profit with earnings. Which strategy will most use to speculate? You guessed it, long calls and puts.
Investors use these strategies mainly for their limited risk and high reward characteristics. In addition, the strategies are simple, unlike many option "spreads."
The issue with using these strategies is that everybody wants to use them right before earnings, so demand for all options increases. This drastically increases the price of any stock option, making the options overpriced. Option sellers, mainly institutions, are glad to sell retail investors these overpriced instruments. As a result, the option buyer before earnings is at an immediate disadvantage in the trade. For an example of how option buyers were ripped off before Google's last earnings announcement in April, take a look at this video.
I should also note that, in general, immediately after earnings are released, that volatility premium comes crashing down, lowering the value of all options. This even occurs on contracts expiring months later! In short, those who were wrong lose everything, many of those who were right lose anyway, and the others who were right make less than they expected at first.
So what should the short term trader, looking for limited risk, do before earnings? For those new to options, try using a bull call debit vertical. In this trade, one buys a further in the money option, and sells a further out of the money option. For the most part, by being long and short an option at the same time, the "volatility rip off effect" will be nullified. Here's the payoff diagram.
Click to enlarge.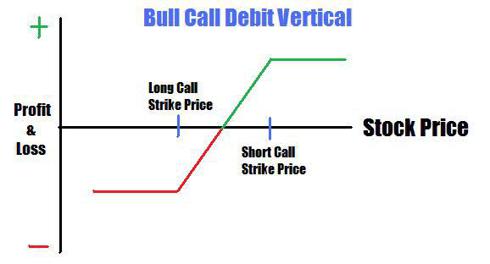 Click to enlarge
For those who want to actually put the volatility effect on their side, use the bull put credit spread, which actually takes advantage of selling the relatively "more expensive" in the money puts vs. buying the "less expensive" out of the money puts. Of course, I'm only speaking in generalities, but the vertical spread will definitely give trader/investor a much "fairer" chance of profit when speculating on an earnings announcement.
To summarize, never buy single options before earnings announcements. If you are comfortable with unlimited risk, you may want to sell front month calls and puts. If not, use verticals to your advantage.
Disclosure: I have no positions in any stocks mentioned, but may initiate a long position in GOOG over the next 72 hours.