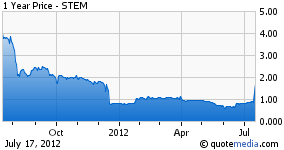 StemCells (STEM) shares rocketed over 70% during Tuesday's trading session after results from a recent study. The company's neural stem cells helped restore memory and function in two different animal models with Alzheimer's Disease. The results were presented at the Alzheimer's Association International Conference.
From the press release, "The study results showed that transplanting the cells into a specific region of the brain, the hippocampus, statistically increased memory in two different animal models." The hippocampus is directly affected by Alzheimer's Disease as the density is reduced from the disease and leads to memory loss. The results mark the first time that stem cells have had a positive effect on memory, making a huge step for this small company. With 5.4 million Americans affected by Alzheimer's Disease, it's no wonder shares skyrocketed today on hopes of new technology.
In June, StemCells started Phase I trials of HuCNS-SC, which targets dry age-related macular degeneration. The disease, which is the leading cause of blindness, has no approved treatments currently available. Pre-clinical results were positive on the study, leading to StemCells being featured in European Journal of Neuroscience. The new treatment is meant to preserve visual function before it becomes lost. Cone receptors, which control vision, were consistent over early trial stages. Age-related macular degeneration affects over 1.75 million Americans, most in their 50s or 60s.
From StemCells website, here is the current pipeline:
Spinal Cord Injury - Clinical Development
PMD - Clinical Development
AMD - Pre-Clinical
Alzheimer's - Pre-Clinical
Stroke - Pre-Clinical
Liver Metabolic Disorders - Pre-Clinical
Hepatitis C - Research
StemCells counts on sales of its SC Proven products, which saw sales increase 82% in the most recent quarter. The company also received money from research awards. Current cash burn is $18-20 million annually.
Shares of StemCells are up 51% on the year, with the majority of that coming in today's trading session. Shares saw a 1 for 10 split in 2011 to try and get out of penny stock territory. Amazingly, shares of StemCells traded for a split adjusted $170 back in 1996. Shares are now down 98.9% in their publicly traded life.
With the company not expected to post a profit the next several fiscal years, investors need to be patient or trade on news like today. StemCells represents a great chance to buy a breakthrough company at a lottery ticket price. With shares nearly doubling today on positive news, time will show what the company entering Phase II or III on a trial could do to shares. Stock this company aside in a portfolio as a long term cheap bet on stem cell technology. Shares nearly doubled today on results from pre-clinical trials. With two drugs in clinical development, and four more in pre-clinical stage, shares could see more swings like this in the near or long term future. The company is focused on CNS programs, targeting brain, spinal cord, and eye. If anyone of these areas can be successfully targeted, StemCells will be a multi-bagger for years to come. Spinal Cord Injury results from Phase I trials are expected in the next quarter, so don't wait too long to buy shares.
Disclosure: I have no positions in any stocks mentioned, but may initiate a long position in STEM over the next 72 hours.