We are bullish on Telefonica (TEF) despite the current eurozone debt crisis and the poor recent stock price performance. The company has showed tremendous growth in Brazil, which has become the market leader in terms of accesses and revenues. Overall, its Latin American segment continues to be the growth driver for the company, generating a majority of the company's revenues. Despite operating in extensive regulatory environment, Telefonica has been able to maintain its strong position. Moreover, its innovative products like free SMS and Voice calls for iPhone users, as well as direct to bill services, are proving very successful in debt stricken Europe, and has great potential to ramp up sales in Latin America. The Direct to Bill service lets customers charge different products on their phone bill without having to make credit card payments. This service is producing good results for the company in Latin American countries and Germany. The company has cheap valuations as reflected in its discounted multiples, despite its fundamentals suggesting otherwise. Currently, the stock trades around its 52-week low of $10.9. From a dividend perspective, it is an attractive stock to hold as well, with a current dividend yield of 11%, which is well backed by the company's operating cash flow yield and levered free cash flow yield of 42% and 11% respectively.
Company Description
Telefonica provides voice, data and internet services to its customers worldwide. It has operations in Spain, Europe and Latin America, along with stakes in companies like China Unicom (CHU) and Telecom Italia (NYSE:TI). The group is geographically diversified with Latin America accounting for almost half of its revenues. It is a $55 billion-worth company and its stock is currently trading at $12.2.
Spain's telecom market has seen some contraction over the last few years and is expected to show more weakness, as the entire Euro zone struggles to beat the recession, and consumers react to high unemployment levels. However, mobile usage is high and continues to grow, which is a plus for the sixth largest mobile service provider in the world. Moreover, the company is heavily diversified across geographies, and is experiencing staggering growth in its Latin America Division, with Spain and Brazil contributing almost over 50% to TEF's revenues. In the financial year ended 2011, the company's Latin American business showed an improvement of almost 14% in revenues compared to the previous year. This improvement came despite high inflation in some of the countries of operations.
LATAM- Brazil, a Key Growth Driver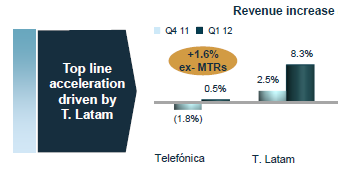 Brazil contributed almost half of total revenues in Latin America in the financial year ended 2011, serving to be the key growth driver for the company in the Latin American region. Brazil is showing tremendous growth, especially in mobile services. The region saw growth in terms of mobile accesses with slight deterioration seen in fixed broadband. The deterioration was largely due to competitive pressures. However, TEF responded to the added pressures by expanding broadband services outside its traditional network areas. Other innovations included its push to talk mobile service, and offering HD to its television customers. Furthermore, the company acquired a spectrum that started operations in the financial year ended 2011 in the northern regions of Brazil, further improving its profitability, especially in the prepaid market. Through the aforementioned measures, the company was able to deliver strong growth in both mobile and broadband accesses, which improved by 19% and 10% respectively from the previous year. The wireless business seems to be prospering as well, which showed a growth in revenues of almost 70% in FY2011. Mobile service revenues grew by almost 11%, largely driven by the growth in the company's customer base. Data business revenues, which represent almost 25% of the service revenues, continue to be the growth driver for the company, improving by almost 60% in FY2011.
Deterioration in Spain
Overall results for Spain were disappointing, as the current economic downturn in Europe continued to weigh on its profitability. Revenues for the Spanish division are on a consistent decline since FY2009, and in the last year, showed a slowdown of 5%, with both its wireline and wireless business showing some contraction. Spain couldn't significantly add on to its accesses, staying in line with the previous year's accesses and leading to a drop in its share in the market.

Source: Company Presentation
Moreover, the company saw a deterioration in its broadband accesses as well, which decreased by 2%, largely due to intense competitive pressures and lack of any marketing initiatives. The company is experiencing a similar slowdown in its mobile business due to a decrease in mobile service revenues. The company's mobile traffic was reduced by almost 2 billion minutes, which also had an adverse impact on the average revenues per user that contracted by 10% in FY2011. ARPU's have been on a decline consistently since 2009. However, offsetting the above mentioned losses were revenues generated from the company's SMS services, which continues to be the company's growth driver. SMS revenues helped boost its data business by almost 25% in the last financial year.
Telefonica Consolidation
Consolidating the results of Telefonica, overall revenues from all of its geographical segments rose over 3%. Overall, Telefonica has successfully increased its accesses over the years; a primary reason for its growth. The company's bottom line showed deterioration in 2011 compared to the previous year, primarily due to a fair value gain of almost 4 billion Euros on its previously held investment, which was recognized in the previous year. However, excluding the effect of the re-measurement gain and some other non-strategic asset sales in 2010, TEF's bottom line seems to be at par, if not better, than the previous year's profits.
Key Developments
Telefonica has recently introduced a Direct to Bill service through which customers are able to purchase various products through their mobile phones. Moreover, it would allow the customer to charge the purchase to their phone bill. This service is going to be a key catalyst for the company's growth in revenue, as it would be particularly attractive to customers who avoid using credit cards for smaller purchases. Latin America, which is already the company's growth engine, will provide further growth potential as a vast majority of its population does not have bank accounts.
Because of increasing usage of WhatsApp and Skype among mobile phone users, Telefonica has recently launched a free communication package for iPhone customers, through which they will be able to make free calls among other free of cost features like voice mail and SMS.
Key Risks
As mentioned previously, Spain is the one of the company's major revenue contributors (28% in FY2011). However, the country has a high mobile penetration rate, which indicates that growth potential is limited. Moreover, competition from its peer France Telecom (FTE) is also having a dampening effect on TEF's business.
S&P has recently downgraded the company's debt. Moreover, it is in review for a downgrade by Moody's. Telefonica has a significant amount of debt on its balance sheet, and thus a high interest burden. Under pressure to reduce its debt, the company has sold almost half of its stake in China Unicom , and more recently, it is looking at various bids for its stake in call center operation, Atento. The company currently has an interest coverage ratio of 0.15.
Financial Position
Despite the current economic downturn, the company has maintained high margins. In the financial year ended 2011, the company's gross margins were in the 70% range, which are higher than its peers Vodafone (VOD) and BT Group plc (BT), reflecting Telefonica's operational strength. Its quarterly revenue growth is also more impressive than Vodafone and BT Group, which saw their revenues decline. The company has a high debt-to-equity ratio of almost 250%, with a total debt of almost $83 billion. However, out of the $83 billion, TEF only has $26 billion in interest bearing debt. Fitch and S&P currently have a long term investment grade rating for the company (BBB+, BBB respectively).
Dividends
In the financial year ended 2011, the company paid total dividends of almost $10 billion, well backed by its operating cash flows of $23 billion. The company has a very high dividend yield of 11%, which is also well supported by its levered free cash flow yield in excess of 11%, making the stock very attractive from a dividend perspective.
Valuation
The stock is trading at nine times its earnings, and at a discount of almost 12% to its industry average of 11x, which suggests it is currently undervalued. Price-to-sales and price-to-book are also depressed compared to their respective industry averages. The stock is currently trading at $12, close to its 52-week low of $11, and we believe the stock has upside potential. This upside potential, coupled with its very attractive dividend yield, make this stock a very attractive option.
| | | | | |
| --- | --- | --- | --- | --- |
| | TEF | VOD | FTE | Industry |
| P/E (TTM) | 9.7X | 13.6X | 7.1X | 11X |
| P/S | 0.7X | 1.9X | 0.6X | 0.7X |
| P/B | 0.7X | 1.2X | 0.98X | 1X |
Disclosure: I have no positions in any stocks mentioned, and no plans to initiate any positions within the next 72 hours.