Friday was a great day for Volkswagen (OTCPK:VLKAF). Aside from announcing their complete takeover of Porsche, the German carmaker also reported excellent results over the first half of 2012. Volkswagen is the owner of automobile brands such as Audi, Seat, Bentley, Bugatti and Lamborghini, as well as the truck brands MAN and Scania. The automobile giant has weathered the financial crisis remarkably well compared to competitors such as Ford (F) and PSA Peugeot-Citroen (OTCPK:PEUGF). What's more, its stock appears remarkably undervalued at the moment.
According to CNBC, Volkswagen is trading at a measly 3.43x earnings compared to a low industry average of 5.36 and a sector average of 10.65. Now, normally I would get rather suspicious seeing a PE of under 5, as it can mean that there is something seriously wrong with the company. However, after some more checking, it appears as if Volkswagen is indeed deeply undervalued. When a company this big is trading at a multiple this low, it might be time to consider getting in.
Some other metrics for Volkswagen are as follows. The price to book ratio is 1.01 and the company has a LT Debt to Equity ratio of 77.24. Volkswagen reported an EPS of $18.53 over 2011, representing a 33.1% growth rate compared to an industry average of 28.4%. It has a respectable Return on Equity of 29.8 with a slightly less impressive 5.9% operating margin and offers a dividend yield of 3%. For comparison, Volkswagen´s major competitor in the European market, Ford, reported an EPS of $1.51 in 2011 with a PE of 2.02. Ford has a sky high LT Debt to Equity ratio of 395 and trades at 2.25 to book.
Despite the European financial crisis, Volkswagen reported a six-month sales growth of 8.9% to sell a total of 4.45 million vehicles. This puts the company on track to beat last year's record sales of 8.9 million vehicles. According to analysts it is VW´s broad product range that has allowed it to thrive during the crisis where other automobile manufacturers have taken heavy hits. PSA Peugeot-Citroen, a major European counterpart, announced 8,000 job cuts last Thursday. VW´s buyout of the remainder of Porsche AG it did not yet own is another good tiding for the company. The complete takeover of this luxury automobile brand should solidify the financial position of both companies and increase earnings, although fees will initially offset this increase. All in all Volkswagen looks very well positioned for the remainder of 2012, although analysts remain cautious about whether or not VW will be able to maintain its record growth for the rest of the year due to slowing growth in China and the ongoing European debt crisis.
The automobile industry tends to be a very volatile one, which may be a boon during times of economic plenty, but presents a bit of a challenge in the current market environment. This is a risk to take into consideration when appraising the stock. It is possible that the financial crisis, which strongly affects the amount of money consumers have to spend on cars, will impact sales more than is currently expected. Because of these considerations, Volkswagen is a somewhat higher risk stock.
Volkswagen is a market leader and is a prime example of a high value European stock that has been beaten down too hard. At current valuations, the company appears very cheap. It is consistently coming up with good news and maintains a positive outlook for the remainder of the year. However, the automobile industry is a very volatile one, which compels investors to exercise additional caution when picking an entry point.
This chart (Interactive Brokers) shows the price action of Volkswagen as traded in Frankfurt: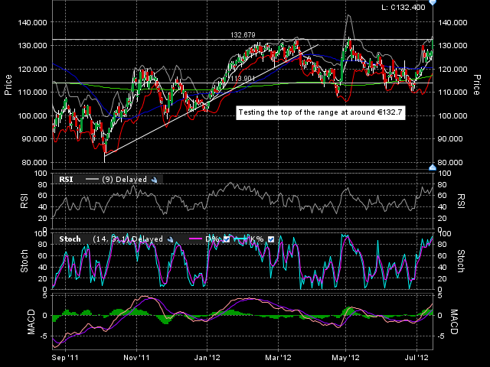 Disclosure: I have no positions in any stocks mentioned, and no plans to initiate any positions within the next 72 hours.