Are you on the hunt for strong earnings growth at a discount? If so, one company to keep in mind is OYO Geospace (OYOG), a firm that provides seismic data technology to oil and gas exploration teams. The company has seen strong earnings growth and sales trends over the last year, and with positive smart money sentiment and low price multiples, the stock may soon be headed higher.
OYO Geospace develops technology for seismic data acquisition that is primarily used by the oil and gas industry in its search for energy reserves. The company has developed cableless seismic acquisition systems and has manufactured "cables and umbilicals along with marine seismic products, deep ocean-bottom seismic acquisition systems, and borehole-deployed seismic acquisition systems," according to the company website. OYO's market cap is at $572.92M.
The company has seen positive sales trends over the last year, comparing growth in revenue to growth in their accounts receivable. Revenue grew by 10.91% during the most recent quarter ($56.23M vs. $50.7M y/y). Accounts receivable fell by 6.05% during the same time period ($35.86M vs. $38.17M y/y). Receivables, as a percentage of current assets, decreased from 29.4% to 21.97% during the most recent quarter (comparing 3 months ending 2012-03-31 to 3 months ending 2011-03-31). These are considered positive trends since accounts receivable is the portion of revenue not yet received in cash.
Earnings growth has accompanied these strong sales trends. Over the last 5 years, EPS has grown 23.57%, and 5-year projected EPS growth is at 37%. Profit margins for OYO are also superior to industry averages: TTM gross margin at 48.88% vs. 34.28% for the industry average. TTM operating margin at 27.22% vs. 18.64% for the industry average. TTM pretax margin at 27.67% vs. 13.69% for the industry average.
Not surprisingly, with strong earnings and sales trends also comes a strong balance sheet. Current ratio is at 5.11, quick ratio is at 2.94, and the company has no debt.
Despite all of these positives, several price multiples indicate the stock should be trading higher. PEG is at 0.47. TTM P/E is at 17.53 vs. 22.41 for the industry average. However, TTM P/S at 3.2 vs. 1.94 for the industry average.
One last point, OYO Geospace has seen smart money buying interest over the last quarter. Net institutional purchases in the current quarter at 1.4M shares, which represents about 22.99% of the company's float of 6.09M shares.
Overall, the stock has seen a lot of encouraging signs over the last year - its low price multiples should make one reconsider whether the stock is trading at its fair value.
For an interactive version of this chart, click on the image below. Analyst rating data sourced from Zacks Investment Research.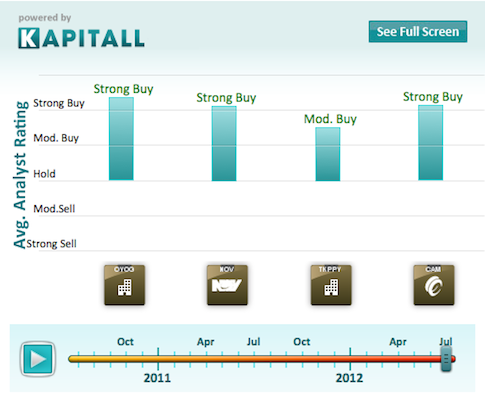 Tool provided by Kapitall.
*Written by Alexander Crawford. Price multiple data, institutional data and profitability data sourced from Fidelity, accounting data sourced from Google Finance.
Disclosure: I have no positions in any stocks mentioned, and no plans to initiate any positions within the next 72 hours.