The National Association of Homebuilders reports that the July Housing Market Index increased to a reading of 35. Analysts had expected the index to rise to 30 after reading 29 in the previous month. A reading of 50 for the index indicates that more builders view the market as favorable than unfavorable.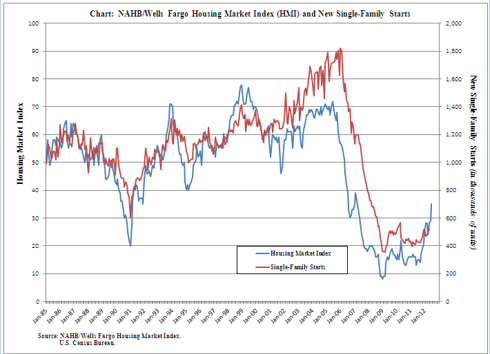 "Builder confidence increased by solid margins in every region of the country in July as views of current sales conditions, prospects for future sales and traffic of prospective buyers all improved," said Barry Rutenberg, chairman of the National Association of Home Builders (NAHB) and a home builder from Gainesville, Fla. "This is greater evidence that the housing market has turned the corner as more buyers perceive the benefits of purchasing a newly built home while interest rates and prices are so favorable."

"Combined with the upward movement we've seen in other key housing indicators over the past six months, this report adds to the growing acknowledgement that housing - though still in a fragile stage of recovery - is returning to its more traditional role of leading the economy out of recession," noted NAHB Chief Economist David Crowe. "This is particularly encouraging at a time when other parts of the economy have begun to show softness, and is all the more reason that the challenges constraining housing's recovery - namely overly tight lending conditions, poor appraisals and the flow of distressed properties onto the market - need to be resolved."
Despite this increase, which was the largest in 10 years, homebuilder stocks like DR Horton Inc. (NYSE:DHI), PulteGroup, Inc. (NYSE:PHM), KB Home (NYSE:KBH), Lennar Corp. (NYSE:LEN), Hovnanian Enterprises Inc. (NYSE:HOV) traded mixed throughout the day.
If these reports continue to improve, then there will be an opportunity to accumulate shares in multiple companies going forward. Homebuilders, suppliers, furniture-makers, and retailers could benefit from a turnaround in housing.
Testimony by Bernanke
The Federal Reserve also summed up the state of the housing market in Congressional testimony by Ben Bernanke today. He said,
"We have seen modest signs of improvement in housing. In part because of historically low mortgage rates, both new and existing home sales have been gradually trending upward since last summer, and some measures of house prices have turned up in recent months. Construction has increased, especially in the multifamily sector. Still, a number of factors continue to impede progress in the housing market. On the demand side, many would-be buyers are deterred by worries about their own finances or about the economy more generally. Other prospective homebuyers cannot obtain mortgages due to tight lending standards, impaired creditworthiness, or because their current mortgages are underwater--that is, they owe more than their homes are worth. On the supply side, the large number of vacant homes, boosted by the ongoing inflow of foreclosed properties, continues to divert demand from new construction."
It remains to be seen whether the Federal Reserve can further twist the yield curve or boost monetary stimulus by buying additional bonds. With ten-year Treasury rates hovering at 1.5%, many question whether rates could possibly go lower. And if they do, will that be enough to bring buyers in from the sidelines? Additionally, if lending standards remain tight, who will benefit from record low rates except those that can already afford housing? The solution may be to privatize the housing finance system and let the market set lending standards that are appropriate for the market.
Upcoming Housing and Mortgage Reports
On Wednesday, the Mortgage Bankers Association will release its mortgage index, which is expected to fall -2.1%. The expectation for a decrease comes despite record low interest rates recorded in the past week, with the 30-Year Fixed Rate Mortgage hitting 3.56%.
Later this week, building permits and housing starts will also be released. Last month, 780,000 building permits were announced for June, soundly beating all expectations. This month, the market expects 765,000 building permits and 708,000 housing starts.
On Friday, July 19th, the National Association of Realtors (NAR) will report Existing Home Sales, which are expected to come in at 4.65 million. In the prior month, this number disappointed analysts, coming in at 4.55 million. However, the NAR attributed this drop to tight supply constraining sales.
Disclosure: I have no positions in any stocks mentioned, and no plans to initiate any positions within the next 72 hours.