Market Recap: The market was able to reverse Monday's misfortune after early losses due to the Federal Reserve Chairman Ben Bernanke comments to the Senate, but a series of solid data points and good earnings from market leaders was able to help the market overcome some of the issues that it was having. Goldman Sachs (NYSE:GS) and Coca-Cola (NYSE:KO) led the way with very solid earnings that helped those stocks rise. Additionally, we got a pretty solid amount of data announced with the NAHB Housing Market Index rising to 35 from 30, which was its highest level in years. Additionally, Industrial Production was higher than expected at 0.4%. All these points were overshadowed early on by Bernanke, but the market did get some rallying points.
We believe that the market has gotten over a QE3 problem today at least, and if we continue with some solid earnings and data points, we will definitely see the market making some more consistent upside. We have a lot of earnings and data points due out to move tomorrow, so it should be another exciting day.
Two Trades
Two trades we like right now are housing ETFs as well as reverse iron butterfly in F5 Networks (NASDAQ:FFIV). Right now, we believe that housing is still going through an outperformance phase, and the NAHB Index today gives us a lot of hope for the New Home Sales and Building Permits due out tomorrow. We like playing SPDR S&P Homebuilder (NYSEARCA:XHB) and iShares Home Construction (NYSEARCA:ITB) for home construction ETFs. These ETFs can get a real bounce if the data continues to be solid, and the reaction was not strong today to NAHB due to two Raymond James downgrades. We believe home construction can outperform for this week. Additionally, we like playing a reverse iron butterfly with FFIV for earnings. The company moves consistently more than 9% on earnings in July. We believe this position is an easy 12%.
Trade #1: XHB, Long or ITB, Long
Trade #2: FFIV, Reverse Iron Butterfly, 90/95 Bull Call Spread and 90/85 Bear Put Spread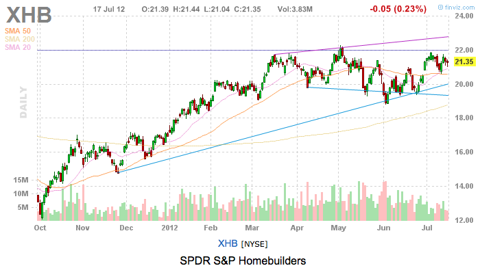 Tomorrow's Outlook
Tomorrow, the market has the potential to carry on higher. We get New Home Sales, Building Permits, Crude Inventories, and the Fed Beige Book for data. Additionally, Bernanke speaks to the House tomorrow. We expect less movement on that after today, so more focus on housing data as well as earnings. Here are just a few of the reports to watch for tonight and tomorrow morning to move the market - Intel (NASDAQ:INTC), Yahoo! (NASDAQ:YHOO), Bank of America (NYSE:BAC), and Honeywell (NYSE:HON). Finanicals have been strong, so we may get some interesting information from BAC. Intel needs a good report, and HON will give us our first major look at defense. Overseas, we need to watch Britain's jobless claims and BOE report for some movement in the euro.
Oxen Group Moves
We had a pretty solid day as we were able to exit a long in Susquehanna (NASDAQ:SUSQ) for 5% gain as well as Disney bull put spread for 36% gain. We had to take a stop on Under Armour (NYSE:UA) bear call spread, however, that gave us a slight loss on the position. We added long in Calpine (NYSE:CPN) to our Goldman Sachs portfolio. We added a long in Weight Watchers (NYSE:WTW) and short in Kansas City Southern (NYSE:KSU) as well as the FFIV position above.
We have the following positions:
In our Short-Term Equity Portfolio we are long Weight Watchers , Dollar Tree (NASDAQ:DLTR), Ashland (NYSE:ASH), SPDR Housing . We are short Kansas City Southern , Pall (NYSE:PLL), McDonald's (NYSE:MCD).
In our Options Portfolio, we are long Monsanto (NYSE:MON), Starbucks (NASDAQ:SBUX), Dollar General (NYSE:DG) and AutoZone (NYSE:AZO). We are short Aflac (NYSE:AFL), Garmin (NASDAQ:GRMN). We have a reverse iron condor on Apple (NASDAQ:AAPL) and Direxion Daily Financial 3x Shares (NYSEARCA:FAS).
In our Earnings Alpha Portfolio, we are long JetBlue (NASDAQ:JBLU), Seagate Tech (NASDAQ:STX), Apple , Capital One (NYSE:COF), Disney (NYSE:DIS), Ashland , Vertex (NASDAQ:VRTX), Intuitive Surgical (NASDAQ:ISRG), Marriott (NYSE:MAR). We are short Pitney Bowes (NYSE:PBI), Schlumberger (NYSE:SLB) and Walgreen (WAG). We have a reverse iron butterfly in Deckers Outdoor (NASDAQ:DECK) and F5.
In our Goldman Sachs Up/Down Paper Portfolio, we are long State Street (NYSE:STT) and Calpine .
Chart courtesy of finviz.com.
Disclosure:
I am long PNRA.