Another "middle" of a month, and it appears another lot of Sirius XM (SIRI) CEO Mel Karmazin's shares have hit the market in a large volume spike sold out around 10:45 AM on July 17th. While it may be too early to claim with certainty that such a large block trade was indeed part of Mel's plan to eventually sell 60 million shares, it's a logical conclusion. Since the plan went into effect, roughly 10 million shares have sold out each month directly in the middle of the month. There's no reason to expect July is any different.
While in the past, such sales have been followed by lower share prices, it seems that June's sales, and now July's sales, are being absorbed into the market for Sirius XM shares rather than dragging it down. The large sale earlier in the day did pull the share price down to a low of $2.02, but the day saw recovery as high as $2.10, and a solid close to $2.085.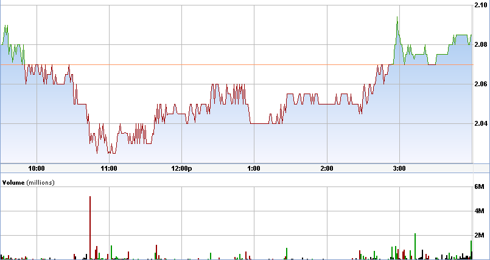 When large sales like this are absorbed so quickly, investors often look for answers as to why. What appears to be obvious strength may be attributed to an analyst upgrade to outperform from Zacks.com.
We upgrade our recommendation on SIRIUS XM Radio Inc. (SIRI - Analyst Report) to Outperform based-on its record-high net subscribers' addition in the second quarter of 2012.This improved performance was mainly due to strong management execution on the back of rising auto sales. We expect the company to improve in several other operational metrics, including adjusted EBITDA, free cash flow, and further penetration in the U.S. auto sector, in the second quarter.
It often seems that stock behaviors are attributed to analyst rating changes, but I am not so convinced that this rating from Zacks.com carries all that much weight. In my opinion, the share price of Sirius XM is holding its own, and most recently rising, due to the performance of Sirius XM as a company. With an early release of over 600,000 new subscribers in the second quarter, and an upcoming earnings conference call due in a few weeks, investors appear to be rather optimistic about Sirius XM and what is in store for the call.
While questions abound about Liberty Media (LMCA) and their ultimate plans for Sirius XM, as well as questions about how and when everything between the two companies will actually play out, this still remains a burden on the stock. But with Sirius XM "running on all cylinders" as Mel Karmazin is fond of saying, it may have enough steam to keep chugging along, despite the uncertainty imposed by Liberty Media. Even the weight of Mel's sales do not appear to be that much of a drag anymore.