National Bank of Greece (NBG) and Bank of America (BAC) are among the most followed stocks these days. Both companies survived the recent financial crises. However, they are still trading way below their heyday valuations. In my opinion, given the recovery in global markets, the current valuations make these companies compelling investments. Then, why choose National Bank of Greece instead of Bank of America? This article explains several reasons for choosing NBG over BAC.
Company Profiles
National Bank of Greece was founded in 1841. It is one of the oldest financial institutions in the world. NBG was the first issuer of Greek banknotes. In fact, it was the only Greek bank to offer Greek notes until 1928. The company was first listed on the Athens Stock Exchange in 1880. Later on, NBG started trading on the New York Stock Exchange in October 1999.
With 528 domestic bank units all over the country, NBG is the largest bank in Greece. It holds a leading position in Southeastern Europe and Eastern Mediterranean. NBG established a network of approximately 1.131 bank units in the mentioned geographic regions. NBG, also owns Finansbank (OTC:FNKXF) in Turkey and Vojvodjanska Banka in Serbia.
Bank of America is one of the world's leading financial institutions. The financial giant was formed after the merger of Nations Bank's with Bank America. The company serves approximately 57 million retail consumers and small businesses. It operates within all 50 states of the U.S and the District of Columbia. Through its subsidiaries and agreements, Bank of America also serves over 40 countries. The company gained 'too big to fail' status after the acquisition of Merrill Lynch in 2008. In 2010, BAC ranked as one of the largest companies in the world according to Forbes.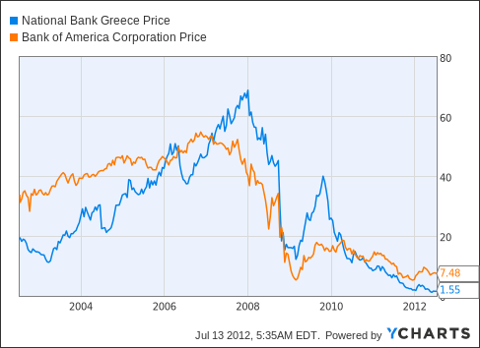 Data by YCharts
Valuation: NBG vs BAC
NBG currently trades at about $1.5, way below its heyday price of $65. The 52-week range is $1.12 and $7.55. One month stock returns stand at about 30%, and the current dividend yield is zero. However, past data on dividend yield shows a 5-year average rate of 8.64%. Maximum dividend yield level was 36.92%, which was reached in September 2011. In June 2012, following the encouraging news of political stability within the country, the stock rose about 25%. The recent vote of confidence in the Greek parliament also gave the stock a positive booster. Currently, the stock is pretty volatile with a Beta of 2.07. However, its Beta is lower than that of BAC, which has a Beta of 2.31.
At a price of $7.5, BAC trades at the middle of its 52-week trading range. The stock returned about 4.5% in the last month. The quarterly dividend of 1 cent translates into a dividend yield of 0.51%. However, average five year dividend yield is 4.42%. If the recovery keeps its pace, I expect Bank of America to increase its yield by a substantial amount.
More About National Bank of Greece
The National Bank of Greece is known as Greece's biggest lender. Its portfolio far exceeds the domestic competitors in terms of size, market capitalization, and average enterprise value. Recently, there have been talks between NGB and Credit Agricole (OTCPK:CRARY) over possible cooperation. Credit Agricole is seeking to sell Emporiki Bank, one of NBG's greatest competitors. Apparently National Bank of Greece is among the possible buyers. Taking over Emporiki Bank will certainly empower NBG's operations through new strategic alliances.
Recently, NBG's liquidity was secured by the latest capital injection of €7.4 billion from the Financial Stability Fund. This capital injection has restored NBG Group's capital adequacy. At the same time, it provided unremitting access to liquidity from the Eurosystem. The bank has substantially suffered from the Greek debt issues. However, NBG's deposit outflows have decreased by 3.1% in the last two months. Moreover, NBG has made significant cuts on operating expenses. Expenses were reduced by approximately 7% yoy in the last quarter, and about 15% since 2010. As a result, pre-provision and pre-trading earnings stayed at a relatively high level in Q1 of 2012 (€500 million). Loan coverage remained high at 56%, reflecting a 47% yoy increase. This increase was achieved mainly because of provision charges that stand at €559 million.
I think the most compelling reason that makes NBG a good investment is its Turkish Branch, Finansbank. Finansbank remains at the forefront of Turkey's financial institutions, with a market cap of around $5 billion. In 2011, Finansbank's Capital Adequacy Ratio [CAR] stood at 17.6%, the highest among its peers. The bank's last quarter results showed strong performance. Earnings increased by more than 20% compared to last quarter. Net interest margin was high, making Finansbank the leader among its competitors. Furthermore, the performance of Finansbank ensures a stability in NBG Group's earnings.
Why prefer NBG?
At a first glance, someone might suggest BAC as a much better and safer investment choice than NBG. BAC has well established its place in the financial markets. Taking into consideration the current economic turmoil in the eurozone and specifically in Greece, there is no real dilemma. However, as Warren Buffett says,
The key is to be fearful when others are greedy and greedy when others are fearful.
Given the market's fear of Greece's issues, I think Greece is where you can find all the good bargains. The markets have over-reacted to anything that has to do with Greece. Even the Greek shipping stocks, which has almost no business with Greece, are trading at their cheapest levels. Dryships (NASDAQ:DRYS), which was once trading for as high as $120, is trading at a price of about only $2. (See my piece on Dryships here)
National Bank of Greece is a major financial powerhouse in Greece, Turkey, and southeastern Europe. Its diversified portfolio suggests a less risky and more rewarding investment. Even in the worst case scenario, its subsidiaries will provide enough safety cushion for investors. The worst case scenario market cap of NBG should not be less than $5 billion. (Assuming that all of its operations outside Turkey are worth nothing). It would go against economical theory for NBG to have a market cap below its Turkish subsidiary. Therefore, I think the downside is limited.
The recent political stability in Greece had a positive effect on the markets. Mr. Provopoulos, (the Governor of the Bank of Greece) stated that after the latest elections, bank deposits are returning at a "satisfactory pace". Moreover, he reported the cash deficit will fall to €6.45 billion ($7.92B) in the first six months of 2012.
Summary
I expect NBG to recover thanks to its diversified income stream and substantial presence in emerging markets. Currently, the company derives 35% of its total of pretax pre-provisions from Turkey, and 15% from southeast Europe. Furthermore, the recent elections in Greece established a more stable political climate. The election's outcome suggests a clear determination by the Greeks to stay in the eurozone. Moreover, it also showed the willingness to defeat the recession through fruitful bailout actions.
I think Greek stocks have been priced for the worst case scenario, and they do not have any downside left. There is also positive news arising from Greece. If these positive trends continue in to the future, NBG's stockholders will see themselves well-rewarded. That is why I think National Bank of Greece offers a better risk-reward ratio than Bank of America.
Disclosure: I have no positions in any stocks mentioned, but may initiate a long position in NBG over the next 72 hours.