The Coal Industry has been suffering as of late, primarily due to the Shale gas boom causing natural gas prices to decline. This has resulted in a continuation of the coal-to-gas substitution trend. Moreover, weak steel demand, declining coal prices, milder winters, high coal inventories, and harsh environmental regulations have added to the woes of the industry. In such a volatile industry, Peabody Energy Corp. (BTU) is our favorite pick due to its diversified operations, high coal exports, an increase in PCI coal's exposure, leasing of coal reserves, and cheap valuations. Our target price for this stock is $73, while it is currently trading at $22.
Introduction
The recent bankruptcy of Patriot Coal Corp. (PCX) tells us the grave situation that the entire Coal Industry is undergoing. Thermal coal prices have declined as a result of rising exports from Indonesia, along with a decline in coal's demand for electricity generation, while metallurgical coal has been hurt as production disruptions have reduced in Australia due to the BHP Labor Accord, in addition to the dip in construction activity in China.
Although a good sign for this industry is an increase in coal's demand in Europe, investors perceive an investment in coal stocks as a far-from-safe bet, despite their inexpensive valuations. Our favorite stock in this industry, which has good upside potential and limited downside risk, is Peabody Energy Corp. However, this stock is not recommended for those investors who aim to target short-term returns, but is a good value investment for long-term investors.
Company Description
Peabody Energy Corp is the largest private sector coal mining company in the world. With four main segments, namely Midwestern U.S. Mining, Western U.S. Mining, Australian Mining, and Trading & Brokerage, the company derives its competitive advantage from its diversified operations, especially its Australian asset base.
Reasons for Being Our Favorite Coal Stock
The company considers Australia a "premier location" for development of, and investment in, coal mines. Consequently, in 2011, its Australian mining segment constituted as much as 46% of the overall segment EBITDA.
At the end of last year, it acquired an Australian coal mining company, Macarthur Coal. Macarthur's main product is PCI (pulverized coal injection) coal, which is one of the two types of metallurgical coal, the other being coking coal. PCI coal can also be used in place of coking coal as a raw material in blast furnaces. The demand for PCI coal in steelmaking is likely to improve, as steelmakers continue to look for low-cost, and high carbon-content fuels. This acquisition has thus enabled BTU to take a contrarian position in the currently volatile metallurgical coal market.
According to its latest 10-K, approximately 91% of BTU's sales were through long-term coal supply agreements, which gives substantial stability to sales. A potential risk in this case may be a default by a major customer, as was the case with Patriot.
Lease of Coal Reserves and Increase in Export Capacity
BTU has just leased 721 million tons of ultra-low-sulfur coal reserves in the Powder River Basin. In total, it has leased more than 1.1 billion tons of reserves in the same region.
Recently, BTU has entered into a long-term Gulf Coast coal export agreement with Kinder Morgan Energy Partners L.P. (NYSE:KMP) to "meet growing global seaborne coal demand."
Strong Financial Performance, Cash Flow Position, and Cheap Valuations
Read the rest of the article to have a detailed overview for each of the aforementioned catalysts.
Financial Performance Review
BTU's gross margins have continued to outperform the industry average, even after such volatile conditions in the market. Its operating cash flows have also continued their upward incline, as is evident from the chart below.
Source: Company's documents
The company's cash and cash equivalents increased by more than 19% (to $952.4 million in 1Q2012) on a quarter over quarter basis.
Mentioned as a potential risk factor in its 10-K, Peabody is now exposed to $150 million of Patriot Coal's black-lung liabilities, after it recently filed for bankruptcy. However, the strong liquidity position of the company overshadows the importance of this factor.
The following table shows the scheduled debt maturities of the company:
| | |
| --- | --- |
| Year | $ millions |
| 2012 | 101.1 |
| 2013 | 121.9 |
| 2014 | 107.8 |
| 2015 | 458.5 |
| 2016 | 1500 |
The following graph shows that the dividend yield and free cash flow yield of the company have historically followed increasing patterns. Revenue is also expected to maintain its increasing trend, although diluted EPS are expected to take a hit in the upcoming 2Q2012, relative to the last year, before starting to later recover.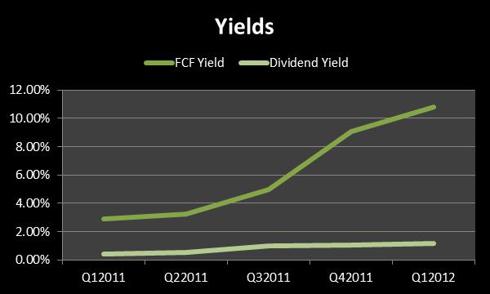 Click to enlarge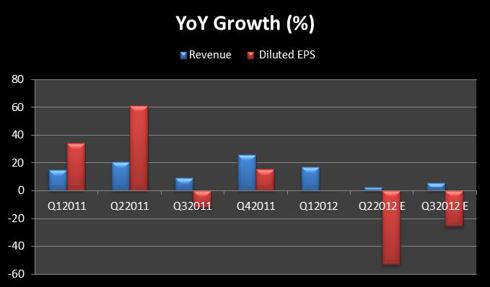 Click to enlarge
Data Source: Bloomberg, Qineqt's Calculations
Valuation:
| | | | | |
| --- | --- | --- | --- | --- |
| | BTU | Consol Energy (NYSE:CNX) | Alpha Natural Resources (ANR) | Arch Coal (ACI) |
| EV/EBITDA (NYSE:TTM) | 5.38 | 6.63 | 4.41 | 5.67 |
| PEG ratio (5-year expected) | 0.85 | 1.27 | -1.33 | -2.57 |
| Forward P/E (1 year) | 6.78 | 13.42 | N/A | N/A |
| Stock price performance (YTD) | -32.03% | -17.00% | -66.46% | -59.34% |
| LT Earnings Growth Rate | 15.19% | 19.14% | 19.50% | 7.55% |
| Dividend Yield | 1.50% | 1.60% | N/A | 2.00% |
The share prices of all these major coal companies have suffered a dip, due to the prevailing conditions in the coal market. The forward price-to-earnings ratio of BTU is just 7x, while its EV/EBITDA ratio of 5x, is one of the lowest among its peers. This shows why BTU is one of the cheapest options in this industry. The historical 5-year average price-to-earnings ratio for BTU is 22x, while the forecasted per-share earnings for 2012, 2013 and 2014 are $2.58, $3.33 and $4.04 respectively. In a full-scale recovery the earnings multiple would expand and would revert toward the 5-year average. This gives us a target price of $73 (5-year avg. multiple times 2013 earnings), an upside of 230%.
Given the lucrative growth potential, we recommend a long position in its stock.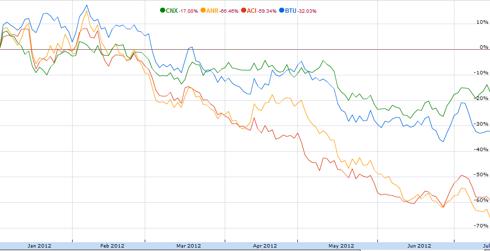 Click to enlarge
Source: Google Finance
Disclosure: I have no positions in any stocks mentioned, and no plans to initiate any positions within the next 72 hours.