By Brendan Gilmartin
eBay (NASDAQ:EBAY) is scheduled to report Q2 2012 earnings after the closing bell on Wednesday, July 18. The numbers are typically released at 4:15 p.m. ET and will be followed with a conference call at 5:00 p.m. eBay is expected to deliver solid results for the recent Q2 on strength in the PayPal and Marketplaces segments.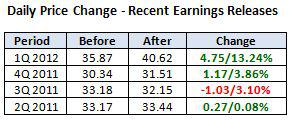 Outliers and Strategy
In its previous earnings release, eBay gave the following guidance for Q2 2012:
Non-GAAP earnings per share in the range of $0.53 to $0.55. The Street estimate is $0.55. (Source: Yahoo Finance.)
Revenues are forecast in the range of $3.25 billion to $3.35 billion. The consensus is $3.15 billion.
With Q2 2012 results potentially priced in, much of the focus will center on the outlook for Q3 2012.
The current consensus for non-GAAP EPS for the Q3 2012 period is $0.55.
The consensus for revenues in the Q3 2012 period is $3.42 billion.
Any adjustments to the outlook for FY 2012 could also have consequences for eBay shares. Back in April, eBay said it expects net revenues in the range of $13.8 billion to $14.1 billion with non-GAAP earnings per diluted share in the range of $2.30-$2.35.
eBay is seen posting non-GAAP EPS toward the high end of the guidance provided for Q2 2012, thanks to ongoing strength in the PayPal business and its expanding leadership position in global payments.
Recent News
July 17: Piper Jaffray reiterated an Overweight rating and a $50 price target on eBay, according to a post on Benzinga.com. The firm expects eBay to deliver in-line earnings and a typically conservative outlook for the Q3 period.
July 16: According to a report on ABCNews.com, shoppers on eBay and other online retailers may have to begin paying sales taxes for items and goods purchased over the internet.
July 13: Wall Street analysts will focus on the hit-growing Bill Me Later (BML) segment of eBay's business when it reports Q2 earnings, according to a post on Reuters.com. The report suggested BML is a huge potential profit source for eBay. Analyst Kerry Rice reportedly believes BML can contribute mightily to BML's growth in payments.
July 12: Nomura Securities reiterated a Neutral rating on eBay, but raised the price target from $37.50 to $42.00, according to StreetInsider.com. The firm also raised its 2012 and 2013 estimates based on the growth at PayPal and strength in Marketplace.
July 06: Wedbush reiterated an Outperform rating on eBay with a price target of $48, according to Benzinga.com. The firm cited strength in the retail and payments segments for the positive outlook.
Technical Review
Since touching a 52-week high of $43.94 on June 19, eBay shares have slipped more than 11%. Ahead of the earnings release, the shares tested and held support at $38 - a level going back to mid-March. That will be a key near-term support level in the event of a disappointing earnings release, with downside risk to the 200-day SMA near $35. However, if the recently positive sentiment from the sell-side proves positive, the shares could rebound toward resistance in the $41.00/$42.00 area. Note that the momentum oscillators (RSI and MACD) are also pointing toward an oversold scenario.
Click to enlarge image.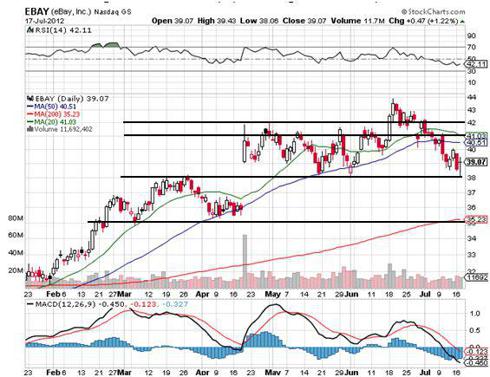 Chart courtesy of StockCharts.com.
Summary
eBay shares are slipping ahead of its Q2 earnings release due to the weaker macroeconomic backdrop, currency headwinds, and potential taxes on online sales. However, the company is benefiting from improved trends in the payments division and the 11% pullback over the past month implies the shares may be pricing in the weakness in Marketplace and retail segments. Keep an eye on the outlook for the Q3 and balance of FY 2012, even though eBay tends to lean on the conservative side when it delivers its guidance.

Disclosure: I have no positions in any stocks mentioned, and no plans to initiate any positions within the next 72 hours.
Disclaimer: By using this report, you acknowledge that Selerity, Inc. is in no way liable for losses or gains arising out of commentary, analysis, and or data in this report. Your investment decisions and recommendations are made entirely at your discretion. Selerity does not own securities in companies that they write about, is not an investment adviser, and the content contained herein is not an endorsement to buy or sell any securities. No content published as part of this report constitutes a recommendation that any particular investment, security, portfolio of securities, transaction or investment strategy is suitable for any specific person.