We have reached a profound point in economic history where the truth is unpalatable to the political class -- and that truth is that the scale and magnitude of the problem is larger than their ability to respond -- and it terrifies them. -- Hugh Hendry

Given the political realities, the Fed is the only game in town that can do anything to bolster the economy. -- Senator Schumer
Naturally bulls assume QE3 will occur because it must politically. Members of congress made that plain today given the proximity of the election. Although Bernanke urged congress to avoid the so-called "fiscal cliff" that is drawing ever nearer, most polls brushed that off. So too did bulls who are desperate for a rally and expect QE3 will be there for the fix they need. End. Of. Story.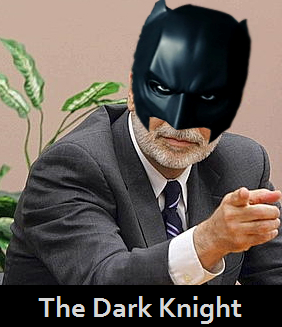 Goldman Sachs did what most companies have successfully done -- lowered estimates making "beating" these a snap. And despite earnings lower by 11% that beat estimates -- it's the only game in town. Other companies are guiding lower like Johnson & Johnson (NYSE:JNJ) as the company's unadjusted earnings plunged while adjusted earnings beat expectations slightly. Coca-Cola (NYSE:KO) reported earnings that also beat. In late earnings news, Intel (NASDAQ:INTC) reported earnings that disappointed by initial reaction as they cut outlook and Yahoo (NASDAQ:YHOO) shares rose after its report.
It's interesting how, since the court ruling on Obamacare, the healthcare sector (NYSEARCA:XLV) has risen and done so in dramatic fashion. I guess the deal for healthcare providers allowed for more customers and their premiums immediately rose.
Economic data primarily consisted of a negligible rise in the CPI (.2% "core"); GS Same-Store Sales (.0% vs .3% weekly & yearly 2.6% vs 3% previous); Industrial Production rose (.4% vs.3% expected & prior -.1% while Capacity Utilization dropped to 78.9); and, Homebuilders Confidence rose to 35, which was this high in March 2007. We know what happened after that, eh? Anyway, closely related REITs (NYSEARCA:IYR) continue to move higher, believing real estate has bottomed even though there aren't much single family homes in the sector. Goldman Sachs lowered GDP estimates to 1.2%, which remains in stark contrast to Fed forecasts of near 2%.
In the eurozone things are "quiet," although some bullish pundits have described conditions as "stable" which for most would be a short-term transitory description. German Investor Confidence fell to -19.6, which isn't much in the way of "stable."
In China the government has decided to increase rail construction by 9%, hoping this would be stimulating. The Japanese tried the same thing over the past 20 years with little effect … just sayin'.
Meanwhile, crop conditions (NYSEARCA:JJG) continue to deteriorate throughout the growing regions, meaning you'll be paying more for ethanol and corn flakes.
Large pension plans continue to struggle producing only meager returns. CALPERS, the large California public workers plan, returned only 1% for its fiscal year ending in June. Others seem to be in the same boat making it more difficult to meet payout needs.
Bonds (NYSEARCA:IEF) continue to levitate a low yields as ZIRP continues to keep yields almost negative in the U.S.
Stocks, after a weak intramorning sell-off on lack of Bernanke QE3 hints, rallied in the afternoon since QE3 naysayers just don't get it -- it will be done by September at the latest.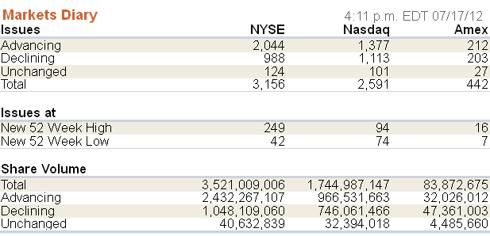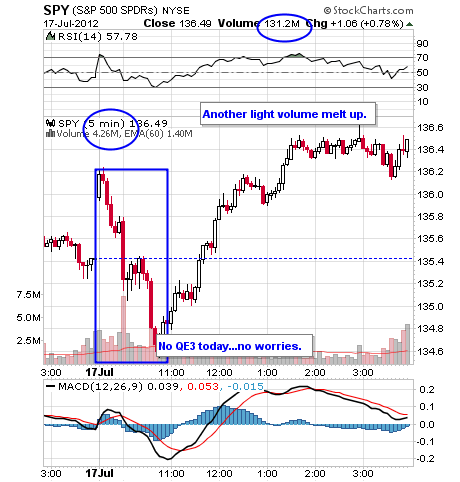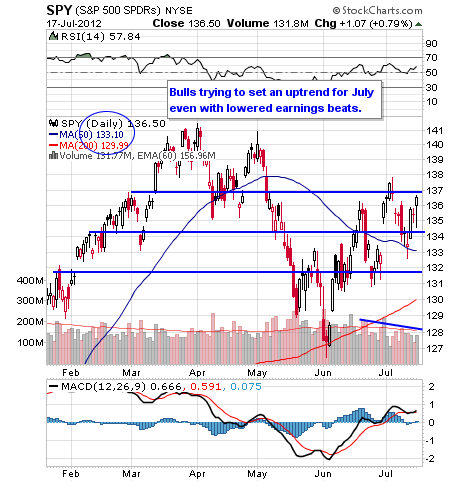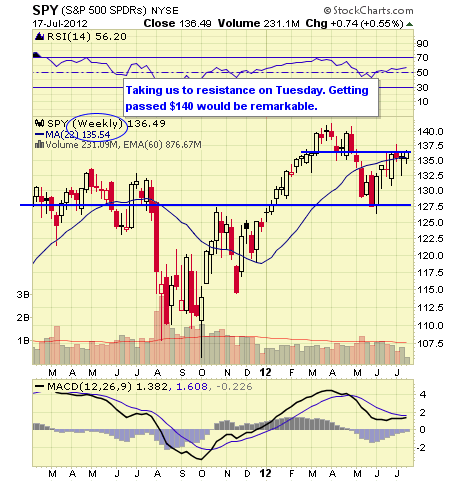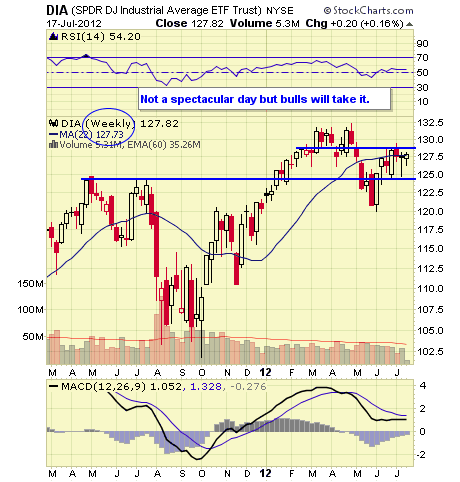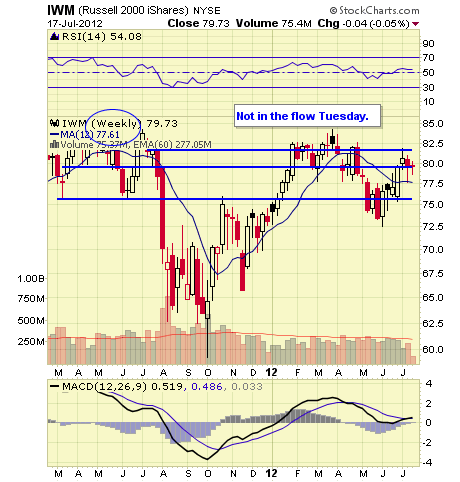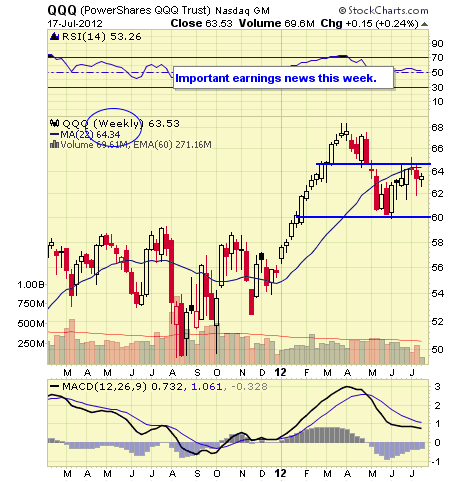 Continue to U.S. Sector, Stocks and Bond ETFs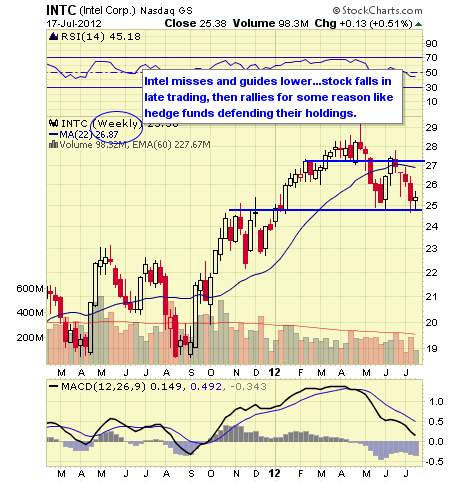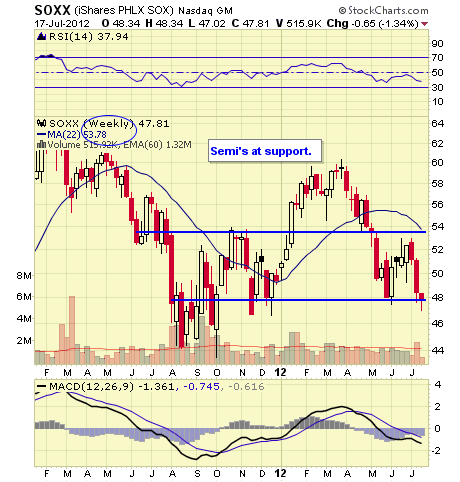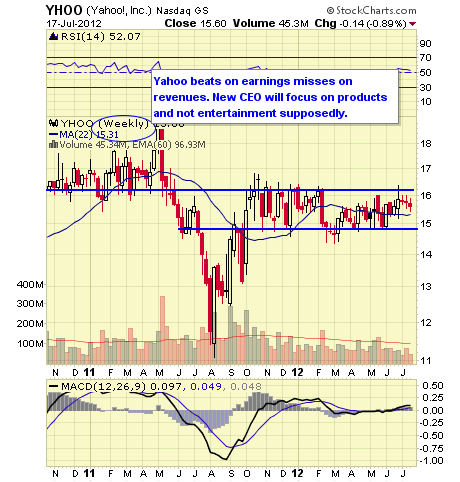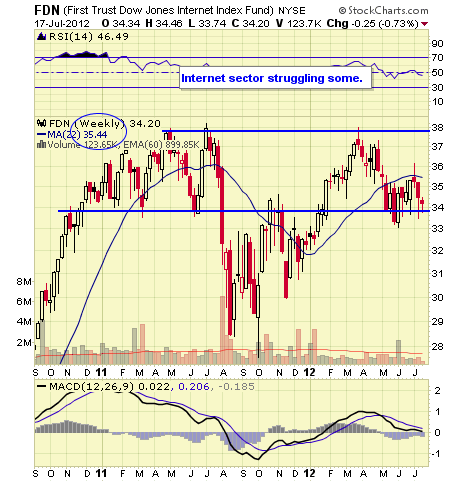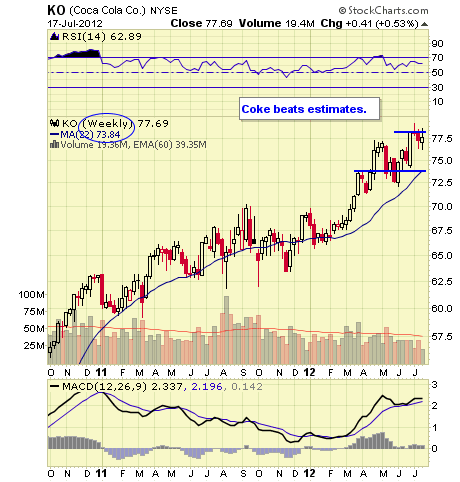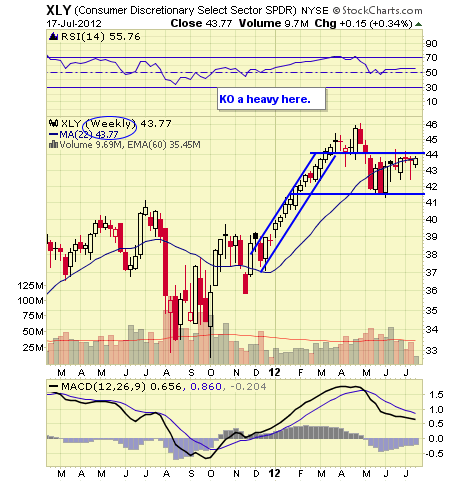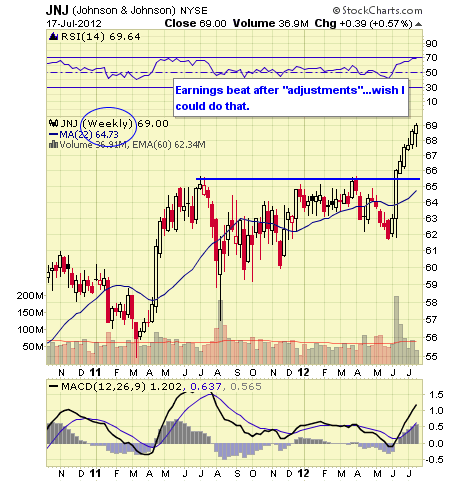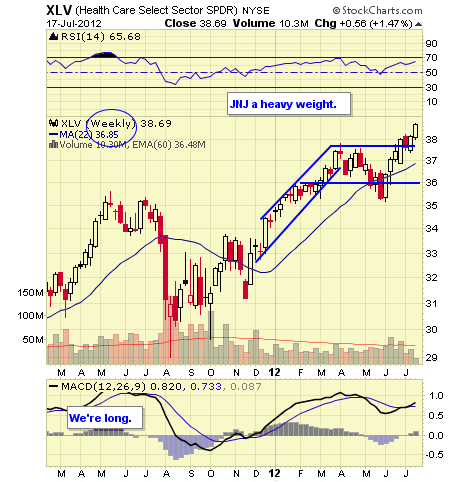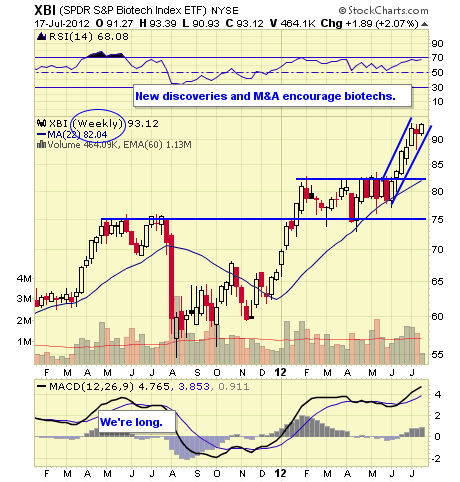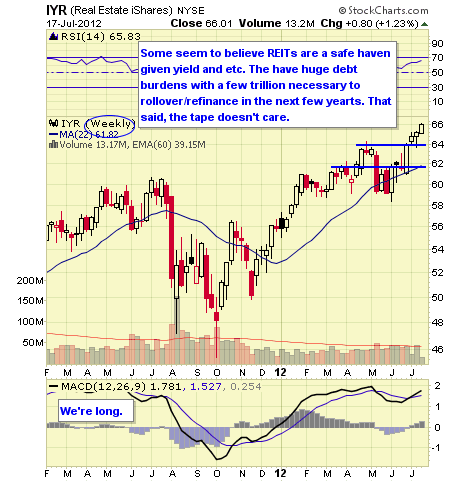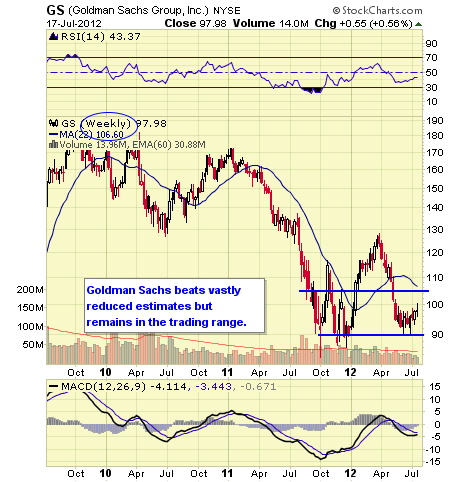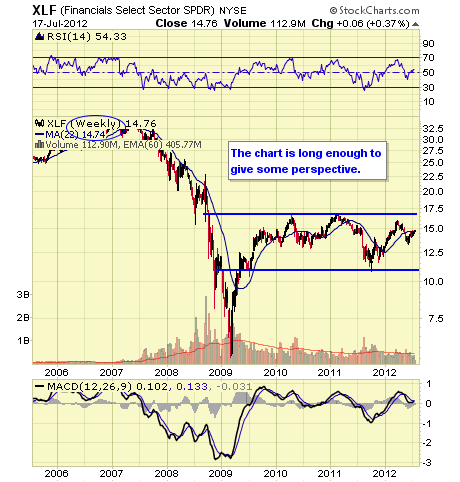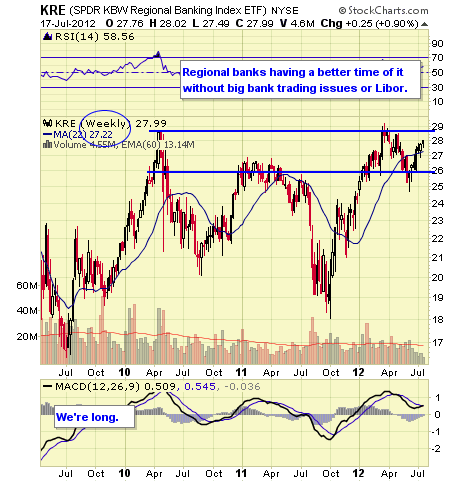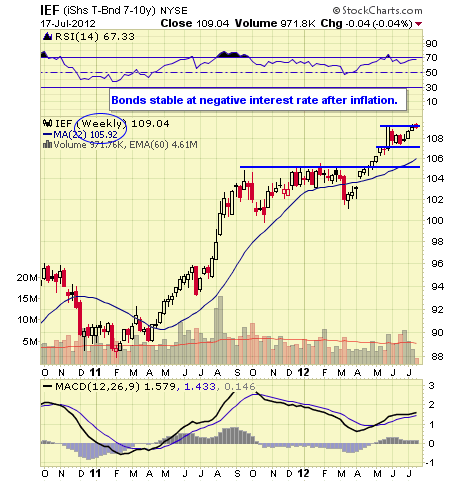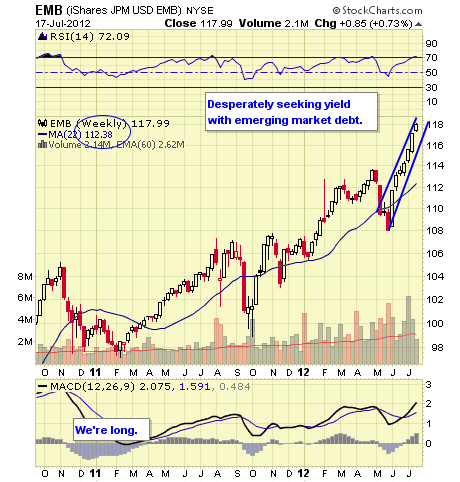 Continue to Currency and Commodity Market ETFs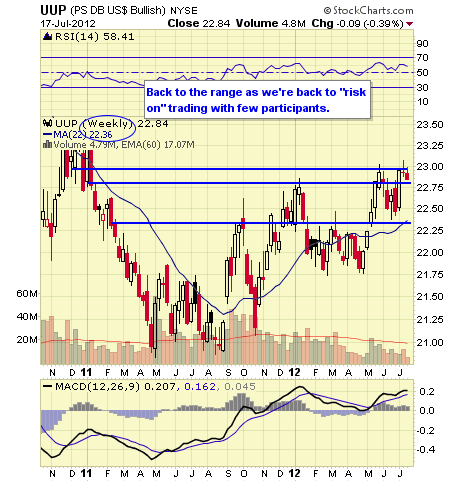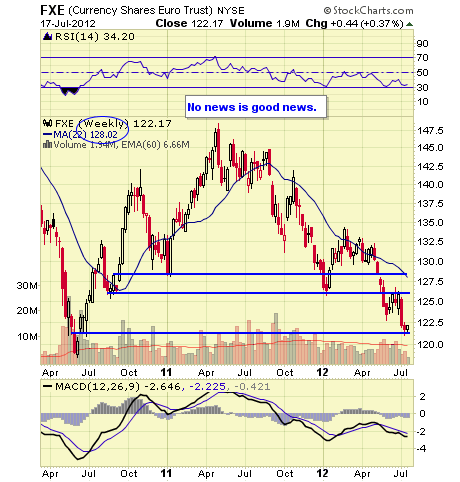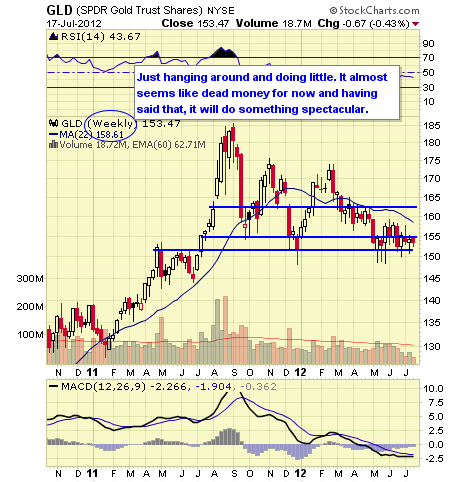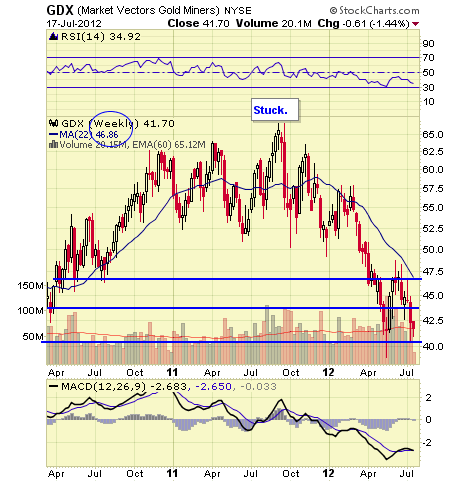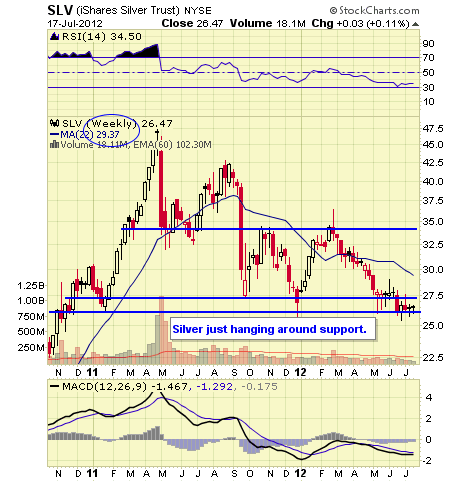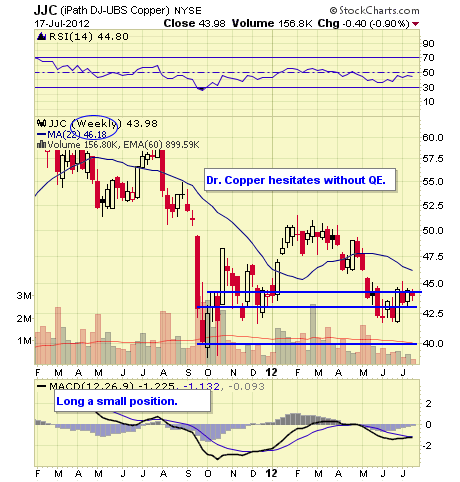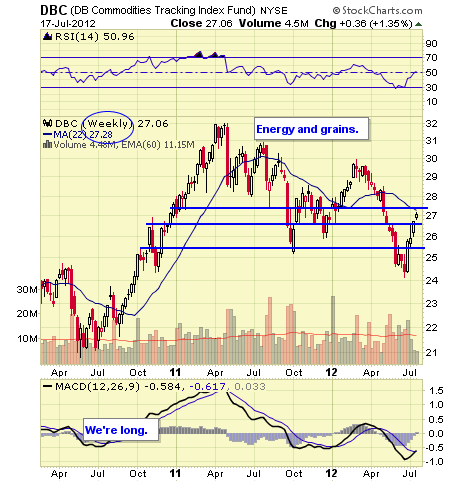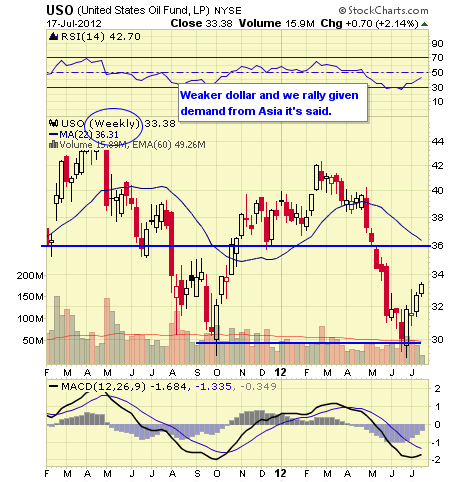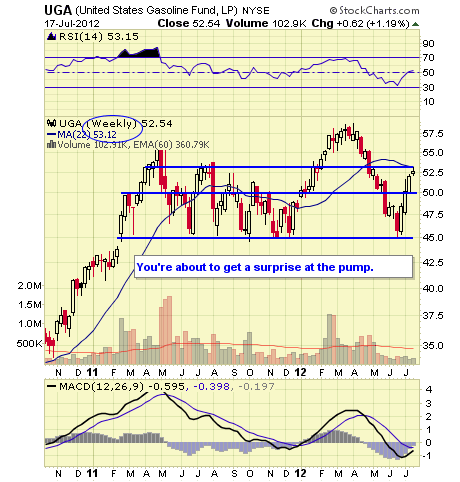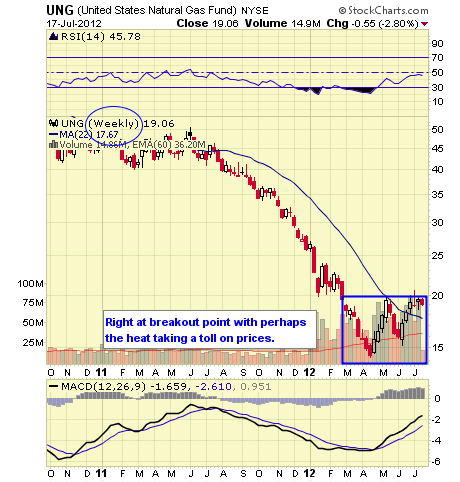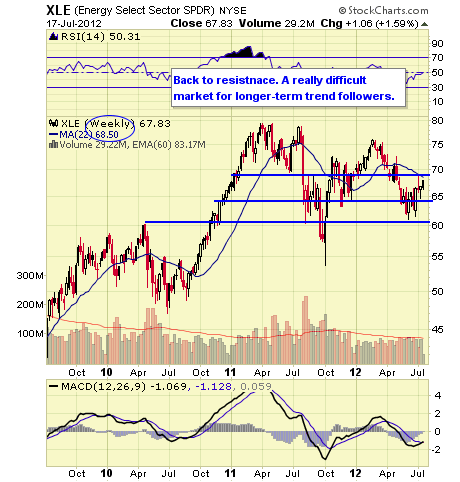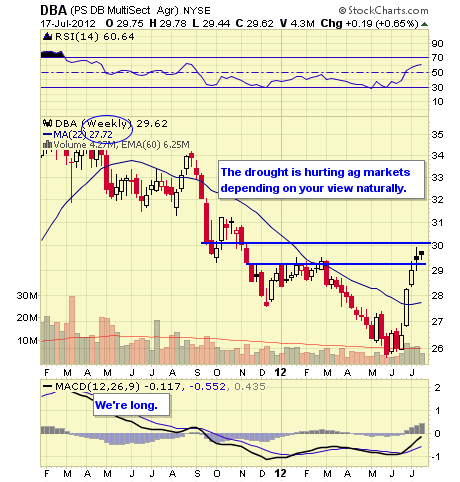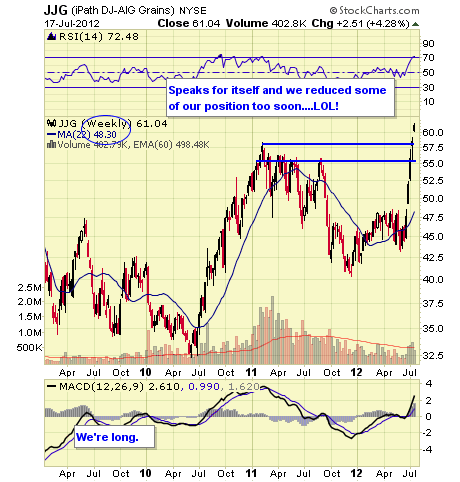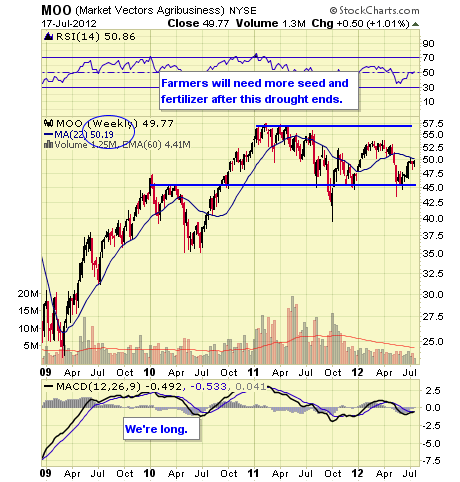 Continue to Overseas Sectors and ETFs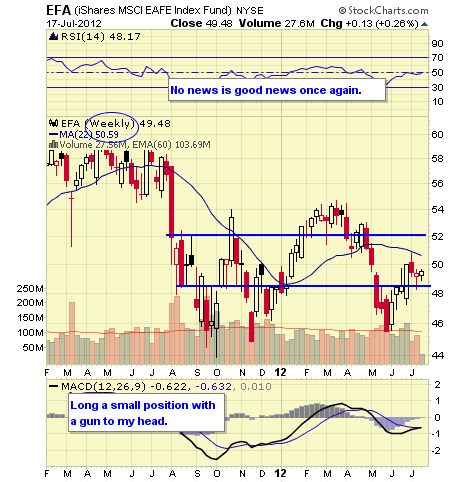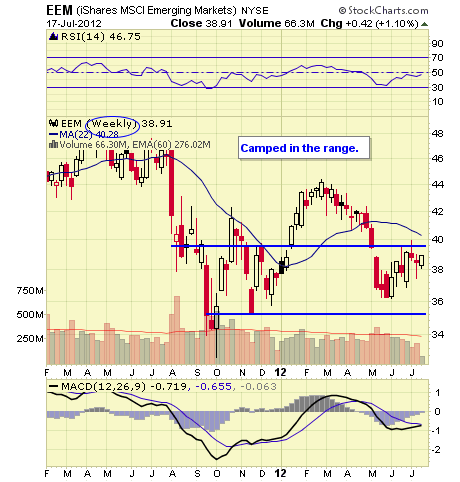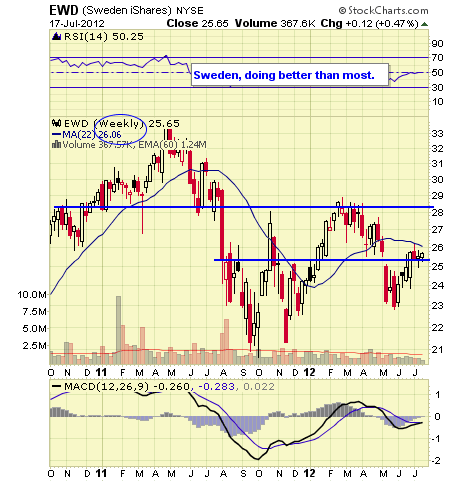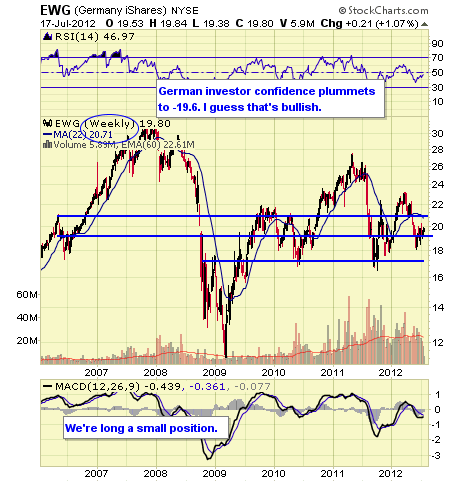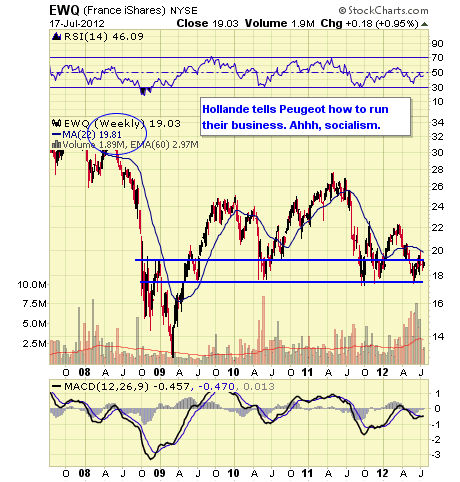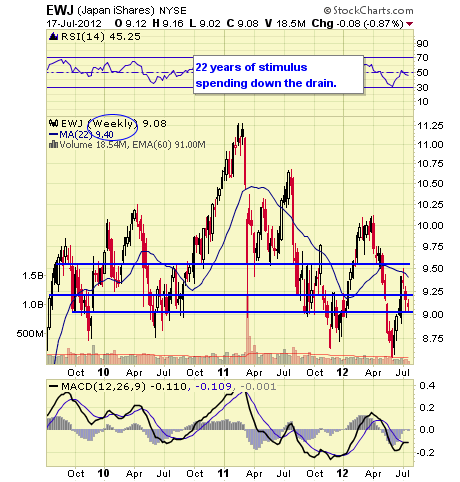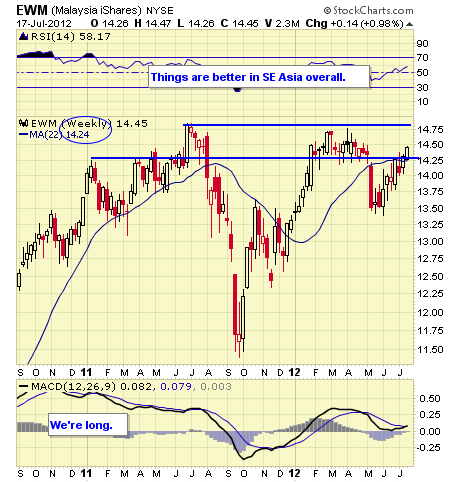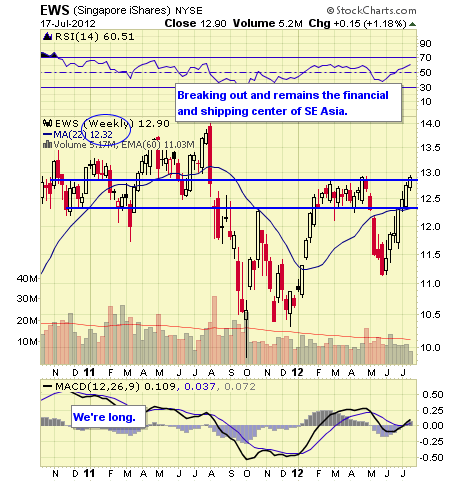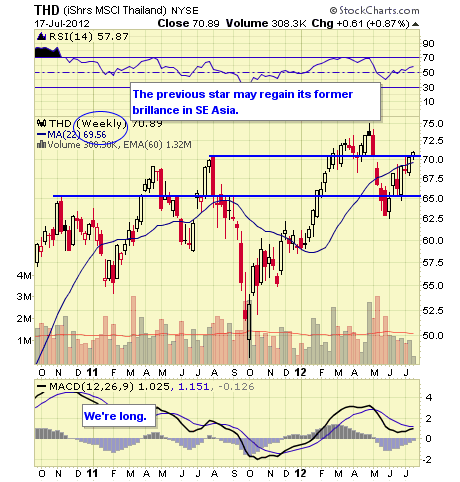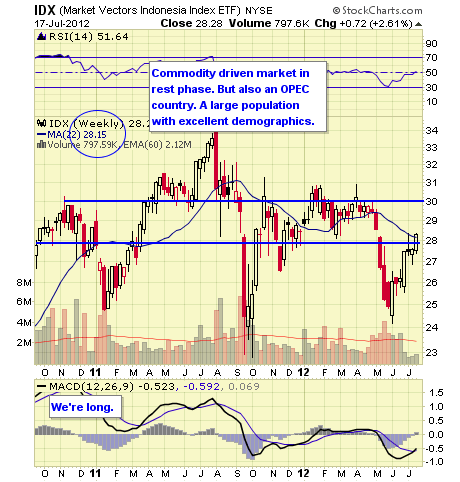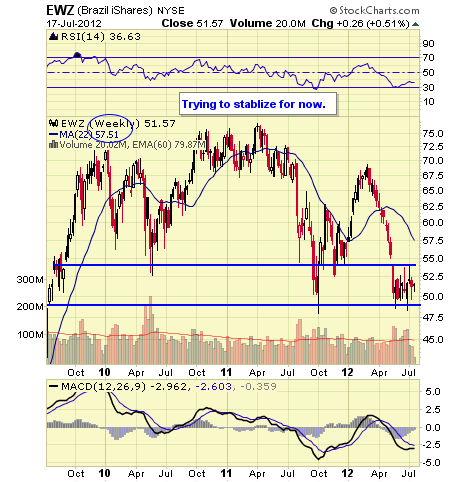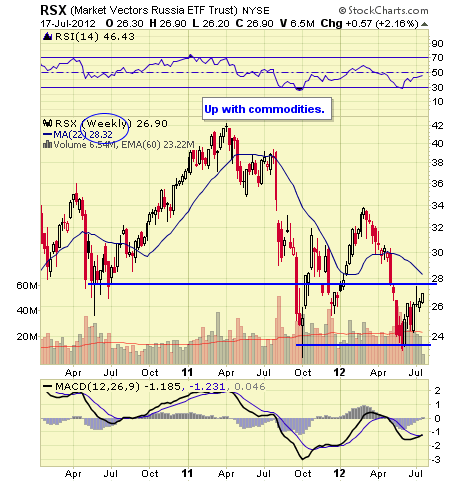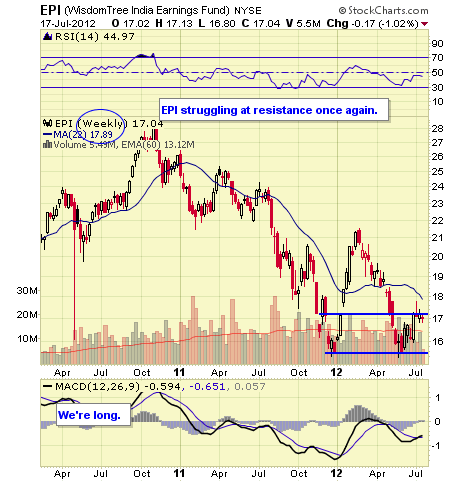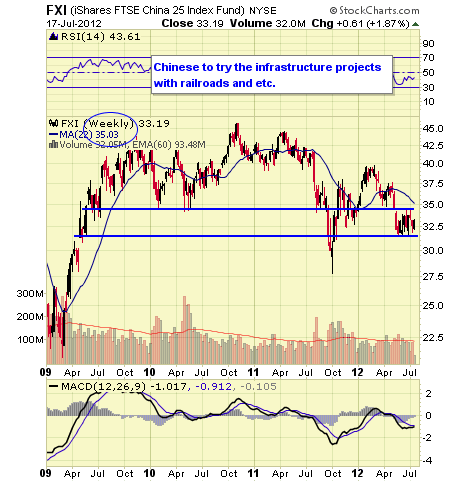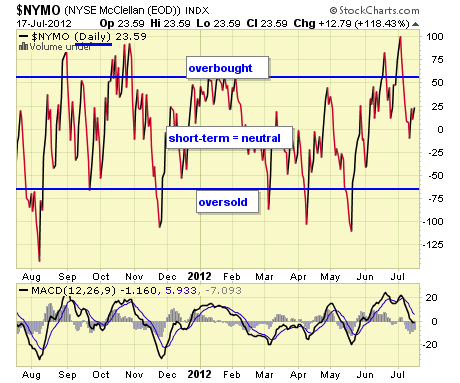 The NYMO is a market breadth indicator that is based on the difference between the number of advancing and declining issues on the NYSE. When readings are +60/-60, markets are extended short term.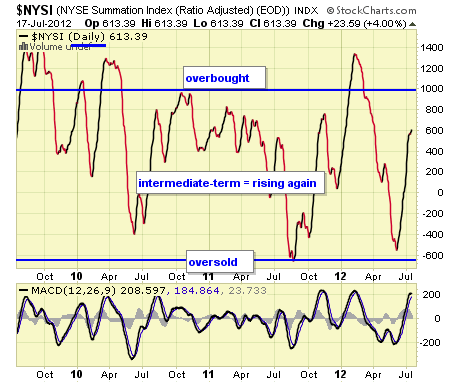 The McClellan Summation Index is a long-term version of the McClellan Oscillator. It is a market breadth indicator, and interpretation is similar to that of the McClellan Oscillator, except that it is more suited to major trends. I believe readings of +1,000/-1,000 reveal markets as much extended.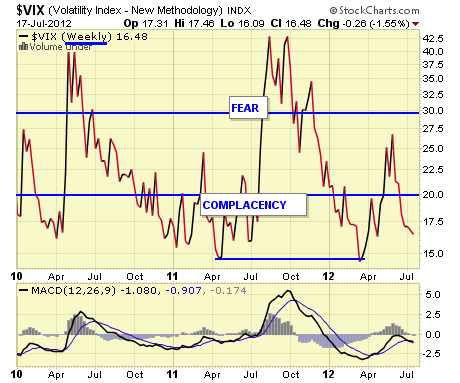 The VIX is a widely used measure of market risk and is often referred to as the "investor fear gauge." Our own interpretation is highlighted in the chart above. The VIX measures the level of put option activity over a 30-day period. Greater buying of put options (protection) causes the index to rise.
Wednesday brings housing starts and the all-important beige book in the afternoon. Bernanke will still be giving testimony and his focus groups will be busy assessing how he might tweak his views or not.
More earnings will be dribbling out, but it's easy to be skeptical over beats on much lowered guidance.
Disclosure: I have no positions in any stocks mentioned, and no plans to initiate any positions within the next 72 hours.
Disclaimer: The ETF Digest maintains active ETF trading portfolio and a wide selection of ETFs away from portfolios in an independent listing. Current "trading" positions in active portfolios if any are embedded within charts: Lazy & Hedged Lazy Portfolios maintain the follow positions: VT, MGV, BND, BSV, VGT, VWO, VNO, IAU, DJCI, DJP, VMBS, VIG, ILF, EWA, IEV, EWC, EWJ, EWG, & EWU.
The charts and comments are only the author's view of market activity and aren't recommendations to buy or sell any security. Market sectors and related ETFs are selected based on his opinion as to their importance in providing the viewer a comprehensive summary of market conditions for the featured period. Chart annotations aren't predictive of any future market action rather they only demonstrate the author's opinion as to a range of possibilities going forward. More detailed information, including actionable alerts, are available to subscribers at www.etfdigest.com.