Shares of Velocity Shares Daily 2x VIX Short Term ETN (TVIX) closed lower on Tuesday by 6.96% to a new all-time low.
Tuesday's Action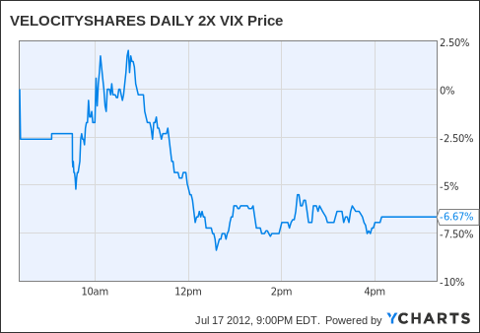 Click to enlargeTVIX data by YChart
TVIX All-Time Chart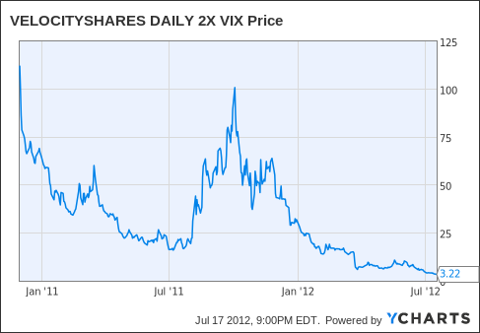 Click to enlargeTVIX data by YCharts
In the past, I have written some negative articles about TVIX, four in total. (article 1, article 2, article 3, article 4) The reasons to sell TVIX have not changed.
VIX Contango
The biggest problems with volatility ETFs and ETNs such as TVIX and other VIX vehicles such as iPath S&P 500 Short Term Futures ETN (VXX) and Pro Shares Ultra VIX Short Term Futures ETF (UVXY) is the contago in the VIX futures market. Over time, the contango leads to losses for these volatility products as the "roll" effect eats away at the NAV of the fund. A more in-depth piece on the contango effect, and one I would highly recommend reading before buying any VIX product, is available here.
Possible Bounce
Throughout its history, TVIX has had many short-term spikes higher on days when the VIX surges. At one time, during the summer of 2011, the rally in TVIX managed to last a few months. However, it should be noted that every spike higher in TVIX has been a selling opportunity. That being said, there is no guarantee that will see any time of bounce soon. Like I said, a move is possible, but I would not try and play it.
Alternatives
Investors often look to TVIX as a way to hedge their portfolio against a possible move lower in stocks. This strategy has not worked as TVIX is at an all-time low despite the lack of a stock market rally. The three month chart below illustrates TVIX's problems.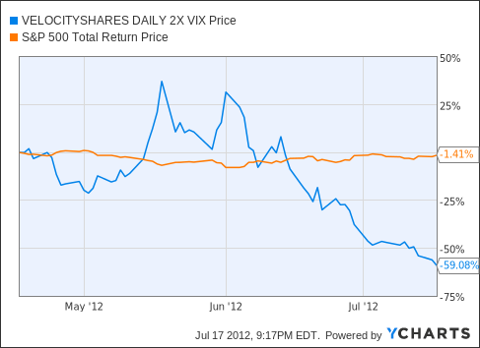 Click to enlargeTVIX data by YCharts
A better way to hedge a portfolio is to buy inverse ETFs such as Shares Short S&P 500 (SH) and Pro Shares Short Dow 30 (DOG). Another option for investors looking to hedge a long-equity portfolio is to buy put options on various equity indexes.
Disclosure: I have no positions in any stocks mentioned, and no plans to initiate any positions within the next 72 hours.