Louis Navellier is Chairman and Founder of Reno, NV-based Navellier & Associates, with $3.2 billion in 13-F assets per its latest filing for Q2 of 2012. A regular on the media circuit, with frequent appearances on Bloomberg, Fox News and CNBC, Mr. Navellier also publishes multiple newsletters, including MPT Review and The Blue Chip Growth Letter, and is the author of the book, "The Little Book That Makes You Rich" that he co-authored with media mogul and former Presidential candidate Steve Forbes. The firm employs a three-step, highly disciplined, bottom-up stock selection process, based on quantitative and fundamental analysis. The portfolio is moderately diversified into over 330 positions, with over two-thirds in large-cap equities, and most of the remaining third in mid-caps.
We analyzed Navellier's equity holdings in its Q2 20212 13-F to determine its highest conviction bets, selecting the largest buys and sells in size, where the buy/sell is also a significant proportion of its prior quarter position in that company. Based on that analysis, the following are its high conviction bullish positions (see Table):
Alexion Pharmaceuticals (ALXN): ALXN is a commercial-stage biotech focused on serving patients with severe and ultra-rare disorders. Navellier added 0.51 million shares to its 0.02 million share prior quarter position, buying $52.0 million worth of shares, its largest purchase in Q2.
Other major institutional investors with large bullish bets on ALXN in the prior Q1 (the latest quarter for which all institutional filings are available) include mega fund Los Angeles-based mega fund Capital Research Global Investors, with over $240 billion in 13-F assets, that added 3.37 million shares to its 13.33 million share prior quarter position, and Atlanta-based investment powerhouse INVESCO Ltd., with over $650 billion in assets under management, including $174.4 billion in 13-F assets, that added 0.63 million shares 2.35 million share prior quarter position.
ALXN shares have been among the strongest consistent performers in the biotech group, up over six-fold since the lows in 2008/09, including being up about 40% YTD, and trading currently near its all-time highs. The appreciation has been based almost solely on the commercial success of its Soliris drug for the treatment of patients with paroxysmal nocturnal hemoglobinuria, a blood disorder, and atypical hemolytic uremic syndrome, an ultra-rare and life-threatening genetic disease.
In the latest Q1 (March) beat analyst revenue and earnings estimates (45c v/s 38c), while guiding FY revenues and earnings in-line. Its shares currently trade at 39 forward P/E and 15.0 P/B compared to averages of 34.7 and 24.1 for its peers in the biotech group, while earnings are projected to sky-rocket from $1.38 in 2011 to $2.53 in 2013, rising at an annual rate of 35.4%. While the stock has attractive growth, we believe that its premium price does not warrant an entry at these levels, particularly the inherent risk in terms of over-dependence on just one product (Soliris). Also, analysts are bullish on ALXN with 17 of the 21 analysts that cover it rating it at buy, but with a mean price target of $98, at par with current prices.
Besides ALXN, Navellier also made bullish bets on the following companies, accumulating shares in them in Q2 2012 (see Table):
The following are Navellier's bearish picks, based on its Q2 2012 selling activity (see Table):
In addition to the above, the following are among Navellier's largest holdings at the end of Q2 2012 (see Table):
Monster Beverage Corp. (MNST), a marketer and distributor of alternative beverages including energy drinks, fruit juices, smoothies and natural sodas, in which it holds 0.94 million shares or $67.8 million;
Biogen Idec Inc. (BIIB), that is engaged in the research, development and commercialization of therapies for the treatment of multiple sclerosis (MS), cancer and auto-inflammatory diseases, in which it holds 0.39 million shares or $56.5 million; and
DISH Network Corp. (DISH), that provides direct broadcast satellite subscription TV services nationwide, in which it holds 1.63 million shares or $47.2 million.
Table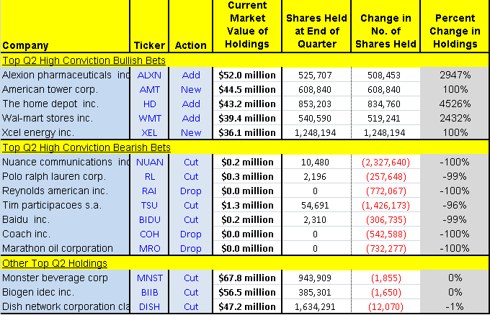 Credit: Fundamental data in this article and company descriptions are based on SEC filings, Zacks Investment Research, Yahoo, Thomson Reuters and Briefing.com. The information and data is believed to be accurate, but no guarantees or representations are made.
Disclosure: I have no positions in any stocks mentioned, and no plans to initiate any positions within the next 72 hours.
Disclaimer: Material presented here is for informational purposes only. Nothing in this article should be taken as a solicitation to purchase or sell securities. Before buying or selling any stock you should do your own research and reach your own conclusion. Further, these are our 'opinions' and we may be wrong. We may have positions in securities mentioned in this article. You should take this into consideration before acting on any advice given in this article. If this makes you uncomfortable, then do not listen to our thoughts and opinions. The contents of this article do not take into consideration your individual investment objectives so consult with your own financial adviser before making an investment decision. Investing includes certain risks including loss of principal.