Investing in turnarounds can be a lucrative, but extremely volatile investing strategy. Finding former high-flyers that have hit temporary tough times, but are not value traps can be challenging. I look for possible turnaround stocks by focusing on those companies that have strong balance sheets, are starting to have significant revenue increases (you only can cut costs for so long), and should be printing profits again in the near future. Having good technical support and insider buying also are positives. One recent find has all of these criteria going for it.
"Intevac, Inc. (NASDAQ:IVAC) provides process manufacturing equipment solutions to the hard disk drive industry, and process manufacturing equipment and inspection solutions to the photovoltaic industry." (Business description from Yahoo Finance)
Six reasons IVAC is a solid speculative play at under $6.50 a share:
The company has some $78m in net cash on its balance sheet (more than 50% of market capitalization).
An insider made a $30k buy in May at higher prices. It was the first insider buy in over a year.
Earnings are going in the right direction. The company lost 96 cents a share in FY2011. It is expected to cut the red ink to only a 36-cent loss in FY2012, before turning a profit of 15 cents a share in FY2013. For perspective, the company made over a $1.20 a share in both FY2010 and FY2007.
Revenue growth is substantial. The company is projected to grow sales more than 30% in FY2012 and north of 40% in FY2013.
The company has beat earnings estimates for each of the last four quarters and sells for just 80% of its book value.
The stock looks like it has built solid technical support at these levels and was as high as $15 in early 2011. (see chart)
Click to enlarge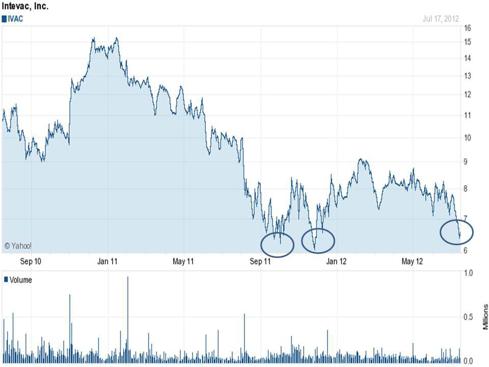 Disclosure: I have no positions in any stocks mentioned, but may initiate a long position in IVAC over the next 72 hours.