We had a long position in Intel (NASDAQ:INTC), but sold it prior to earnings season as the macroeconomic environment deteriorated and Advanced Micro Devices (NYSE:AMD) cut its guidance. On a long term basis we view Intel very favorably, but we wanted to reduce the risk in our portfolio in advance of an uncertain, and potentially disappointing, earnings season. In fact, Intel cut its guidance and seemed pessimistic about the macro environment in its 2Q 2012 earnings release and conference call. We are again considering adding Intel to our portfolio, but the question is whether to buy now or wait for a lower price, assuming that investors will turn away from the stock as a result of the guidance cut. In this update we will analyze Intel's 2Q results using our six question earnings checklist to better understand Intel's trends and the implications for the general economy. We will then discuss our strategy for investing in Intel going forward.
Did the Company Beat Expectations and Have Expectations Been Rising/Declining?
Intel reported 2Q 2012 revenue of $13.5 billion and EPS of $0.54.
Analyst estimates, according to Reuters (via Capital IQ) called for revenue of $13.571 billion and EPS of $0.52 per share. Intel's results fell slightly short on the top line, but beat on the bottom line.
However, analyst EPS projections were reduced going into earnings season. Three months ago, the EPS projection called for $0.54.
What Drove the Results?
Intel's 2Q 2012 earnings material can be found here.
The following chart summarizes the results.
(click to enlarge all images)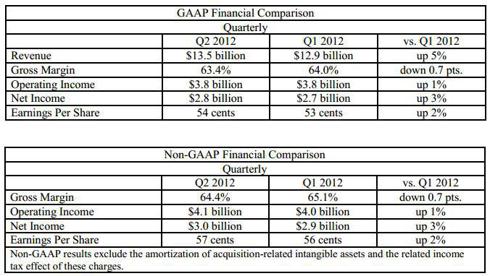 Click to enlarge
(Source: Intel's 2Q 2012 earnings material)
We would like to highlight a few items.
One of the messages from management was that the enterprise side of the business is performing better than the consumer side.
The PC Client Group generated revenue of $8.7 billion, up 3% from 1Q 2012 and up 4% from 2Q 2011. However, the Data Center Group grew at a faster pace. The Data Center Group generated revenue of $2.8 billion, up 14% from 1Q 2012 and 15% from 2Q 2011.
Going forward, Paul Otellini, CEO, said (see full transcript from Seeking Alpha here):
As we look ahead at to the second half of the year, consumer market growth in Western Europe and North America is not forecasted to recover as fast as we had anticipated. Worldwide enterprise demand is growing as expected.
Gross margin was 63.7%, which was above the midpoint of company guidance. Going forward, Intel expects higher gross margin for the rest of the year. Regarding gross margin, Paul Otellini said:
We [are] on the path of cost reduction of Ivy Bridge, and on the ramp rate, we're doing great on the cost, with ramp rates little ahead of forecast, that gives me the confidence, that we'll see a gross margin in Q4, that's kind of around 65% and that gets me to 64% for the year.
Inventory levels increased, but it seems that the increase was due to the ramp of Ivy Bridge and is not necessarily a sign of weakness.
When asked about the macro environment, Paul Otellini said:
What we had expected that we would see by now is that the U.S. and Western Europe consumer businesses will be recovering from sort of a softness that we've seen for several quarters. And as a result of not seeing that, two things are happening: one, we don't see the PC sales to be as robust as we first thought, but the inventory replenishment coming off of the hard drive shortage is not as deep as we thought or as large as we thought, because people are expecting to sell into a smaller overall TAM growth. In terms of China and Brazil, which I singled out, but I could have also spoken a little bit about maybe Russia and India. In some of the countries we're seeing the prices of computers go up as a result of the currency fluctuations against the dollar. Most PC components including ours are sold globally in dollars, and the PCs are typically priced in dollars. So - at least to the distributors in those countries, so the price goes up as the currency changes. In China, it is a little bit different. And what we're seeing there is an abatement of the GDP growth and sort of 8.8% in the quarter down to 7.7% in the quarter. And while we still see growth there, we don't see quite as much as we first thought. So we add all those together plus the fact that the enterprise is doing pretty good, you come down to a more muted growth scenario than we first thought.
With regard to products, Intel's management seemed optimistic. Paul Otellini expects to see $699 ultrabooks in retail this fall. Intel has 140 Ivy Bridge based designs and has designs for 20 Windows 8 tablets. Furthermore, Intel has some compelling products on the data center side of its business.
The big question for Intel relates to Windows 8. The Windows 8 upgrade cycle presents an opportunity for Intel as it serves as a catalyst for hardware upgrades as well. However, there is uncertainty about the timing of the Windows 8 release.
Finally, commenting on the competition, namely AMD, Paul Otellini said:
If I understand their pre-announcements, well, we did a little bit better than them. We thought this quarter was probably in the low-end desktop and notebook business. So we probably took back a little share at the bottom of the PC SKUs, I think our position in the servers is really unchanged and is really quite good.
What Are the Implications for the General Economy?
Intel's guidance cut was attributed, in large part, to the weak macro environment. It is especially interesting to note Paul Otellini's comments about weakness in China, which confirms some of the recent economic datapoints from China.
What Is the Guidance Going Forward?
Intel cut its guidance going forward. Although the macro environment was weak in the last quarter, Intel's results came in in-line with management expectations. However, management seemed rather concerned about the macro environment going forward.
The following is Intel's update 3Q revenue and gross margin guidance: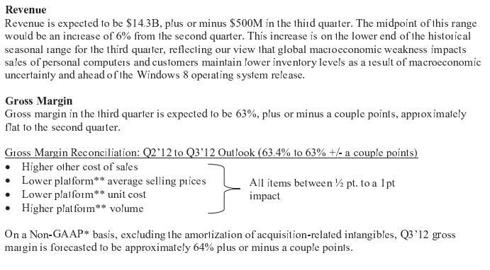 Click to enlarge
(Source: Intel's 2Q 2012 earnings material)
And, the following is Intel's FY 2012 updated guidance:

Click to enlarge
(Source: Intel's 2Q 2012 earnings material)
Please see the earnings material for the full outlook.
Now that Intel's management reduced its guidance, it is likely that equity analysts will reduce their projections, which could be a headwind for the stock.
How Did the Stock Perform Going Into Earnings?
Intel's stock has come down from recent highs going into earnings. The last few months have been difficult for the semiconductor sector as seen in the Philadelphia Semiconductor Sector Index ETF (NASDAQ:SOXX), which declined approximately 20% from its recent highs and is trading at the same levels it was at during the Q3/Q4 correction of last year.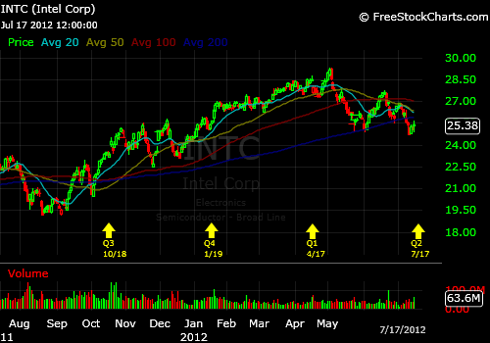 Click to enlarge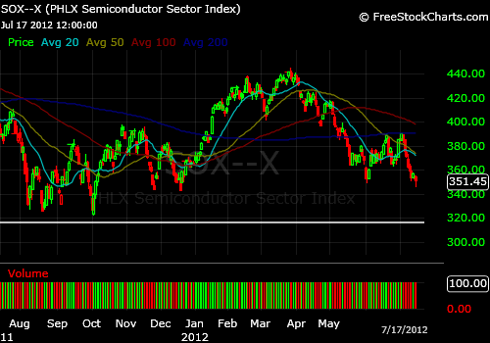 Click to enlarge
What Is the Market's Reaction to the Results?
In after hours trading, following the earnings release and conference call, Intel's stock was down approximately -1%. Investors seemed to be reacting to the guidance cut, but it will be important to see the reaction tomorrow and in the next few days.
Conclusions
We favor Intel on a long term perspective. It is a technology leader with a strong market position. We believe that it has compelling long term growth prospects, even if the short term outlook is weaker than expected. With a P/E of approximately 10.7x and a dividend yield of 3.6%, it seems that the stock is priced cheap compared to its growth potential.
However, in the short term we are going to wait a bit longer before getting back into the stock. The guidance cut was a disappointment to investors and Intel's macro concerns call for some caution. We expect some analysts to lower their estimates based on these results, which could put pressure on the stock in the short term.
If Intel can stay above $25 per share when the market trades in reaction to these results we may want to get back into the stock. However, we would set a tight stop since the macro environment may deteriorate further putting pressure on Intel's performance and stock price. If the stock declines to the low $20s then we would be very interested in adding it to our portfolio.
Disclosure: I have no positions in any stocks mentioned, but may initiate a long position in INTC over the next 72 hours.