Netflix, Inc. (NASDAQ:NFLX) reports Q2 results on July 24.
The Street expects:
Revenue: $889 million
EPS: $0.05
Q3 revenue guide: $907 million
In Q1, Netflix reported an in-line result, but Q2 subscriber guidance of 23.9 million was below Street consensus of 24.6 million. Management indicated that light subscriber growth was due to seasonality. On international expansion, Canada and UK are the bright spots, while Latin America is still trying to achieve profitability.
The most interesting part was management's guidance of 7 million net additions for 2012 domestic streaming subs. In my view, this could prove to be overly aggressive. In Q1, Netflix added 1.74 million subs and, assuming that it achieves the high-end of the 0.79 million net add in Q2, the company has to add 4.5 million net subs in the second half of the year to achieve management's guidance of 7 million.
Management also gave a bullish outlook for the year, compared with previous forecast of a modest loss, and pointed out that the company is on track to profitability by as early as this upcoming quarter. However, data from comScore pointed out that Netflix web traffic was down year-over-year in both April and May, which raises the concern that Q2 might not be as rosy as management previously expected.
Click to enlarge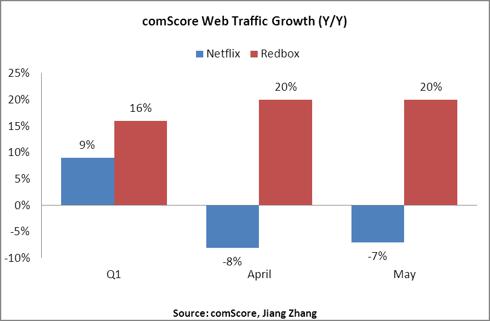 Heading forward, content squeeze from increasing competition will be another major concern. In February, Coinstar, Inc. (NASDAQ:CSTR) and Verizon Communications (NYSE:VZ) announced that the two will jointly launch a DVD/streaming service in the second half of the year. The new service is expected to be comparable to Netflix and will likely to be a serious contender in the online movie streaming space.
Disclosure: I have no positions in any stocks mentioned, and no plans to initiate any positions within the next 72 hours.