Back-and-forth trading was the dominant theme yesterday as investors digested Ben Bernanke's testimony before congress along with quarterly corporate performance results. Selling pressures kicked off the day as anticipation surrounding a possible announcement of QE3 intensified, leading up to the Chairman's testimony. Markets were quick to change direction, however, as investors re-focused their attention on better-than-expected results from bellwethers Goldman Sachs (NYSE:GS) and Coca-Cola (NYSE:KO). Buying pressures were also bolstered by encouraging home builders index data, which came in at 35 versus last month's reading of 29.
Earnings Preview
Financial behemoth Bank of America (NYSE:BAC) reported earnings today before the opening bell on Wall Street. As such, our ETF to watch for the day is the PowerShares KBW Bank Portfolio (NASDAQ:KBWB), which holds Bank of America in its top-ten holdings, allocating close to 8% of its total assets to this industry bellwether. Investors will likely keep a close watch on this performance report, seeing as how it could offer valuable insights into the health of the domestic banking sector as a whole. Bank of America is the second-largest bank in the United States by assets, trailing only JPMorgan Chase (NYSE:JPM), which beat analyst estimates last week.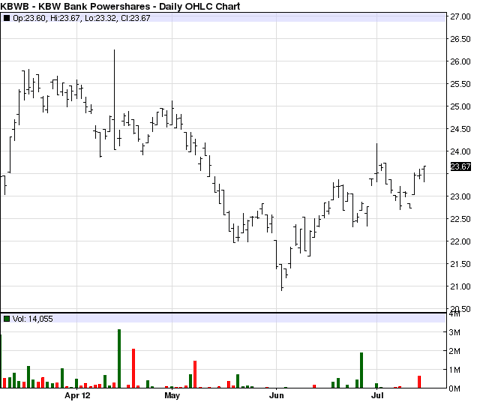 Click To Enlarge
This earnings release will be particularly important for shareholders as results won't be muddled with charges tied to mortgages, asset sales and other cost-cutting initiatives that have plagued the past several quarterly performance reports. Analysts polled by Thomson Reuters are expecting for the bank to post earnings of 14 cents a share along with revenues totaling $22.9 billion. David Benoit at Deal Journal goes on to say that Bank of America has been lagging behind competitors when it comes to growing its lending efforts as the bank has instead been focusing on reshaping its balance sheet.
Outlook
From a technical perspective, the PowerShares KBW Bank Portfolio has been moving along a rising support line since its inception in late 2011. Since peaking at $26.25 a share on April 13, 2012, KBWB has endured a healthy correction, sinking as low as $20.90 a share on June 4, 2012. This ETF appears to have regained support above the $22 level and has gone on to make a series of higher-higher and higher-lows over the past several weeks, perhaps suggesting that bullish momentum is returning. In terms of upside, KBWB could encounter resistance around the $25 level, while major support for this ETF comes in at around $22 a share. As always, investors of all experience levels are advised to use stop-loss orders and practice disciplined profit-taking techniques.
Disclosure: No positions at time of writing.
Disclaimer: ETF Database is not an investment advisor, and any content published by ETF Database does not constitute individual investment advice. The opinions offered herein are not personalized recommendations to buy, sell or hold securities. From time to time, issuers of exchange-traded products mentioned herein may place paid advertisements with ETF Database. All content on ETF Database is produced independently of any advertising relationships.