LinkedIn (NYSE:LNKD), a company that touts itself as the World's Largest Professional Network, is showing signs of becoming a strong long-term growth story with its robust business model.
LinkedIn, like its peers such as Facebook (NASDAQ:FB), has had a 100%+ y/y growth in the recent years. However, LinkedIn has multiple revenue sources and does not rely on advertising as its primary source of revenue like its peers. Forbes recently reported that for every hour each user spends on LinkedIn, it generates $1.30, 21 times higher than Facebook's $0.06.
As the world economy rebounds from the '08 recession, hiring is expected to increase at a significant rate over time. LinkedIn is in a great position to take advantage of this foreseeable trend. Over the last 10+ years, LinkedIn has built a strong business model that revolves around providing "solutions" to corporate clients, job seekers, and working professionals of all levels.
In the recently reported quarter (Q1'12), ~54% or $103M of LinkedIn's total revenue came from Hiring Solutions. More than 2/3 of Fortune 100 companies use LinkedIn's services for their hiring needs as the network reaches to ~150M+ members across the globe. As companies aim at cutting cost by avoiding bad hires (~$25-50k/Bad hire), LinkedIn can offer a cost effective solution through its portfolio of services.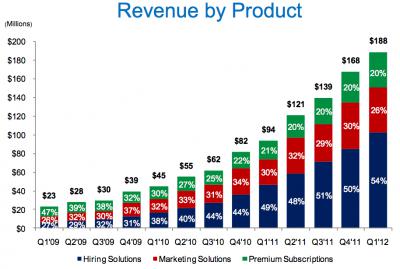 LinkedIn's educated & professional user base is arguably its most valuable asset. The company leverages the user base to offer Marketing Solutions to its corporate clients, which enables them to establish deeper relationships with potential employees. The service accounted for ~26% or $48M of company's total revenue in Q1'12. LinkedIn also offers Premium subscription with advance membership features to its customers and accounted for ~20% or $38M of its total revenue in Q1'12. This showcases LinkedIn's ability to convert non-paying users to paying users, vital for a social network.
LinkedIn has a strong presence on all major Mobile Platforms as 22% of its traffic comes from mobile devices. In order to increase engagement, it recently added features such as LinkedIn Today to its mobile applications for Apple's (NASDAQ:AAPL) iOS and Google's (NASDAQ:GOOG)'s Android OS devices.
As of Tuesday (7/17), LinkedIn's stock closed at ~$103.8 and is up over 64% YTD. With a diversified portfolio of services, LinkedIn is here to stay for the long term and remains attractive to value and long-term growth investors.
The company reports its Q2'12 earnings on August 2, 2012.
Disclosure: I have no positions in any stocks mentioned, and no plans to initiate any positions within the next 72 hours.