With the tremendous increase in worldwide demand for food and the constant reminders on the nightly news of food shortages in many countries I decided to try to find a company that fills that need in a growing market. China's growth and rising middle class are creating more and more demand for higher quality meat and produce. Zhongpin Inc. (NASDAQ:HOGS) is a leading meat and food processing company that just announced a doubling of their yoy revenue growth with revenues of $291 million. China is the largest pig and pork production country in the world as pork makes up almost two thirds of meat consumed in China.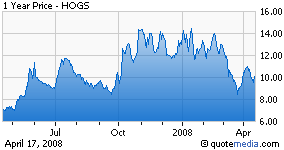 HOGS sells it's products, primarily pork,to international fast food companies, processing factories, school cafeterias, factory canteens, army posts, and national departments. It also sells directly to retail outlets, including supermarkets. Chinese consumers are transition to shopping at supermarkets, currently only 25% of meat is purchased at modern supermarkets, which leaves HOGS with ability to continue strong growth for many years to come as they broaden their market penetration and Chinese consumers move towards purchasing their meats in supermarkets. Their revenue projections for 2008 are between $490 and $520 million dollars.
HOGS has several new facilities under construction to expand their capacity to meet the growing demands of the consumers. The Company is ahead of schedule in the construction of its western Henan Province facility in Luoyang City which is now expected to begin operations by the end of second quarter of 2008. Zhongpin's eastern Henan Province facility in Shangqiu City is expected to begin operations in the third quarter of 2008. The new western and eastern facilities will add 70,000 metric tons and 80,000 metric tons annual capacity, respectively, of chilled and frozen pork. Once these facilities are completed, Zhongpin will have total capacity of 471,560 metric tons of chilled and frozen pork excluding the outsourcing from OEM.
In March 2008, Zhongpin began construction of a new prepared meat facility at Zhongpin's Industrial Park located in Changge City, Henan Province. The new facility will add 28,800 metric tons in annual capacity of prepared meat for a 114% increase over Zhongpin's current capacity of 25,200 metric tons, bringing total capacity of prepared meat to 54,000 metric tons. The facility is expected to begin production in September 2008.
HOGS trades at a very reasonable valuation with a PE of 12 and a forward PE of 7, their book value is over $5/share and they are currently trading around $10/share, making them very attractive at these levels. Currently HOGS is still flying under the radar of most investors.
Disclosure: Long