Fertilizer Update
The U.S. Midwest drought, the worst since 1956, has continued to wither corn yields, resulting in the corn futures trading near their all-time highs. The weather is not forecast to improve, as very little rain is expected over the next week. Furthermore, the drought is now expanding into the Northwest, and so, corn crops will be adversely impacted further.
Strategy to Play on Rising Corn Prices
We are bullish on fertilizer stocks for more than a month and recommended our readers to buy grains ETFs. Due to the sharp rise in corn prices we want to reiterate our previous recommendation of cutting long positions in grain ETFs (Teucrium Corn (NYSEARCA:CORN), PowerShares DB Agriculture Fund (NYSEARCA:DBA), and iPath Dow Jones UBS Grains Total Return Sub-Index ETN (NYSEARCA:JJG)) into half and keeping the full position in fertilizer stocks. This is because corn futures have already risen by more than 32% in almost a month ($785 on July 17 from $591 on June 22), and such a significant increase will not be repeated again. We agree that corn prices will rise, but 50% of the current portfolio holdings will take care of the rise. The primary reason for selling the rest of the 50% is to realize considerable profits without taking any significant risk.
We are still bullish on fertilizer stocks, especially CF Industries Holdings Inc. (NYSE:CF), Potash Corp (NYSE:POT), and The Mosaic Company (NYSE:MOS), whose stocks will rise further amidst escalating corn prices. We first recommended fertilizer stocks on June 22, and the stocks of all three companies have increased by more than 10% from that date. Also, the prices are expected to mount further.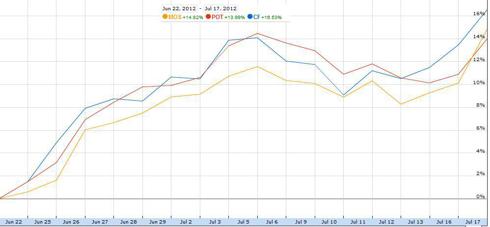 Source: Google Finance
Recent Developments
The United States Department of Agriculture (USDA) has continued to cut the rating of good-to-excellent category of corn from the previous week's 40% to 31%. This considerable drop of 9% exceeded analysts' expectations of 5%.
Bloomberg reported that corn (for December delivery) has surged to $7.89/bushel, close to an all-time high of $7.99/bushel for its most active contract.
Weather Forecasts
According to Reuters, the U.S. Midwest drought is expected to continue its devastating impact on grain crop yields, as the region is expected to receive "less than 0.25 inch of rain" for the next week.
John Dee, a meteorologist for Global Weather monitoring, said yesterday:
There are no sustainable soaking rains in sight. There is some slight relief, but no huge reversal in the drought.
The main problem is that the drought has started to expand outside the Midwest region, in northern and western directions, which will further impact grains, especially corn and soybean.
Conclusion
To reiterate, we recommend the following positions (at this point in time) amongst the recent developments regarding corn:
Cut long positions in corn ETFs like CORN, JJG, and DBA by half, so as to immediately realize safe profits, as well as to continue betting on a further corn price hike. We recommended these ETFs earlier this month.
Continue long positions in fertilizer stocks, especially CF, POT, and MOS. Fertilizer MLPs like terra Nitrogen Co LLP (NYSE:TNH), CVR Partners LP (NYSE:UAN), and Rentech Nitrogen Partners LP (NYSE:RNF) are also good dividend-paying fertilizer investments. See our previous article for a detailed analysis on these dividend plays.
In an attempt to complete the portfolio and lock in safe profits, before the market panics, a potential short can be crop insurers, whose insurance claims have increased as a result of declining grain yields. Some companies that provide crop insurance are ACE Limited (NYSE:ACE), Everest Reinsurance (NYSE:RE), and Endurance Specialty Holdings (NYSE:ENH).
Disclosure: I have no positions in any stocks mentioned, and no plans to initiate any positions within the next 72 hours.