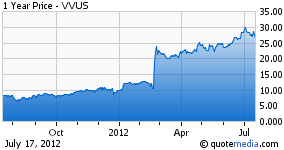 As expected, Vivus (VVUS) got FDA approval for its anti-obesity drug Qsymia (formerly known as Qnexa) on Tuesday. With both Arena Pharmaceuticals (ARNA) and Vivus beating the odds and getting the FDA go-ahead, the race is now on to disprove the skeptics (and validate the bulls) and rack up significant prescriptions and drug sales. While I do believe Vivus has the edge in this race, investors should not underestimate the challenges of launching new drugs to skeptical docs.
A Pretty Benign Label
Despite concerns tied to the topiramate component of Qsymia, the label and REMS for the drug look fairly benign. The contraindications for Qsymia are pretty straightforward and reasonable - pregnancy, glaucoma, hyperthyroidism, and so on. Likewise, the warning label didn't really contain significant surprises (cognitive impairment, suicidal thoughts, elevated heart rate, acute angle closure glaucoma, paraesthesia, etc.).
Importantly, Qsymia, unlike Arena's Belviq, does not require DEA scheduling. What's more, the discontinuation rules for Qsymia would seem to favor Vivus. Doctors/patients are supposed to discontinue Belviq if there has not been a 5% weight reduction by Week 12. In contrast, Qsymia is supposed to be administered in a two stage dose escalation process, with discontinuation recommended at Week 14 if the weight loss is less than 3% and at Week 28 if the weight loss is 5%.
Why does this matter? Clinical studies suggest maybe 40% of Belviq users will meet that hurdle, whereas approximately two-thirds of Qsymia users should pass those thresholds. Now, these labels do not carry the force of law - docs can keep patients on the drug(s) even if they do not pass these thresholds, but it does suggest an opportunity for Qsymia to pick up Belviq "drop-outs".
Now The Challenges
Due in part to the DEA scheduling requirement for Belviq, Qsymia should be first to market (fourth quarter of this year). Whereas Arena can rely on partner Eisai to market Belviq, Vivus will be using a contract sales organization and mail-order pharmacies to detail over 20,000 doctors and get the drug in patients' hands. Reliance on contract reps hasn't always worked out well in pharma-land, but it's a very logical and reasonable strategy for Vivus.
This drug is not a slam-dunk, though. Topiramate has some pretty unpleasant side-effects, and while the dosage in Qsymia is different than in labeled epilepsy indications and off-label use in other conditions, some doctors may nevertheless be scared off (and/or may decide to start patients on Belviq first). Moreover, there may be some concerns in the market tied to the patent coverage on the drug and whether the company can get a Hatch-Waxman extension.
The Market Potential
When I wrote on Qsymia's market potential back in February, I was conservative and probably excessively so. There are approximately 80 million obese people in this country and currently over 6 million annual prescriptions written for phentermine, even though phentermine has modest efficacy and is intended for short-term use.
If Vivus can get 1 million prescriptions for Qsymia, that should mean about $1.5 billion in revenue. Could Vivus secure multiples of that figure? Yes, but there are a couple of issues to keep in mind - phentermine is cheap (generic versions abound), insurance coverage for Qysmia has yet to be established, Belviq will draw off some prescriptions, and there is a lot of doctor skepticism about pharmacological approaches to weight management.
That said, 1 million scrips (and $1.5 billion in revenue) by 2018 works out to a fair value of around $30 on Vivus on the basis of a 15% discount rate and 5x multiple to sales. Not surprisingly, 2 million scrips would translate to a share price of over $60. The real question, then, is whether the real-life efficacy and safety of Qsymia (and Belviq) can grow the market - remember, drugs almost never work better in real life than they do in clinical trials.
The Bottom Line
I wouldn't be surprised at all to see Vivus sell off in the wake of this approval, even though the company got what I think is a good label. I would also expect bears to run through the usual litany of potential problems - disappointing sales execution, unfavorable insurance coverage, skeptical docs, poor real-life outcomes, patent/exclusivity issues, and so on.
All of that said, while I'm still skeptical of the real market potential for this generation of weight loss drugs, the fact remains that Qsymia is approved and effective. Moreover, Vivus's approach to marketing this drug is such that if initial acceptance is strong, it would not be difficult for a Big Pharma player to scoop this one up. I do like Vivus more than Arena (and Qsymia more than Belviq), and while I don't think I'll be buying shares, I can definitely appreciate the bull story on these shares today more than in the past.
Disclosure: I have no positions in any stocks mentioned, and no plans to initiate any positions within the next 72 hours.