"It ain't over till it's over." - Yogi Berra
I've written about homebuilders a few times here on Seeking Alpha, using strength and weakness as a way of gauging investor sentiment and conditions favorable for equities. My attention on the industry picked up on October 10, 2011 when in the article titled "Homebuilders, Hope, and the Fall Melt-Up of 2011" I noted that a V-like formation seemed to be forming following the Summer Crash, which would confirm risk-taking was underway and the general thesis of a move higher in broader equities. On June 2nd I re-addressed the group's performance which had a stunning outperformance run since October, noting that resistance was getting hit which could be problematic.
That ratio resistance line still can't seem to get breached. Take a look below at the price ratio of the SPDR S&P homebuilders ETF (NYSEARCA:XHB) relative to the S&P 500 (NYSEARCA:IVV). As a reminder, a rising price ratio means the numerator/XHB is outperforming (up more/down less) the denominator/IVV.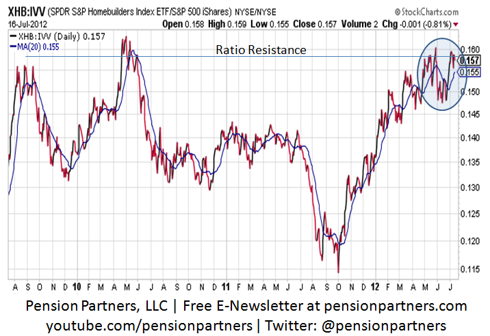 I emphasized the more recent price action to show that strength in homebuilders has been quite choppy over the past couple of months as its relationship to the S&P 500 hit a 3 year high. What might be causing this hesitation over whether to break out or fall is the momentum that continues to persist in the bond market, with yields once again as of writing hitting new all-time lows both here in the U.S. and in many other countries.
As yields continue to get closer to zero, other sectors of the stock market outside homebuilders which failed to participate as much on the upside could begin to try to catch up. Homebuilder stocks on average have experienced such a big move higher since October that the run may be over as the pace of those stocks slows down relative to the broader stock market. That means chasing performance here might not result in optimal relative performance.
Disclosure: Pension Partners, LLC, and/or its clients may hold positions in securities mentioned in this article at time of writing.