One of the foremost precepts when buying stocks is to look for strength. Consolidated Edison (NYSE:ED), alias Steady Eddie, is showing that. The rank and file workers have been locked out since July 1, 2012 after the contract with the Utility Workers Union expired on June 30, 2012. Managers have been filling in for the missing workers as well as they have been able to. Thus far the Con Ed system has been holding together, even with the high strain from the recent heat wave. All this makes one think that the management will also manage to negotiate a fiscally responsible contract with the union.
Apparently the market thinks this too. The stock price has been going up. Yes, utilities have been rallying in general during this time, but a rally for Con Ed is truly impressive. The company is seeking to impose major concessions on its workers, especially with respect to health and pension benefits. One could say that the company is being greedy, but recent data from Credit Suisse's David Zion says differently. He says that S&P500 pension funds ended 2011 $458B under funded. The low rates set by the Fed have buoyed housing, but they have had a severely negative effect on pension funds. These are traditionally conservative funds that rely heavily on bonds for their earnings. With the bond rates low, these funds are increasingly under funded.
The extension of Operation Twist until the end of 2012 will not help the above situation. The extension of low rates by the Fed into 2014 and possibly 2015 will not help. Retirees living longer will not help. Some companies such as AKS Steel (NYSE:AKS) and Goodyear Tire & Rubber (NYSE:GT) are spending more than 50% of their trailing cash flow on pensions. Businesses cannot afford to stay in business long with numbers like that. The Congress is trying to provide some pension funding relief, but this only deals with the short term by reducing pension funding requirements near term. This leaves the companies with a more dire situation in the long term. Con Ed management is again showing its metal by insisting on some concessions now.
It cannot allow itself to get into the situation of AKS or GT. The pension funding obligations may lead to bankruptcy for these companies. General Motors (NYSE:GM) is another company with a big pension and health care benefits problem. Some estimate its pension and health benefits shortfall may soon reach $35B. GM's market cap at the close on Tuesday July 17, 2012 was only $30.69B. GM management has already mentioned the possibility of having to go back into bankruptcy to address this and other issues.
Consolidated Edison is right to draw a line in the sand on this issue. Yes, it would be nice to give employees all the things they request; but it would not be responsible. Consolidated Edison has a long reputation for being well run and responsible. The long term price chart of the company demonstrates this unequivocally (see below).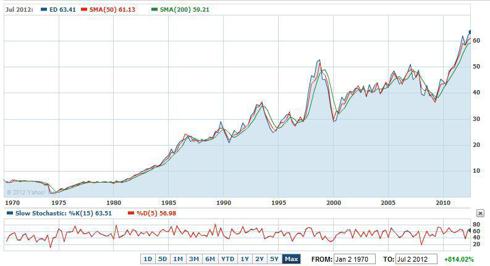 Click to enlarge
The chart from 1970 to now shows a consistent uptrend over the long term. You do not accomplish this by being poorly managed. Con Ed is a regulated utility. It could try to recover all of these costs from its users, but it knows the pension funding issue would become an unacceptable burden on its customers over time. It is correctly choosing to deal with the issue as it shows itself. Con Ed prides itself on its reliability and customer service. It won the 2011 National Award for Outstanding Reliability Performance by PA Consulting Group for its electricity delivery in 2010. It tries to provide for its stockholders too with 38 straight years of dividend increases and a 5 year rate base CAGR of 7.63%. This is good consistent growth.
Further, Con Ed is showing environmental responsibility. It is encouraging oil to gas conversions -- one of NYC's Clean Air Imperatives. It is expanding into solar. It had 30 MW of solar capacity in service on Mar. 31, 2012. It has another 14 MW under construction. Con Ed is educating people on how to conserve energy during peak periods. It has a whole list of energy saving programs. Even with the union workers all locked out for the last 2-3 weeks there has not a huge cry from NYC that Con Ed is failing to perform its function.
This is a responsible company. It is a company that you can feel safe having your money in. It has outperformed the S&P500 by roughly 51% over the last 5 years. When you add in the approximately 13% differential in the dividend payouts over those five years, ED has beaten SPY by approximately 64%. On top of that ED has a Beta of 0.18. It is very stable. Its dividend of 3.81% is substantial and reliable and its management team is impressive. The market believes it is acting responsibly. The market believes it should be able to win reasonable concessions for both sides. This is the kind of "warm and fuzzy" company that you have to like for the long run.
The two year chart of ED gives some technical direction for the more near term trade.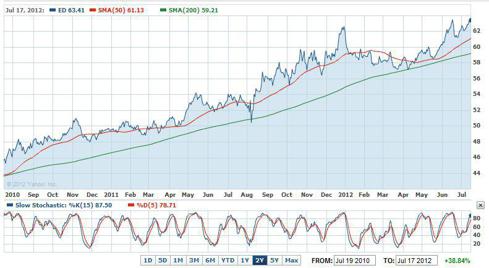 Click to enlarge
The slow stochastic sub chart shows that ED is near overbought levels. The main chart shows that Ed is far above its 50-day SMA. It shows that ED is in a strong uptrend. This is a stock you can buy. However, it may be a bit over extended at the moment. It you are hoping to time it better you will probably want to wait until the price line returns to the 50-day SMA or lower. Averaging in is a good strategy.
With the current world economic turmoil, it is hard to tell when the market may fall precipitously. It could happen at almost any time. Still ED does have a strong history of recovery. If you plan on owning it for the longer term, you will have a hard time finding a safer equity investment. It is currently trading at a P/E of 18.37, which is quite reasonable for a strong, good dividend payer like ED.
NOTE: Some of the fundamental financial data is from Yahoo Finance.
Good Luck Trading.
Disclosure: I have no positions in any stocks mentioned, but may initiate a long position in ED over the next 72 hours.